Do you currently have a skincare routine to help you clear up your acne?
If you don't I've got you, because skincare can be confusing.
And to be honest most people don't have a solid routine either.
Whether that's because they don't see the need for a routine, don't know where to start or don't understand the importance of having one.
Skincare can be confusing for a lot of people.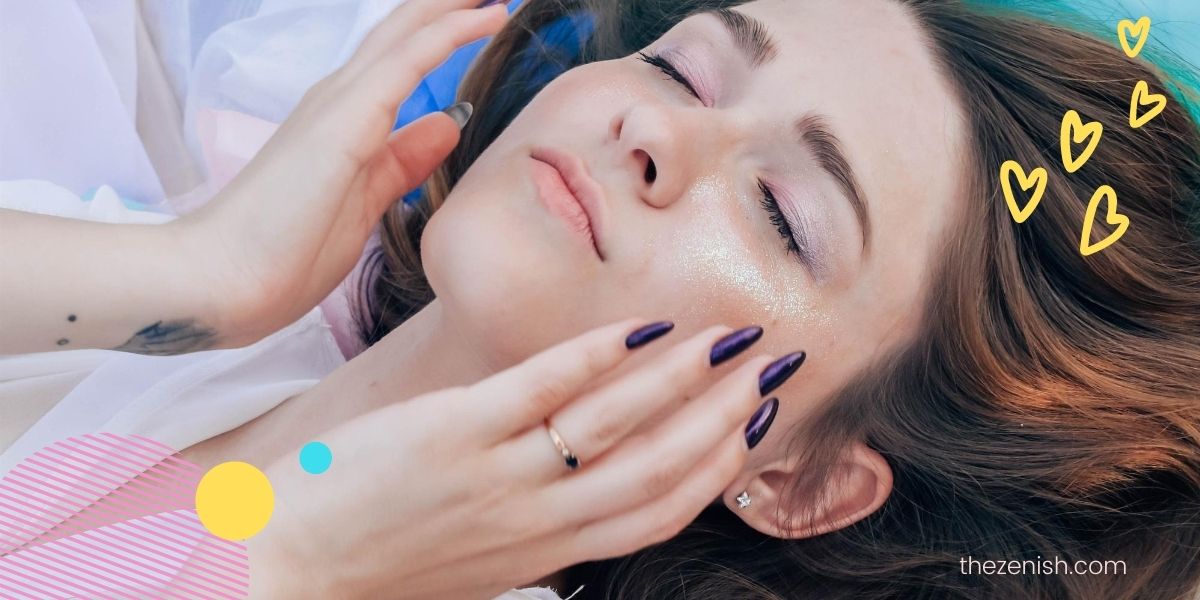 And you might be tempted to believe that it's not for you or you don't need it.
But everyone should have at least a basic skincare routine that they follow and stick to.
Because not taking care of your skin now will only cause more problems later down the road.
It's much easier and cheaper to prevent a problem now than to try and correct it later.
this post may contain affiliate links, which means if you purchase from one of these links, I may receive a small commission at no additional cost to you.
Your simple 3 step skincare morning routine
Your morning routine is all about protecting your skin from the sun, pollutants and the elements.
Step 1: Cleanse
This is the first and most important step.
You should always wash your face to get rid of grime, bacteria and oil that's accumulated during the day.
Doing this step religiously will do your skin a world of good!
It's important to choose a gentle cleanser that will give you a thorough cleaning without stripping your skin of its natural protective barrier.
You probably don't want to choose a traditional acne fighting cleanser, because most of them are way ty harsh and drying and can leave your skin more vulnerable to breakouts.
Instead, choose a gentle cleanser that will dissolve excess oil and bacteria without stripping your skin or leaving it tight and irritated.
Try one of these gentle cleansers
A mild creamy cleanser that thoroughly removes oil, dirt, bacteria and makeup.
You can buy the Ultra Gentle Hydrating Daily Facial Cleanser on Amazon.
2. Ursa Major Fantastic Face Wash
A super-fresh foaming face wash for clean, balanced skin.
You can buy the Fantastic Face Wash on Petit Vour or Amazon.
3. Wonder Pore Deep Foaming Cleanser
This foam cleanser will deep clean your pores, remove accumulated sebum on your skin and leave it silky smooth.
You can buy the Pore Deep Foaming Cleanser online from YesStyle or Amazon.
This antioxidant non-foaming cream cleanser will glide on your skin to gently remove impurities and all traces of makeup while leaving your skin feeling silky and luminous.
You can buy the Gentle cream cleanser online at SkinStore, SkinCareRx or Amazon.
Step 2: Moisturize
Even with oily acne-prone skin, you should still use a moisturizer after cleansing.
The misconception that oily skin types don't and shouldn't use a moisturizer still persists. However, all skin types can and do benefit from using a daily moisturizer.
Hydrated skin is healthy skin and a lack of hydration can trigger a host of skin problems, oily skin being one of them.
Dehydration can also lead to inflammation, premature skin ageing, and even breakouts.
And when your skin is dehydrated, your body responds by making oil which makes your skin even more oily, and clogs your pores, leading to more pimples and on and on.
So, keep your skin balanced and hydrated with a lightweight, oil-free moisturizer that contains hydrating ingredients like hyaluronic acid, glycerin, and/or ceramides.
Try one of these moisturizers:
1. MERMAID MILK Nutrient Glow Moisturizer
A hydrating moisturizer that won't leave your skin feeling oily.
A little goes a long way and it absorbs into the skin very quickly!
Buy the Nutrient Glow Moisturizer on Earth Harbor.
This calming face cream will have your face feeling smooth and hydrated, leaving you with a better overall appearance.
Buy the Katanic Calming Cream online from SkinStore, SkinCareRx or Amazon.
If moisturizers typically feel thick, icky and gross to you, then you'll love this blemish balm moisturizer from Osea!
It will lightly hydrate your skin without that greasy feeling!
Buy the Blemish Balm Moisturizer on Petit Vour.
This cream goes on like a toner but moisturizes like a lotion and doesn't feel greasy during the day!
It also makes the makeup look last, giving the skin a healthy look.
Buy the Cream Skin Refiner on The Beauty Spy.
Step 3: Wear SPF
Sunscreen can sometimes feel thick and clogging on your face.
And some formulas can make you look downright ashy if you have even the slightest hint of a tan.
But sunscreen formulas have come a long way and they're super important so just go ahead and slather it on every morning.
Yes, even if you're going to be inside all day.
Because when acne or acne scars are exposed to infrared heat from the sun, it flares up even more.
And those marks/scars that you sometimes get after a pimple pops up, well, UV exposure from the sun makes them even worse.
Not to mention the potential for premature ageing and skin cancer.
So wear sunscreen every day.
To get the best coverage, your sunscreen should be SPF 30 or more, provide broad-spectrum protection against both UVA rays (the damage-causing kind) and UVB rays (the cancer-causing kind); and be non-comedogenic.
This means the formula won't clog your pores and cause breakouts.
Try one of these sunscreens:
This sun cream is so lightweight, smells awesome and is perfect for everyday wear.
It's pricey but definitely worth it! Buy the Apple Sun Cream on The Beauty Spy.
2. Neutrogena Clear Face Liquid Lotion Sunscreen SPF 55
Formulated not to clog your pores or cause breakouts, this works well for oily acne-prone skin.
Buy the Clear Face Liquid Sunscreen on Amazon.
3. PURITO Centella Green Level Safe Sun SPF50+
Perfect to use every day and works great for dark skin tones, no white cast at all!
Buy the Centella Safe Sun SPF50+ on Amazon.
4. Supergoop! Unseen Sunscreen SPF 40
This leaves the skin as if there's no product so it's perfect to wear with makeup!
It is a little on the pricey side but so worth it! Buy the Unseen Sunscreen on Amazon.
Your simple 3 steps skincare nighttime routine
Your skin naturally repairs itself at night, so your nighttime routine is all about treating your skin and giving it what it needs.
Step 1: Cleanse
Your nighttime cleanse might be even more important than your morning cleanse.
Because of all the gunk that accumulates on your face throughout the day, double if you're wearing makeup.
No matter how tired you are don't skip your skincare routine. Yes, even if you didn't leave the house.
Your morning cleanser is perfectly fine to use for your nighttime cleanse unless you're wearing makeup and would like to double cleanse.
In that case, use the oil-based cleanser first and then use your gentle cleanser to wash everything away.
This isn't always necessary but it's sometimes more effective at cleaning your pores than a face wash alone.
I personally find that double cleansing does a great job of getting rid of all my makeup and leaves my face feeling soft and smooth.
To double cleanse try one of these oil-based cleansers before your gentle cleanser:
The best oil-based cleansers
1. SUNSHINE DEW Antioxidant Cleansing Oil
This is a great cleansing oil that removes makeup without fail! It will get rid of all your makeup and make your skin feel soft!
Buy the Antioxidant Cleansing Oil on Earth Harbor.
This stuff is great for melting away your makeup with very minimal effort.
Just wash your hands, then dry them, pump out a little oil, and rub it all over your face.
You'll definitely notice clearer and moisturized skin! Buy the Deep Cleansing Oil on Amazon.
3. Banila Clean It Zero Cleansing Balm
This cleansing balm is a Korean skincare classic!
This cleanser is gentle but will cut through your makeup like a charm!
Buy the Cleansing Balm on The Beauty Spy.
4. Kahina Giving Beauty Oil Cleanser
This cleanser is incredibly gentle and nourishing!
You'll love it and look forward to washing your face every day.
Buy the Beauty Oil Cleanser on Petit Vour.
Step 2: Use an acne treatment
This is the step where you treat your acne or other skin concerns.
It's better to do this at night because just like the rest of the body, your skin does the bulk of its repairing, restoring and regenerating when you sleep.
This is why they say your most targeted skincare treatments (prescription meds, retinol creams, exfoliating treatments and anti-ageing serums etc) are better used at night.
Just don't use them all at once. Instead, choose the treatment your skin needs the most that night.
Adding too many treatments just increases the risk of irritation. To treat acne consider treatments/serums/gels etc with ingredients like:
Adapalene: an over-the-counter retinoid for acne. It regulates cell turnover, reduces oil production, and calms inflammation (best for blackheads, and whiteheads)
Salicylic acid: a BHA (beta hydroxy acid) that dissolves the excess oil and dead skin cells that lead to clogged pores (best for blackheads, whiteheads)
Benzoyl peroxide: an ingredient that kills acne-causing bacteria on the skin and in your pores (best for inflammatory acne)
Niacinamide: a vitamin (vitamin B3) that reduces inflammation and discoloration, while balancing oil production (best for inflammatory acne)
If you're just starting with these ingredients take it slow.
Adapalene should be used sparingly two nights a week for two weeks, three nights a week for three weeks, then every other night or every night.
You can use salicylic acid, benzoyl peroxide, and niacinamide daily less if you have sensitive skin.
But start by using them every other night, and then gradually build your tolerance to them every night.
The best acne treatments
1. Bl+C Pimples
This serum is incredibly effective! You just use a small drop on your blemish and within hours it becomes less noticeable and within a day, it's gone!
Shop the Bl + C Pimples acne treatment on Petit Vour or Amazon.
This serum absorbs really well and won't leave your skin feeling sticky.
Buy the Blemish Clearing Serum on Petit Vour.
3. AHA-BHA-PHA 30 Days Miracle Serum
This product will make a huge difference in your routine and change your skin!
If you have sensitive skin, hormonal acne or can't use harsh products then give this serum a try!
Buy the Miracle Serum on The Beauty Spy.
4. NAMASTE Adaptogen Clarity Ampoule
This spreads great and smells lovely! And clears up breakouts fast!
Buy the Clarity Ampoule on Earth Harbor.
Step 3: Moisturize
Remember, your skin needs all the hydration it can get.
Unfortunately, most acne treatments can be incredibly drying, even irritating.
So a few minutes after your acne treatment, layer the same moisturizer you used in the morning right on top.
No need for a separate night cream the moisturizer used in the morning works well for the evening unless it contains SPF. If that's the case, any of the moisturizers above should be perfect for your needs.
Mixing and matching too many products can lead to irritation or make them ineffective if certain ingredients don't work well together.
So slather on some moisturizer and that's it you're good to go!
Do I really need a skincare routine?
Yes.
Following a skincare routine might seem unnecessary but having one means you're investing in the health of your skin and taking steps to keep it looking and feeling its best now and for many years to come.
And it's especially important if your skin is oily and acne-prone. You want to clear up your acne as quickly as possible and prevent scarring and dark spots which can sometimes take years to fade.
So yes, you need to have and follow at least a basic skincare routine. The sooner the better.
What is a good age to start a skincare routine?
Whatever age you are today, is a good age to start your routine, if you don't already have one.
It's never too early or too late to start following a routine that'll help you have healthy skin well into your years.
If you're in your teens, it's definitely not too early to start a routine because starting early helps you develop good habits that will stay with you for years to come.
And if you're in your 20s, 30s, 40s etc any dermatologist will tell you that it's never too late to start caring for your skin.
If you wait until acne starts leaving scars, or starts causing irregularities in your skin texture or until you start noticing the first signs of ageing, you've missed out on the incredible power of prevention.
What is a simple skincare routine and is a simple skincare routine better?
There are a lot of products out there for acne. And it can all get overwhelming very quickly.
But I'll let you in on a little secret…you don't need every product.
Sometimes less is best.
The more products you use, the more irritated your skin becomes and the more irritated your skin barrier become.
And that is the opposite of what you want. You don't want to overburden your skin.
You just want to help it along so it can do what it's supposed to do and look fantastic while doing it.
At the bare minimum, you should be using a cleanser and moisturizer twice a day (once in the morning and once at night).
In the morning you follow the moisturizer with sunscreen and at night follow up with treatments to target your acne or targeted skin concern.
There isn't much that you really need. The most important thing is finding a routine that you can stick with, that alone goes a long way!
Final thoughts
These steps are all you really need for a simple yet effective skincare routine.
One that's easy enough to stick with. And as time goes on you can adapt and expand your routine as needed.
You could add an AHA or BHA exfoliant to improve your skin's texture or add an antioxidant serum etc.
The trick is to customize your routine so it consistently meets your skin's needs.
While this routine is a great one, keep in mind that it likely won't transform your skin overnight.
It may take 4 to 12 weeks of consistent use before you see any visible results. But just stick with it and you'll be so glad you did!