8 Best The Ordinary Products for Acne Scars
Dealing with acne and acne scarring can be extremely frustrating.
Whether you pick your zit or not, (you really shouldn't, even though it's really tempting) there's still a chance it'll leave behind a scar, bump, discoloration, or hyperpigmentation.
And if your skin is anything like mine, the scars left behind can take weeks even months to fade and sometimes not even then.
But don't give up just yet! There's something else worth trying and that's The Ordinary. Here are 7 'The Ordinary' products that just may change your life.
this post may contain affiliate links, which means if you purchase from one of these links, I may receive a small commission at no additional cost to you.
Helpful ingredients to know
---
1. Alpha Hydroxy Acids (for Exfoliation)
Alpha Hydroxy Acids (AHAs) are exfoliants (think glycolic, lactic, citric acid etc) that help exfoliate dead skin cells to make room for new ones. AHAs also help your skin retain its natural moisture, boosting its firmness and anti-ageing benefits.
2. Vitamin C (for Hyperpigmentation)
You might already know that Vitamin C is an important part of a healthy diet, but did you know that it's equally as important for the health of your skin?
Yup, it helps brighten and even out your skin tone all while minimizing the appearance of wrinkles and fine lines.
3. Niacinamide (for Hydration)
Niacinamide is a form of Vitamin B3 that helps keep your skin hydrated, treats hyperpigmentation and also encourages collagen production.
4. Azelaic Acid (for Post-Inflammatory Hyperpigmentation)
Azelaic is a naturally occurring acid packed with antioxidants proven to treat post-inflammatory hyperpigmentation.
Where there's acne there's usually inflammation, which causes hyperpigmentation. Azelaic acid does a great job of preventing the spread of discoloured skin cells otherwise known as hyperpigmentation.
5. Retinoids (for Cellular Turnover)
Retinoids are derivatives of Vitamin A that help boosts the growth of new skin cells. Retinoid is 'the holy grail ingredient because it penetrates deep into your skin to treat not only acne but hyperpigmentation and the signs of ageing.
6. Salicylic Acid (for Acne Prevention)
Salicylic acid is a beta-hydroxy acid (BHA) that helps reduce inflammation and improve your skin texture.
This chemical exfoliant also helps dissolve dead skin cells that would otherwise clog your pores and form acne, whiteheads and blackheads. It also works well with salicylic acid to penetrate beneath your skin's surface to reduce excess sebum.
The Best The Ordinary Products for Acne & Acne Scars
---
If you're struggling with acne scarring, then try The Ordinary's Azelaic Acid Suspension 10%. It's a multifunctional brightening direct acid formula that visibly targets uneven skin tone, textural irregularities and blemishes.
Most people will use this without feeling any irritation. However, if you do (like I did) try mixing it with a serum or your moisturizer. This will dilute it enough that it's no longer irritating but still effective. Buy it online at SkinStore.
The Ordinary's Niacinamide 10% + Zinc 1% serum can help lighten up dark spots, brighten uneven skin tone, and help fade your acne scars.
Adding niacinamide into your routine is also a great way to keep your skin hydrated and bolster the production of collagen, which helps keep your skin looking youthful.
Can I use the ordinary niacinamide every day?
Yes, you can use The Ordinary's Niacinamide formula twice a day to visibly minimize your pores and regulate your skin's sebum production. Buy it online at SkinStore.
This exfoliating toning solution is very popular and for good reason. With regular use (but not too regular, it's still an exfoliant and you don't want to overdo it) it can help brighten your complexion and work overnight to exfoliate layers of dead skin and minimize acne scarring.
This is an exfoliant, which is best used at night always remember to wear sunscreen in the morning. Buy it online at SkinStore.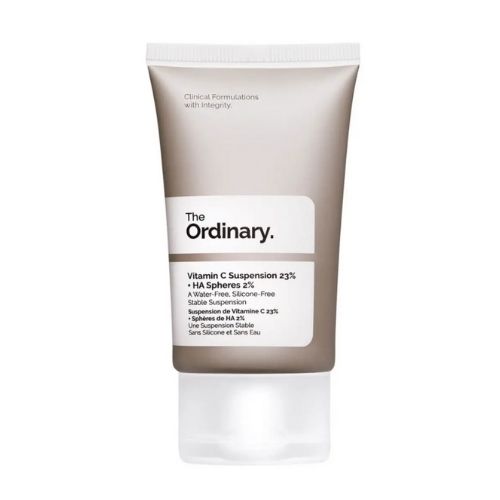 I never really understood the purpose of vitamin C in skincare. But it was always one of 'the' ingredients you just had to have if you really wanted to up your skincare game so I tried it.
And I really liked the results. This vitamin C serum works to brighten your overall skin tone and fight the signs of ageing.
And it really did brighten my dark spots and discoloration, I was surprised. There can be a slight burning sensation when used undiluted but just dilute it with your moisturizer to negate the sensation. Buy it online from SkinStore.
This triple threat of exfoliation power (made with glycolic acid, lactic acid, and salicylic acid) is ideal for moderate hyperpigmentation and slight pitted scarring.
Glycolic and lactic acid work to exfoliate the outer layers of skin while salicylic acid goes deep into your pores to clean out bacteria and dead skin cells.
Use this at night on clean and dry skin. Do not use it on wet skin. Then after you apply it wait 10 minutes then rinse with water.
How often should you use the ordinary peeling solution?
You can use the Ordinary's peeling solution 1-2 times a week. Buy it online from BeautyBay, SkinStore or Amazon.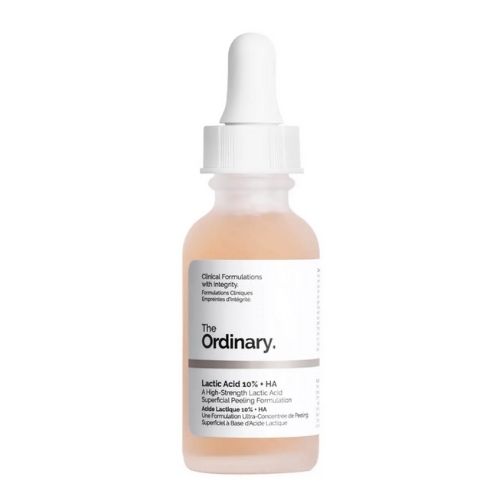 This is a fairly mild exfoliant that can help diminish the look of fine lines and wrinkles and even out your skin tone and texture.
Because it's a mild exfoliant, you can get away with using it once a day without experiencing any irritation.
If you do experience burning or tingling then try diluting it into your moisturizer, using it less frequently or both until your skin builds up a tolerance to it. Buy it online from SkinStore.
Retinol is awesome but proceed with caution. And if you're new to retinol you probably shouldn't start with the retinol 1% in squalane (maybe try the Granactive Retinoid 2% in Squalane first).
This may cause a bit of irritation until your skin adjusts but start slow and stick with it.
Start by using it one night per week then slowly use it more often. Remember, retinol is best used at night because it can increase your skin's sensitivity to the sun. It's also super important that you wear sunscreen the next day.
Can I use the ordinary retinol every day?
Yes, you can but you probably shouldn't. You would most likely experience burning, itching, and the works.
You really don't need to use retinol every day to get great results, 2-3 times per week is more than enough. Buy it online at SkinStore.
Alpha Arbutin is an antioxidant that helps to even out skin tone, and reduce the appearance of age spots, hyperpigmentation and wrinkles.
Alpha arbutin works by inhibiting tyrosinase, a key enzyme in melanin production. This results in less visible hyperpigmentation and a more even skin tone.
This makes it an effective treatment for reducing age spots, fading dark areas of the body such as the hands or underarms, and reducing other types of discolorations from chronic sun exposure. Buy it online at SkinStore.
How do you use The Ordinary products for acne scars?
This routine is quick and super simple, perfect if you're short on time or don't want to spend too much time on skincare in the mornings.
The Ordinary morning routine for acne scars
The Ordinary evening routine for acne scars
Again quick and super simple.
Cleanse – It's fine to use the same cleanser you used in the morning at night, no need for a 'nighttime cleanser'.
The Ordinary Alpha Arbutin – again use a few drops, wait for it to absorb then move on to the next product
Optional – The Ordinary Niacinamide 10% + Zinc 1%. – fine to use daily morning and evening
Azelaic Acid Suspension 10% – can be used before, after, or mixed into your moisturizer to dilute it because it can irritate your skin a bit
Moisturize – The Ordinary Natural Moisturizing Factors – daily morning and evening
Optional – The Ordinary Peeling Solution AHA 30% + BHA 2% – If you do use this, use this 1-2 times a week. Start slow and see how your skin reacts. This is an exfoliant and you don't want to over-exfoliate because that can lead to irritation and further disrupt your skin barrier.
Optional – Retinol 1% in Squalene – use 1-2 times a week, again this is an exfoliant and can irritate your skin, so take it slow especially if new to retinol.
Final thoughts
Acne scars can be frustrating, but don't give up just yet! There are products from The Ordinary brand that may help fade your acne scars.
When choosing products always consider the specific needs of your skin. Because at the end of the day it's your skin and what might work for someone else may not always give you the same result.
You might find that you need to experiment a bit to help you find the treatment that your skin responds to the best.
With a little trial and error and the products mentioned, you're well on your way to finding a solution that helps reduce the appearance of your acne scarring. Good luck!