What are the best products to repair the skin barrier?
Skin sensitivity and irritation are common skin concerns and can be difficult to manage. And taking care of your skin is a daily concern.
But important because deterioration from harsh weather conditions and pollution can be hard to reverse so it's best to prevent them.
And using the best skin barrier repair products can help.
So, it's important to invest in your skincare regimen with the best products that repair the skin barrier.
Not only will it help your skin today, but your skin will thank you tomorrow.
The products listed below have been clinically proven to aid in repairing the skin barrier.
Proven to increase moisture while also protecting your skin from irritants like pollution and harsh weather conditions.
this post may contain affiliate links, which means if you purchase from one of these links, I may receive a small commission at no additional cost to you.
9 Products to Repair the Skin Barrier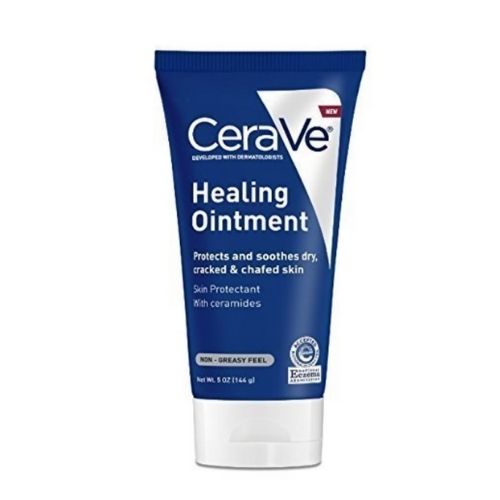 This Cerave healing ointment for the face provides deep, long-lasting repairing protection for severely dry and cracked skin with a gentle formulation that is fragrance- and colourant-free.
CeraVe Healing Ointment provides a moisture barrier to lock in moisture as it helps restore the skin's natural protective function.
CeraVe Healing Ointment is developed to provide a very high level of moisture protection.
It restores the natural protective barrier, which can be compromised due to dry and cracked skin.
This product is for you if you have severely dry and cracked skin on various parts of your body such as your face, hands or feet.
And reviews have shown this healing ointment as one of the best products to repair the skin barrier.
Labelled a "must-have" by Allure, this cleansing foam is ideal for sensitive skin. The mild formula contains no soap, alcohol, or fragrance.
This is a gentle soap-free cleanser that removes dirt and make-up without irritating the skin.
The rich, velvety foam removes excess sebum without drying out the skin. While the anti-bacterial properties of willow bark and horsetail extract leave skin feeling healthy and vibrant.
This cleanser is for you if you have sensitive skin that needs purifying and you'd like your skin left feeling deeply cleansed and comfortable.
With a pH level of 5.5, this product will be gentle enough for sensitive skin types, while still delivering a deep-cleaning experience.
Buy it online from SkinStore or Amazon.
Brighten your skin and reclaim your radiance with Paula's Choice Omega + Complex Moisturizer.
This highly effective moisturizer replenishes moisture, leaving skin feeling hydrated and soft.
It also contains antioxidants to protect skin from free radicals and sun exposure, as well as a soothing extract to soothe irritated skin.
With its natural ingredients, this moisturizer is great for sensitive skin and can be used alone or with other products in Paula's Choice Skin Care range.
Paula's Choice Barrier Repair Moisturizer with Retinol is a powerful, fragrance-free moisturizer with retinol, designed to reduce the signs of aging while soothing and repairing skin.
This dermatologist-tested formula is one of the few moisturizers available over the counter that contains retinol, a proven ingredient for healthy, youthful-looking skin.
Most moisturizers with retinol are oil-based and may be too harsh for sensitive skin. Paula's Choice offers a moisturizer that is non-comedogenic and non-oily, providing an excellent option for those with sensitive skin.
If you have dry skin, or just want to reduce the appearance of ageing, you'll love the healing and protective properties of the barrier.
This rich cream is specially formulated to soothe and rejuvenate the skin. It features a new airless pump that keeps cream fresh.
First Aid Beauty Ultra-Repair BarriAIR Cream
provides comfort for dry skin with the use of blue and green algae and seaweed to provide a moisture barrier, hydrating the skin.
repairs environmental and other damage while soothing and hydrating skin
improves the appearance of wrinkles as well as hydrating and repairing the skin
gives a youthful look without the use of harsh chemicals or animal testing
The Embryolisse Lait-Creme Sensitive is a soothing, non-comedogenic moisturizer.
This formula is perfect for those with sensitive skin, as it doesn't clog pores and is gentle enough to use on the face and neck. It's the best way to treat dry, sensitive skin.
A moisturizing and nourishing cream formulated with the skin's natural lipid balance in mind.
SkinCeuticals Triple Lipid Restore 2:4:2 is a vitamin-rich, skin-nourishing formula that provides intense hydration and anti-aging benefits.
It helps to preserve the skin's moisture barrier and enhances the skin's ability to protect against external aggressors.
SkinCeuticals Triple Lipid Restore 2:4:2 also protects against oxidative stress.
it contains a blend of three essential lipids that are important for healthy skin.
Vitamin A, an antioxidant and necessary nutrient for increased elasticity of the skin and scar prevention, can be found in this formula.
The First Aid Beauty Ultra Repair Cream will leave your skin feeling softer, smoother and more protected.
Dermatologist-tested and designed to be just as effective as barrier repair creams twice the price.
The key ingredient, glycerin, is a natural humectant that will improve your skin's moisture retention, while also providing protection against harsh weather conditions and reducing the appearance of fine lines and wrinkles.
Repair Cream is best used for moisturizing dry skin, replenishing lipids, and repairing sun damage.
This formula would work well for you if you need to soothe your skin after using harsh exfoliators or treating acne with topical treatments.
A purifying foaming cleanser formulated with the La Roche Posay Thermal Spring Water and Toleriane Thermal Water to cleanse and comfort sensitive skin.
Made of gentle, soap-free ingredients, it removes makeup and impurities without drying the skin.
This foaming cleanser is a great option if you have sensitive skin. It contains soothing agents that calm irritation and help to protect against further breakouts.
Soap-free, fragrance-free this foaming cleanser is gentle even as it removes stubborn makeup and impurities.
All without drying, irritating, or stripping your skin.