How do you dress up a super boring outfit? Some people seem to have unlimited chic outfit ideas, but really, they just make tiny tweaks to basic outfit looks and staple pieces to make them look amazing!
Somehow they style things you never thought of to create fresh, style trending looks using the most basic pieces.
It's a simple process that's really easy to master as long as you have some basic staples and accessories!
After all, basic pieces are the building blocks of any fashionable outfit. So here are a few simple ways to spice up your outfits.
this post may contain affiliate links, which means if you purchase from one of these links, I may receive a small commission at no additional cost to you.
Related Posts
How to dress up an outfit
Here's how to dress up an outfit so you always look and feel your best.
1. Wear heels
Adding a cute pair of heels to your outfit will instantly make you look more put together and polished.
Your choice of shoes can make or break your outfit. So it makes sense that the better your shoes look, the better you'll look.
And wearing a great pair of heels can make almost any outfit look awesome. You ever look down at another woman's feet and you're a little jealous of her shoes? Enough said.
It doesn't matter if you choose boots, platform sandals stiletto heels, kitten heels, chunky heels you name it.
Just wear some. Wear heels with your skinny jeans, your shorts, your skirts your dresses etc.
Just choose something that's comfortable and you're able to walk in because that also adds to your confidence.
2. Tie or tuck in your top
One of the best ways to spice up a plain shirt or top is to tie it up in the front or tuck it into your jeans.
If you do this you'll highlight and show off your curves rather than hide them plus it'll add a bit of flair to a boring top.
And this just looks a lot better. So the next time you put on your most boring shirt or just want to spice up a button-down shirt, go ahead and tie it up or tuck it in!
3. Put something in your hair
Spending some extra time styling your hair is always a great way to spice up an outfit and add some flair.
Hair accessories seem to be everywhere these days so you'll have more than enough options to choose from.
You can try bows, barrettes, hair scarves or even a cute hat. The hat trick works really well during the cold months or if you're having a bad hair day by the way.
And if hair accessories aren't your thing, you can try that new hairstyle, that you've been thinking about.
I know I've bookmarked plenty. Sometimes the best way to add some interest to your look isn't with your clothes but with your hair.
So go ahead and try something new! 
4. Add some layers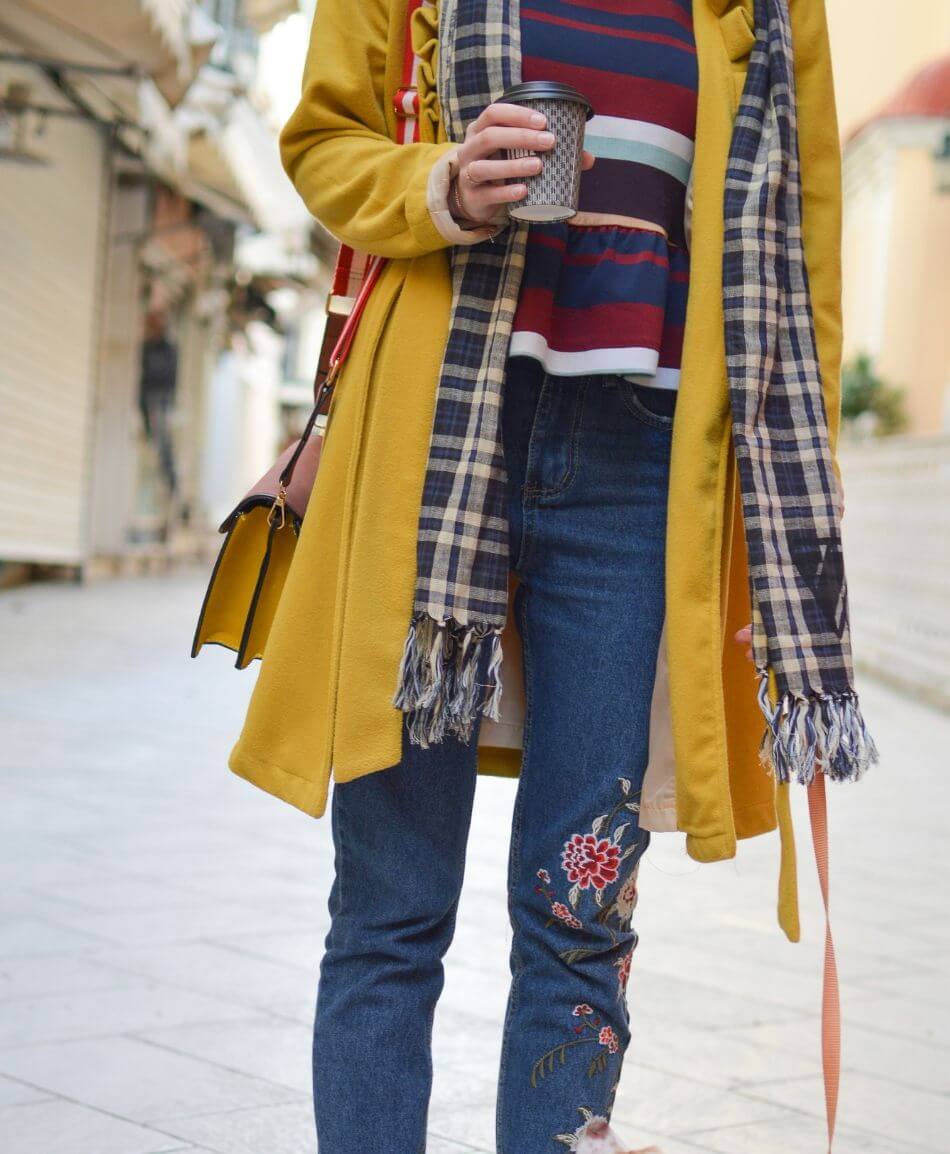 Adding layers to your outfit is a great way to add some individuality and simply just changing what you layer on top of what can also make a big difference.
Like wearing a dress over a blouse or cardigan for example. We've all seen plenty of women rocking this look and it can look awesome if done right.
So take out that dress put it over that shirt and make it work! Layering is also good for taking your outfit from day to night without having to make any changes.
For example, you can start off by layering a cute cardigan over your jeans and t-shirt and even take it further and layer a leather or denim jacket on top of that to complete the look.
So what was once a super basic outfit now has some life and some spark. Now throw on a pair of heels and there you go.
This little trick is super easy to do as the weather starts to cool down. Throw a camel coat over top of whatever you're wearing and you instantly look expensive.
5. Add some colour
Adding colour to your outfits can be a major style changer and something too many people are afraid to do.
I know, I'm like that too.
Sometimes you want to stick to what you know but don't. Go ahead and step out of your comfort zone.
You might be surprised how much better you look because of it. And this doesn't have to be a major change. To start simply add some colour to your little black dress, that's it!
Now, this could be in the form of your jewelry, your shoes, your clutch, handbag.
Anything, even a belt!
There are some shoes out there that will make your outfit and you won't need anything else.
Remember the last time you saw another woman wearing the most basic-looking outfit and yet still she looked so good?
She was probably wearing colour.
Adding colour to your outfit will always capture the eye and make you stand out from the crowd. Go ahead and try it! 
6. Add a belt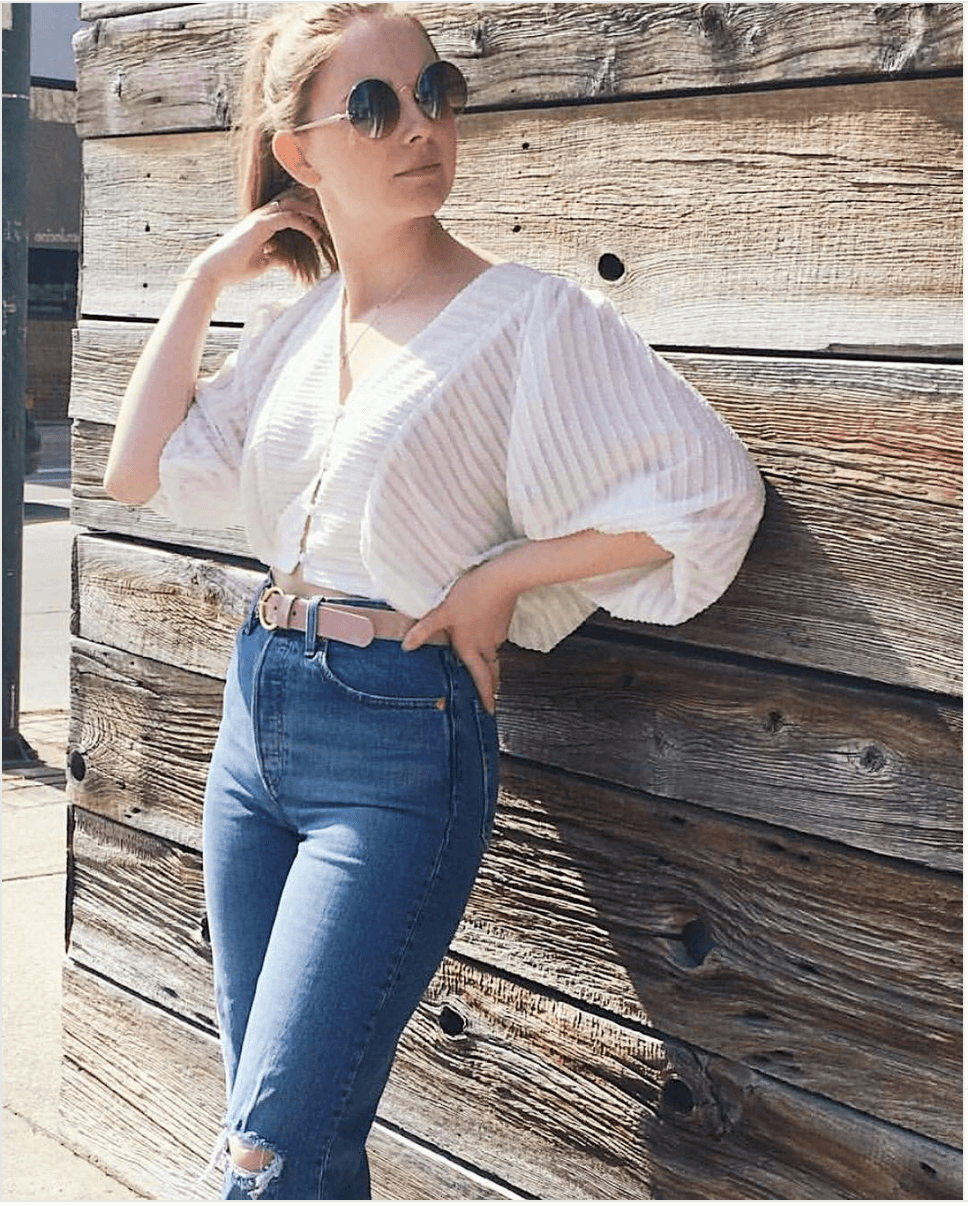 Adding a belt over top of a dress or with a pair of jeans will add some style and spark to any boring outfit.
And it's also a super-easy way to pull your look together and emphasize your curves if you're wearing a loose-fitting top or dress.
You just look that much better if you're wearing a belt with a bit of bling, colour or texture to catch the eye.
It's okay if your belt is the focal point for your outfit.
With just a few belts that you may already have in your closet, you can transform any of your oversized shirts, dresses, cardigans, and even coats to fit and flatter your shape.
This trick also works amazingly well when you're wearing lots of layers or when you want to create the illusion of a small waistline. 

7. Add some accessories
There are so many ways that you can spice up a boring outfit, adding some accessories to what you're already wearing can make all the difference.
Adding a scarf, a chunky necklace or some big earrings, for example, can instantly make you look more trendy.
And even better scarves will keep you warm if you're cold; look good and feel good! Knitted scarves are great for chilly days and one with a colourful print works for spring.
Your jewelry also helps to add interest to your clothes.
You can add a colourful necklace, a statement bracelet or earrings to add a bit of sparkle. Jewelry has always been one of the best statement pieces for any outfit.
Just keep in mind that even your plain white t-shirt and jeans can look that much better when you add tasteful accessories to the mix.
So experiment and have some fun!
8. Roll up your jeans
Now, this last trick might not even seem to make a difference but trust me it does. It's so simple and easy that you may already do it and not even notice.
Yes, cuffing your jeans or rolling them up makes your outfit look better. And it's a great way to show off your shoes and ankles and make your legs look longer.
To pull it off though you have to make it look casual rather than perfect. You can try a single or a double roll.
A single roll works well with stiff, straight-leg jeans and double rolls work with your baggier jeans. Just find what works for you and rock it. 
What are some of your go-to tricks for how to dress up an outfit? Share with us in the comments!