It's that time of the year again. The leaves have started falling off the trees, the days will get a little shorter and colder and then comes the rain. You need sweaters for fall and winter.
This time of year it can be tough to stay warm because of the rain and damp so you need every trick in the book to stay warm.
Layering with sweaters is one of the best ways to stay as warm and comfortable as possible but without looking frumpy.
It's cold yes, but you can still look cute and with the right sweaters you can do exactly that.
So if you're looking to upgrade your sweaters then here are some great options.
All the sweaters listed are from Amazon which means affordable, cute and some are even prime eligible!
I love ordering from amazon because I know that if I buy something and it doesn't quite fit right or the quality isn't what I expected, the returns are hassle-free and not a lot of online retailers offer that.
The sweaters listed also have awesome reviews most have over 75% 5-star ratings which are pretty awesome.
Because if you've done any sort of online shopping, you know that it's all about the reviews.
So continue reading for some functional, affordable and cute sweater options for fall.
this post may contain affiliate links, which means if you purchase from one of these links, I may receive a small commission at no additional cost to you.
Related Posts
5 Awesome Sweaters For Fall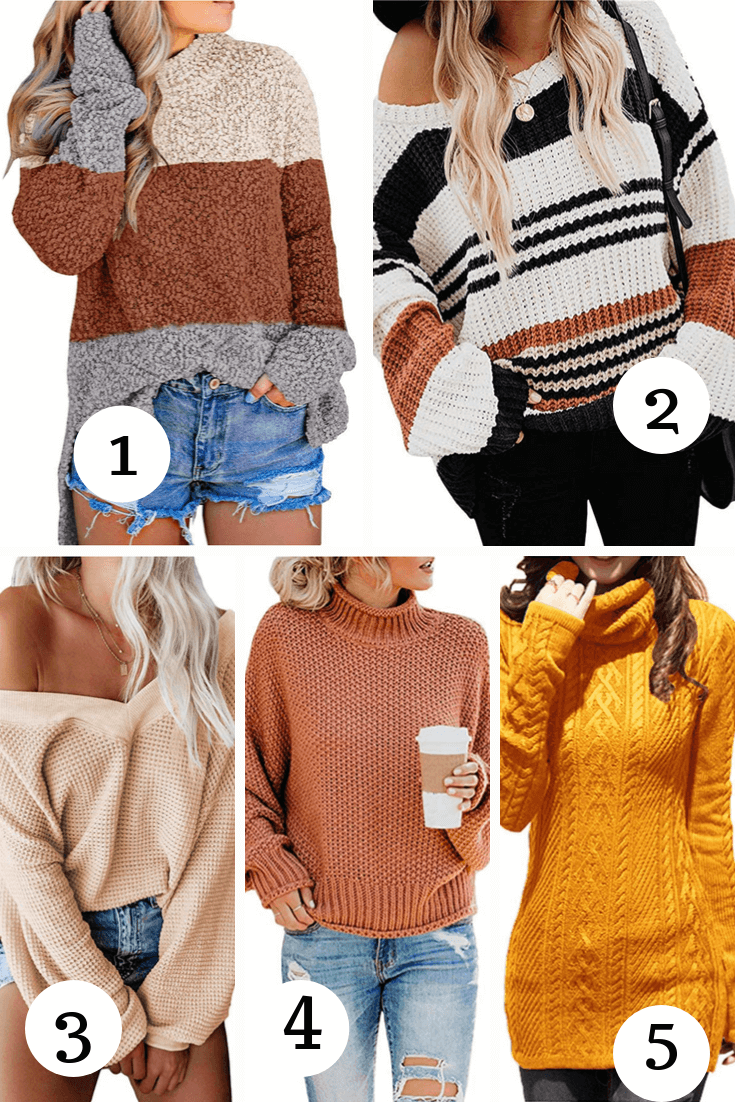 ---
First on the list is a fuzzy knit sweater that looks so chic and the colour options look soft and feminine! It has a slouchy fit that you can either dress up or down by tucking it in depending on the occasion. Based on most of the reviews it runs true to size, is soft and is described as super cute! This would be great to wear with jeans, leggings, shorts, skirts and tights or even layered over a dress for an on-the-go fall outfit that works for a ton of different occasions.
How to wear this: wear with jeans or leggings for a super casual look, accessorize with a crossbody bag to complete the look.
If you're looking for a sweater that has bold and bright colours that's perfect for spring or fall then this is it! This sweater is trendy without the high price tag to match. And the lightweight material makes it a great transition piece that you can layer underneath your heavier layers without looking bulky. The reviews say it's a flattering oversized fit that's great for most casual occasions.
How to wear this: wear tucked into jeans, with flats for an effortlessly casual look.
This lightweight yet warm and cozy sweater is perfect for rainy fall days! It's lightweight but not too thin so it'll still keep you warm. It fits true to size and is flattering for most shapes. So if you're looking for a cute sweater that's feminine and colourful, this is the one! It's currently available in over 5 colours and prints and you can wear it with skinny jeans, leggings, skirts, dresses etc.
How to wear this: wear with your favourite skirt (with tights if needed) and ankle boots to keep your feet warm. It might be cold but with strategic layering, you can still wear and enjoy your favourite summer clothes.
This sweater is stylish and trendy. If you're looking for a sweater that'll keep you warm while making you look fashionable then this sweater will do it all. Based on reviews this sweater is a loose yet flattering fit that's better suited for casual occasions and the material is soft and thick. There are currently more than 10 colour options to choose from so you will more than likely find a colour to suit your needs.
How to wear this: wear with a great pair of dark wash jeans and trendy ankle boots.
At first glance, this sweater looks like a sweater dress and on the model, it looks like a dress, but it's not. If you're looking for a sweater dress try this one here. If you're looking for a sweater that's thick enough to keep you warm yet long enough to cover your tush whenever you wear leggings then give this one a try. It's currently available in 18 different colours (wow) so again you can probably find at least 1 colour that you like, maybe more. Reviewers were highly impressed with the quality of the fabric and how form-flattering the sweater is. It sounds like a winner to me.
How to wear this: wear with leggings for a relaxed and comfortable look, or dress it up a little with jeans and ankle boots.
Final Thoughts
While the weather will keep getting colder just remember that you don't have to. You can be as snug as a bug and still look good too. It's all about choosing the right clothes and proper layering. All the sweaters mentioned are functional, highly rated, will keep you warm and make great layering pieces! And are great sweaters for fall? Win-win.
Which of these sweaters was your favourite? Share in the comments.
And if you found this helpful then feel free to Pin on Pinterest! Thanks!