Dressing for work during the fall can be tough. Putting together fall outfit ideas for work this time of year is difficult because the weather is often unpredictable and you want to be comfortable, stylish and work-appropriate all at the same time.
So, layers and transitional pieces that can carry you from the cooler temperatures of the morning, a heatwave during lunch and lasts the workday is essential.
What do you wear to work in the fall?
This time of year, it's about staying warm, layering and looking good while doing it.
So, it's a great time to mix fall staples like cardigans, sweaters, jackets, tapered pants, boots, booties, coats, scarfs, midi skirts and dresses into your fall workwear.
You can layer your short-sleeved and long-sleeved shirts underneath your cardigans, and sweaters, over your favourite summer tops, styled with skirts, pants, dresses, you name it.
Really the possibilities are endless once you know what you're looking for and you've established that it's work appropriate.
Related: 18 Basic Wardrobe Essentials Every Woman Should Have In Her Closet
Work staples for fall
Tops
Turtlenecks – lightweight, long-sleeve turtlenecks are perfect for layering
Basic t-shirts and tanks – perfect for layering all year round
Sweaters – great for adding layers and colour
Blouses – great layering pieces, adds versatility
Bottoms
Denim – high-waisted medium to dark wash, cropped and straight-leg
Dress pants – tapered, high waisted, skinny or wide-leg flatter most shapes
Skirts – pencil, midi, a line
Dresses – shirt dress, wrap dress and shift dresses all work appropriate and perfect for layering during fall
Outerwear
Blazers – a staple for most professionals
Jackets – leather or moto for more casual looks
Long coat – keeps you warm and make awesome statement pieces think trench coats
Accessories
Scarves – style with dresses, jackets and coats to add interest and warmth
Shoes
Ankle booties – popular for fall and work-appropriate
Pumps – black and nude get the job done, use prints, leopard, multicolour to spice things up
Flats – neutral for versatility, mix it up with prints
Fall outfit ideas for work
Dress pants
In the work world, a great pair of dress pants is the best blank canvas you can have. Cropped, wide-leg, straight and slim pants are all great choices all year round.
When choosing dress pants, choose a pair in a neutral shade for versatility, like black or tan. However, if you're looking for more excitement change it up with work-appropriate prints.
The key to a stylish and modern dress pant is in the silhouette. With the right cut, fabric and fit it can become your most dependable workwear staple. Aim to have one or two of these silhouettes in your closet.
Slim fit straight leg pants – flattering for most women, tapered leg super easy to wear, looks great with heels
Skinny pants – emphasizes your legs, opt for a bit of stretch so your comfortable
Wide leg pants – opt for high-waisted fit to show off your shape and elongate your legs.
Culottes – go for a pair that can give you a detailed waistline and style with a fitted top.
1. Paper bag pants + turtle neck + pumps
2. Polka dot pants + sweater + nude heels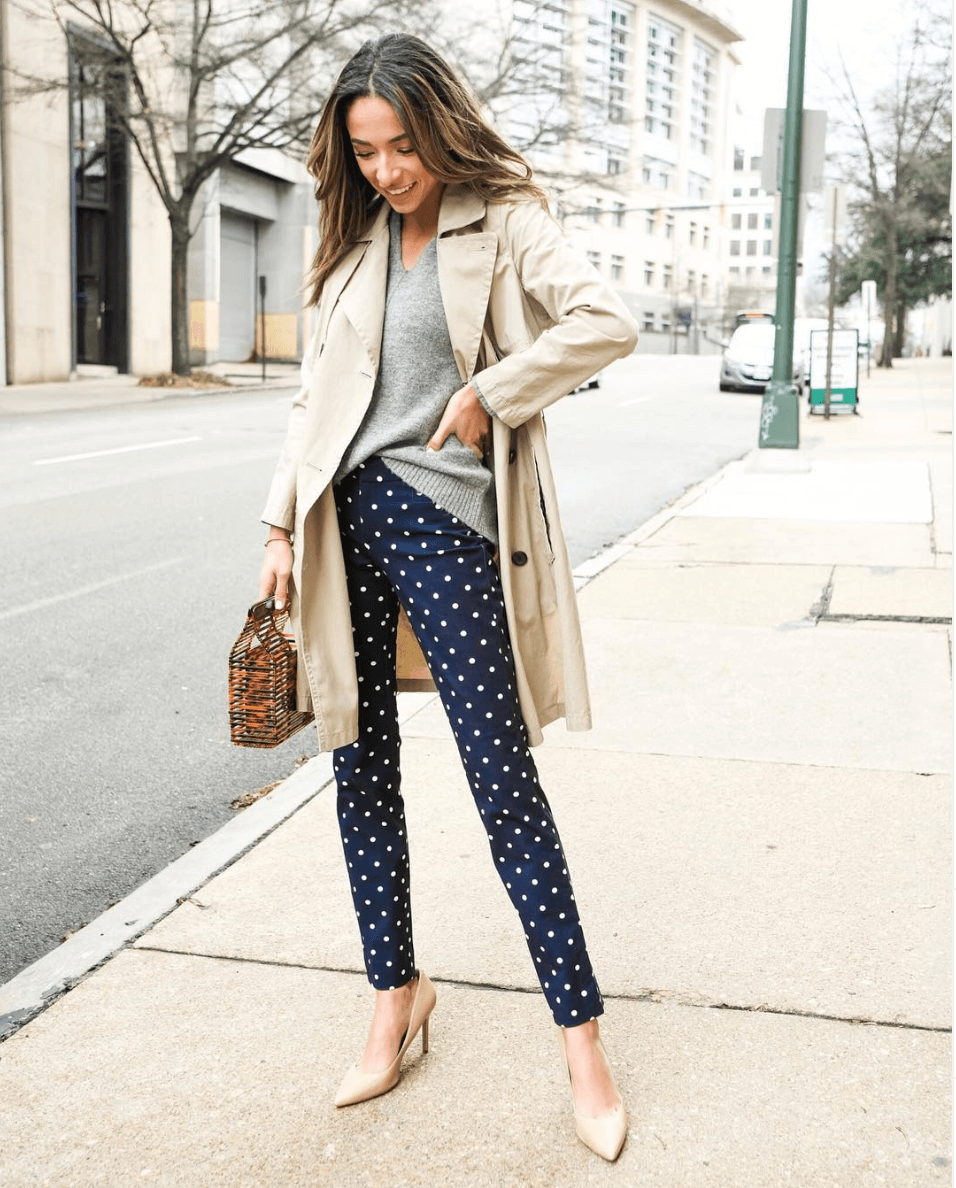 3. High waist pants + blazer
4. Sweater + high waist pants + nude pumps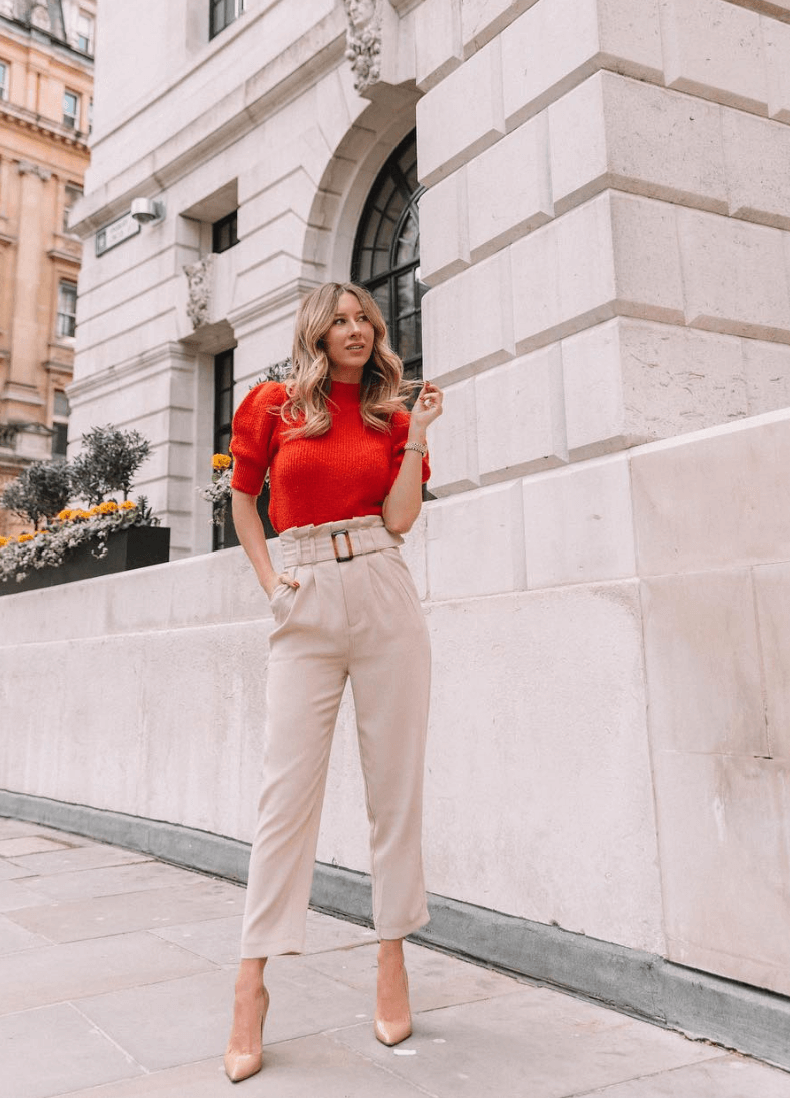 5. Statement blouse + skinny pants + flats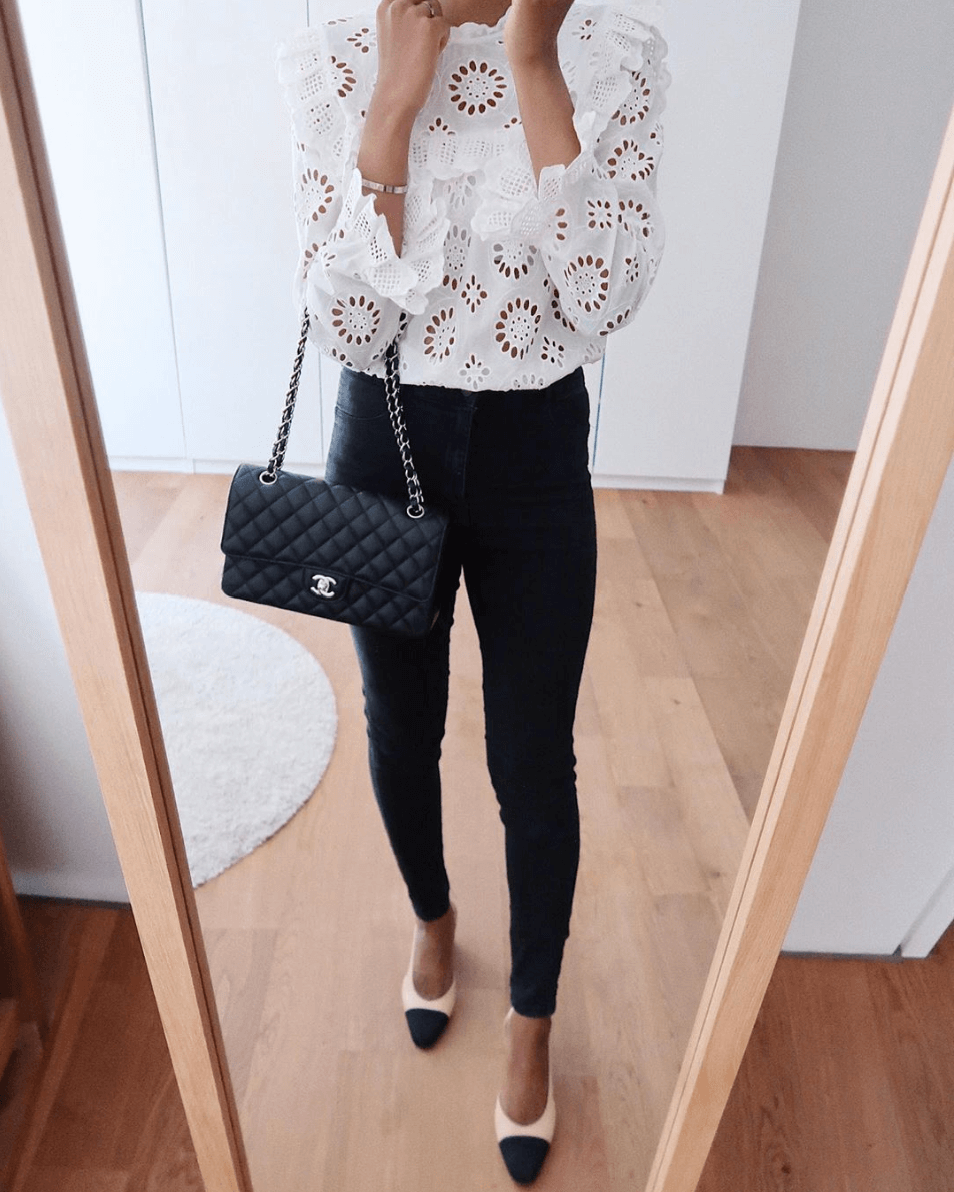 Jeans
It's becoming common to wear jeans to work even if it's only on Fridays. However, your jeans are for dressing up, not dressing down. So here are a few tips for wearing your jeans to the office.
Darker is usually better – dark wash says you mean business
Wear heels – you transform your jeans into workwear when you style it with heels. Boots are perfect for this time of year
Add a blazer – a blazer is a workwear essential, and the same goes for wearing it with jeans. It's also a great way to add colour
Tuck your shirt in
1. Blouse + jeans + sweater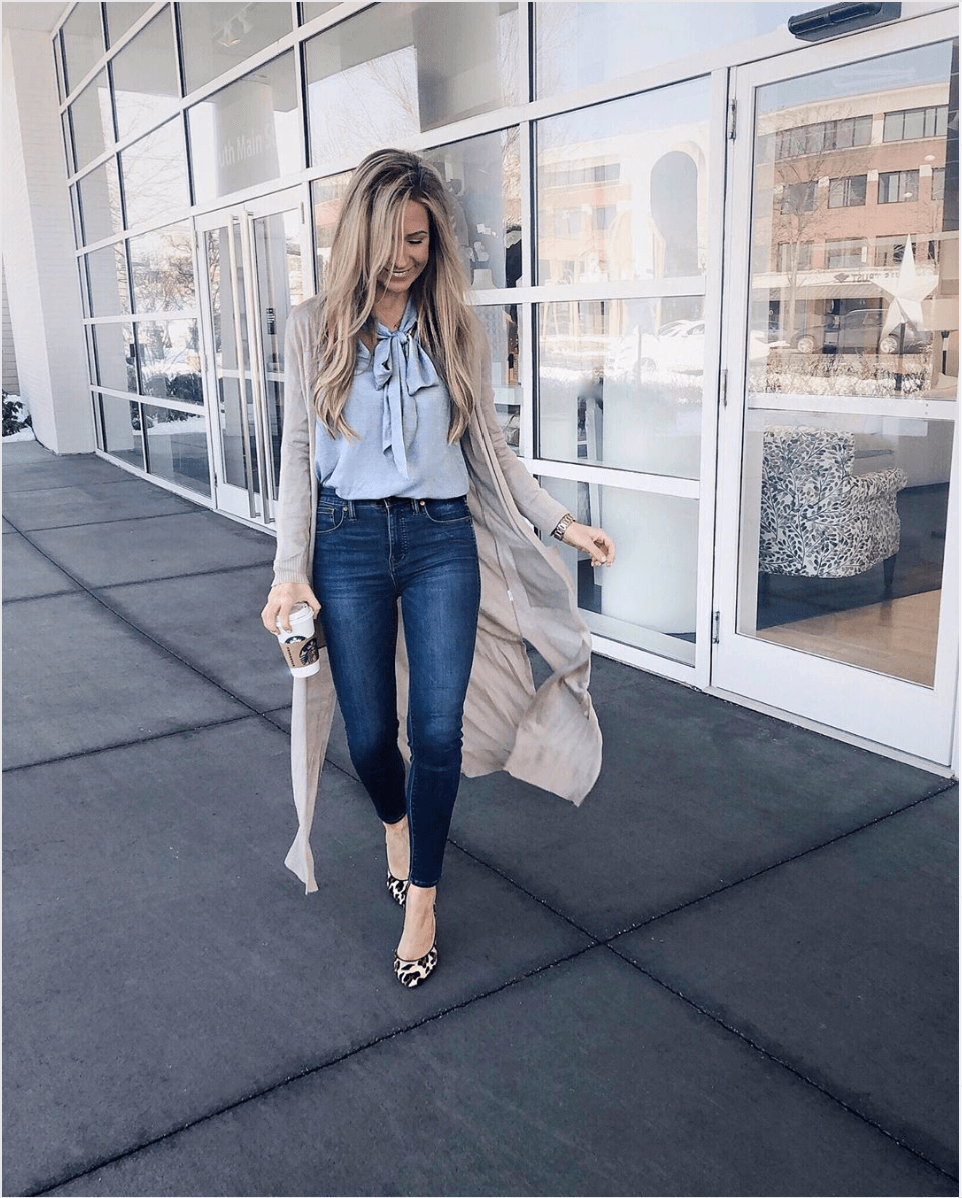 2. Monochromatic jeans + t-shirt + heels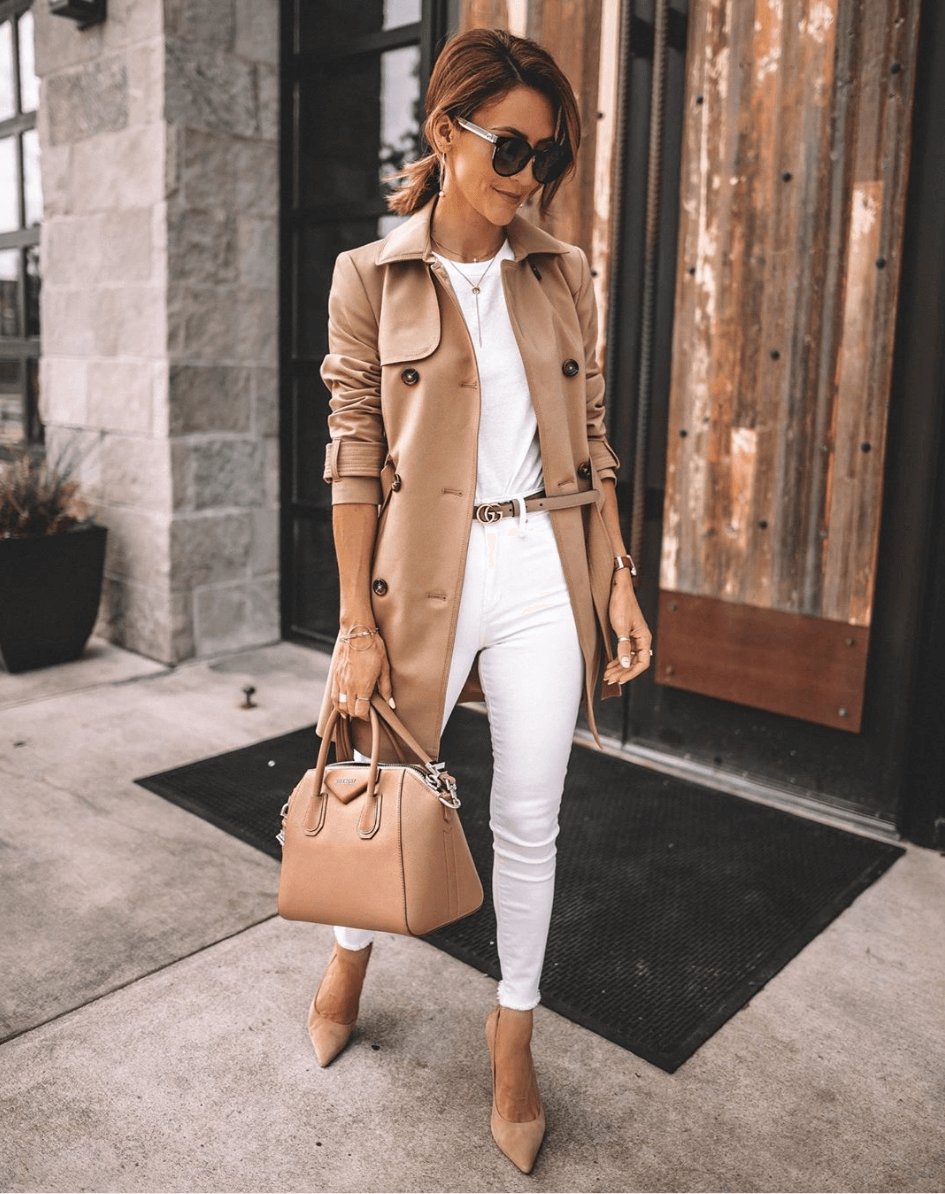 3. Statement coat + dark wash jeans + ankle boots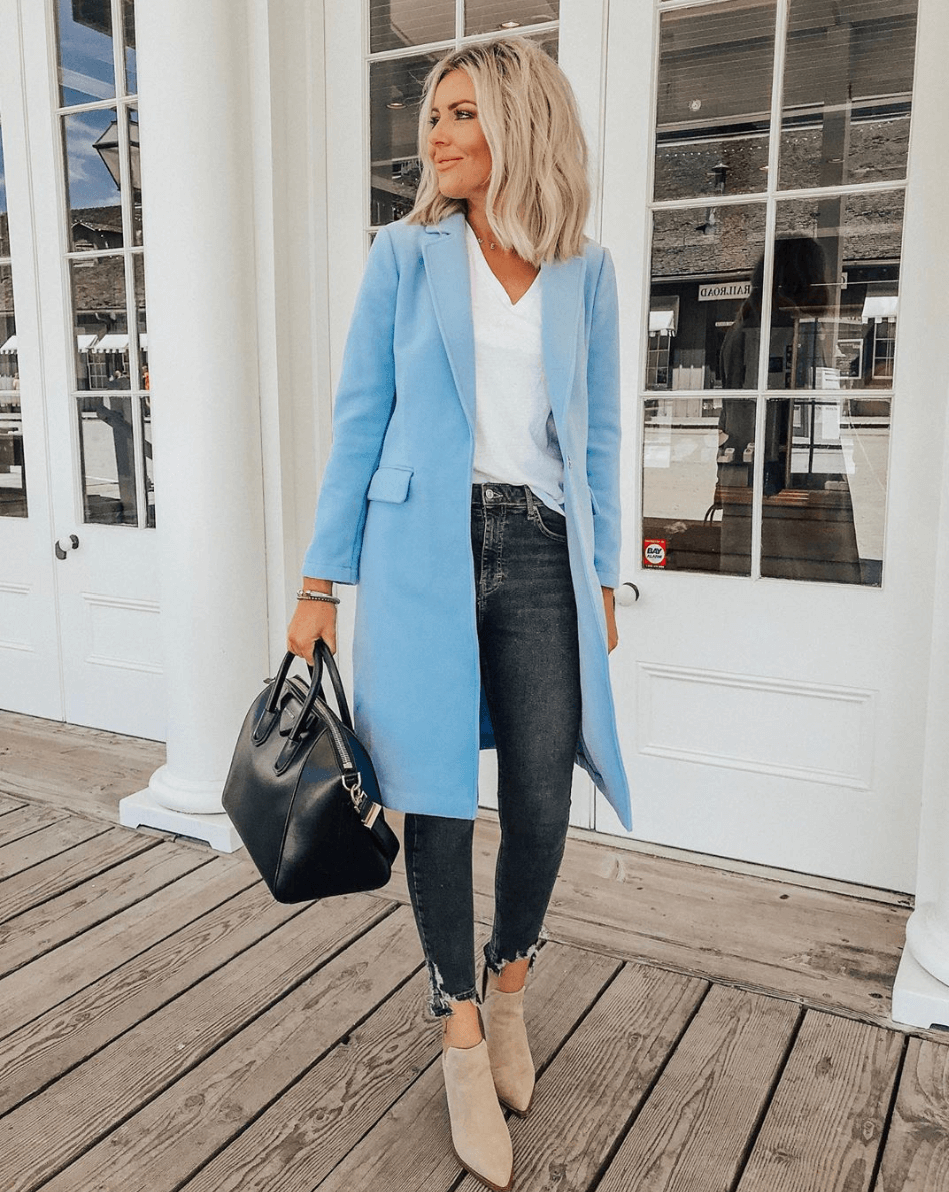 4. Blazer + skinny jeans + pumps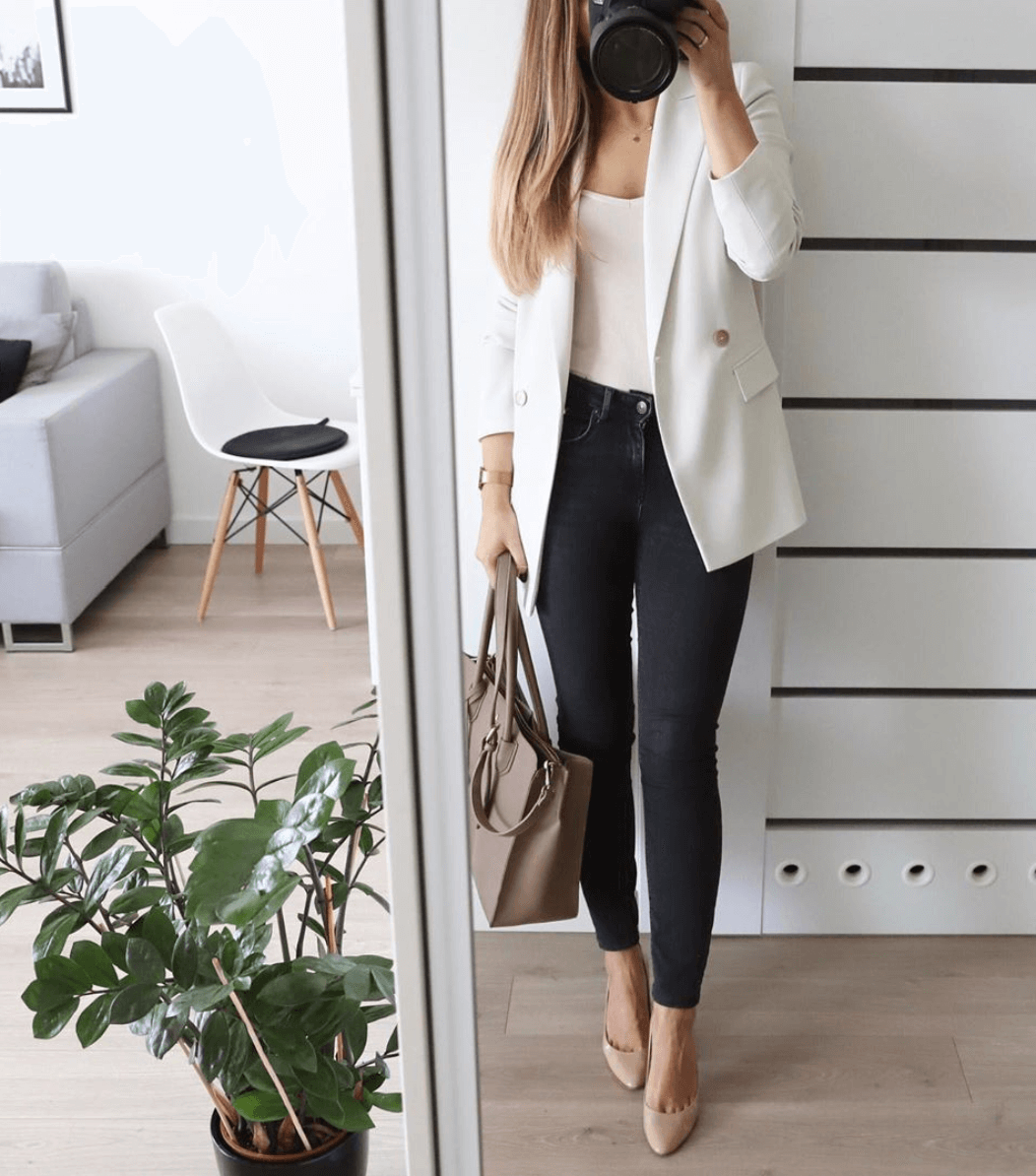 5. Coat + t-shirt + jeans + heels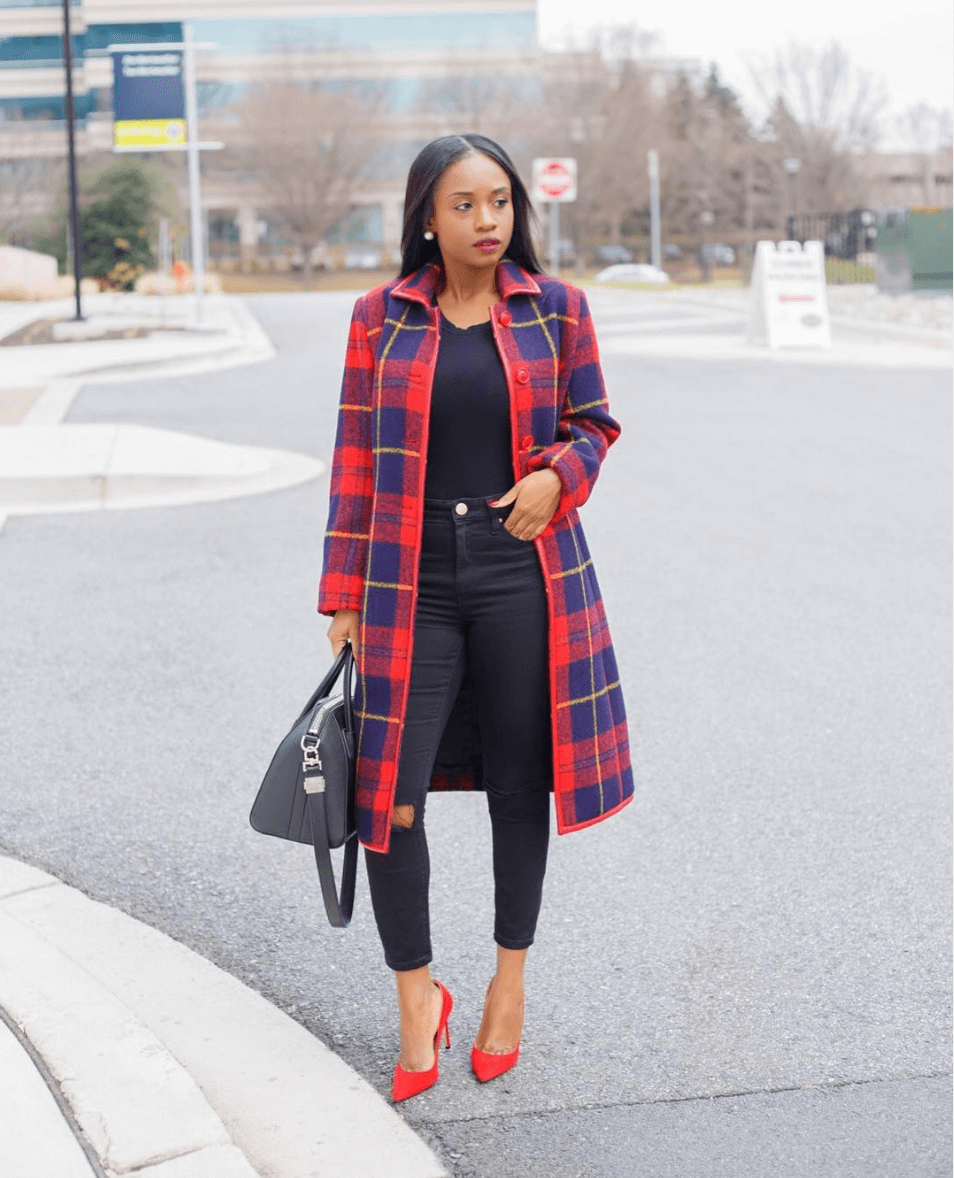 Dresses
Although pants are a great option for work during the fall, dresses add diversity to your look. Simply be sure you pick appropriate styles, like a pencil, wrap or A-line, and that the length and fit are appropriate for work.
You can continue wearing your favourite spring and summer dresses in the fall. The trick is layering; combining the short sleeveless, lightweight dresses from the summer with the heavier pieces you need during fall. Here are a few ways to do that.
Layer over or underneath sweaters, jackets, cardigans or button-downs
Add boots and a scarf – for warmth and a touch of chic
Wear tights and boots
Wear a light jacket to keep you warm
1. Black dress + jean jacket + pumps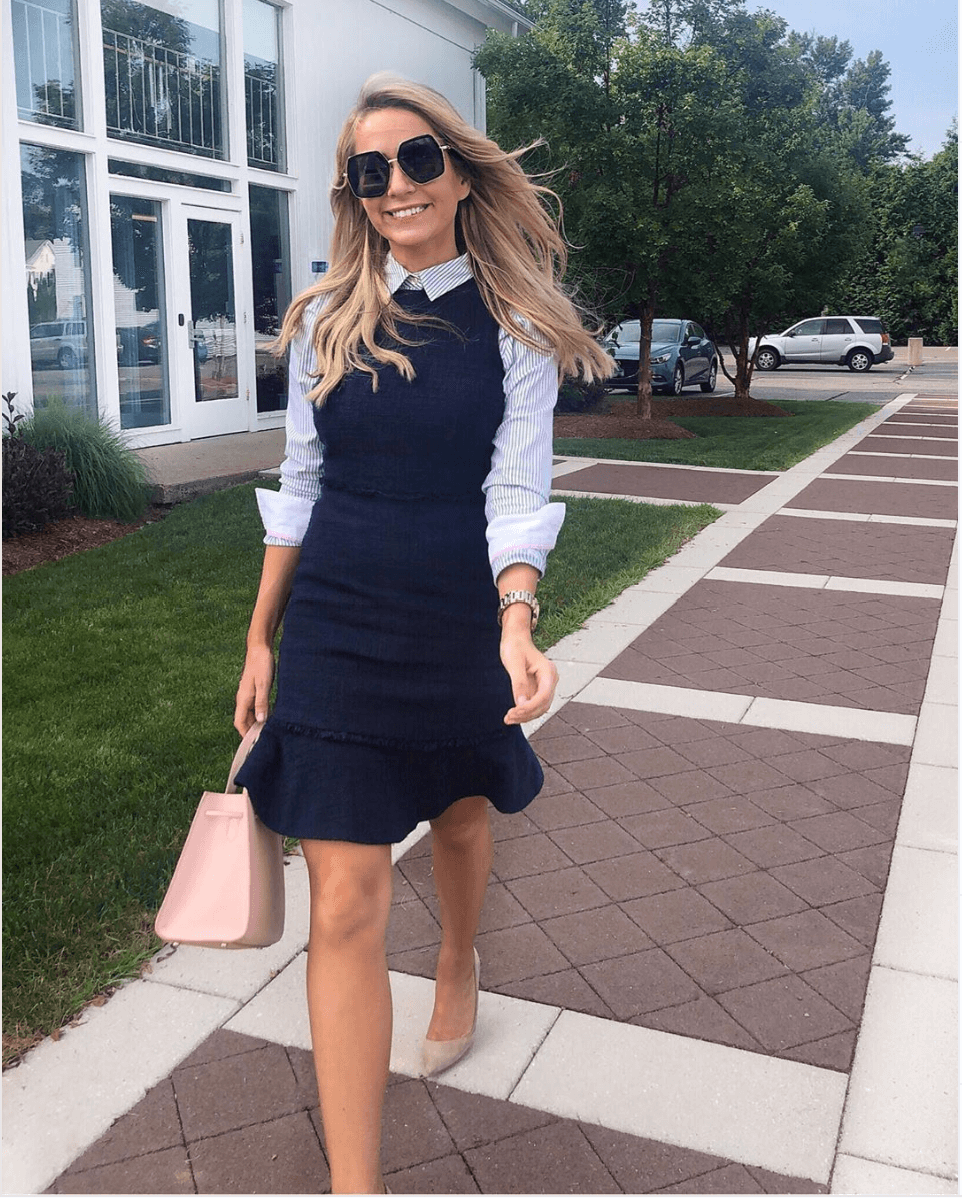 3. Wrap dress + heels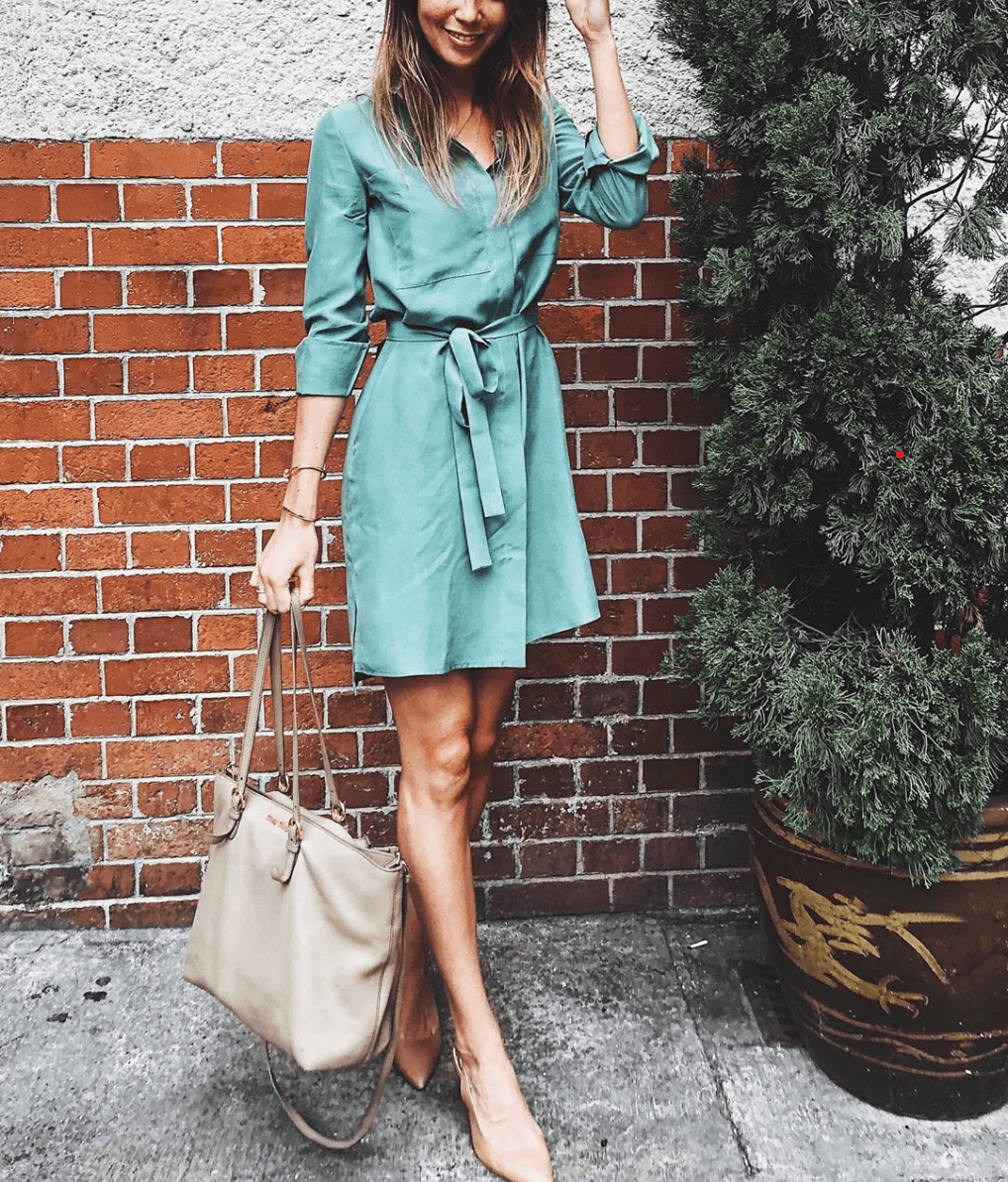 4. Sleek dress + flats
5. Knit dress + stockings + pumps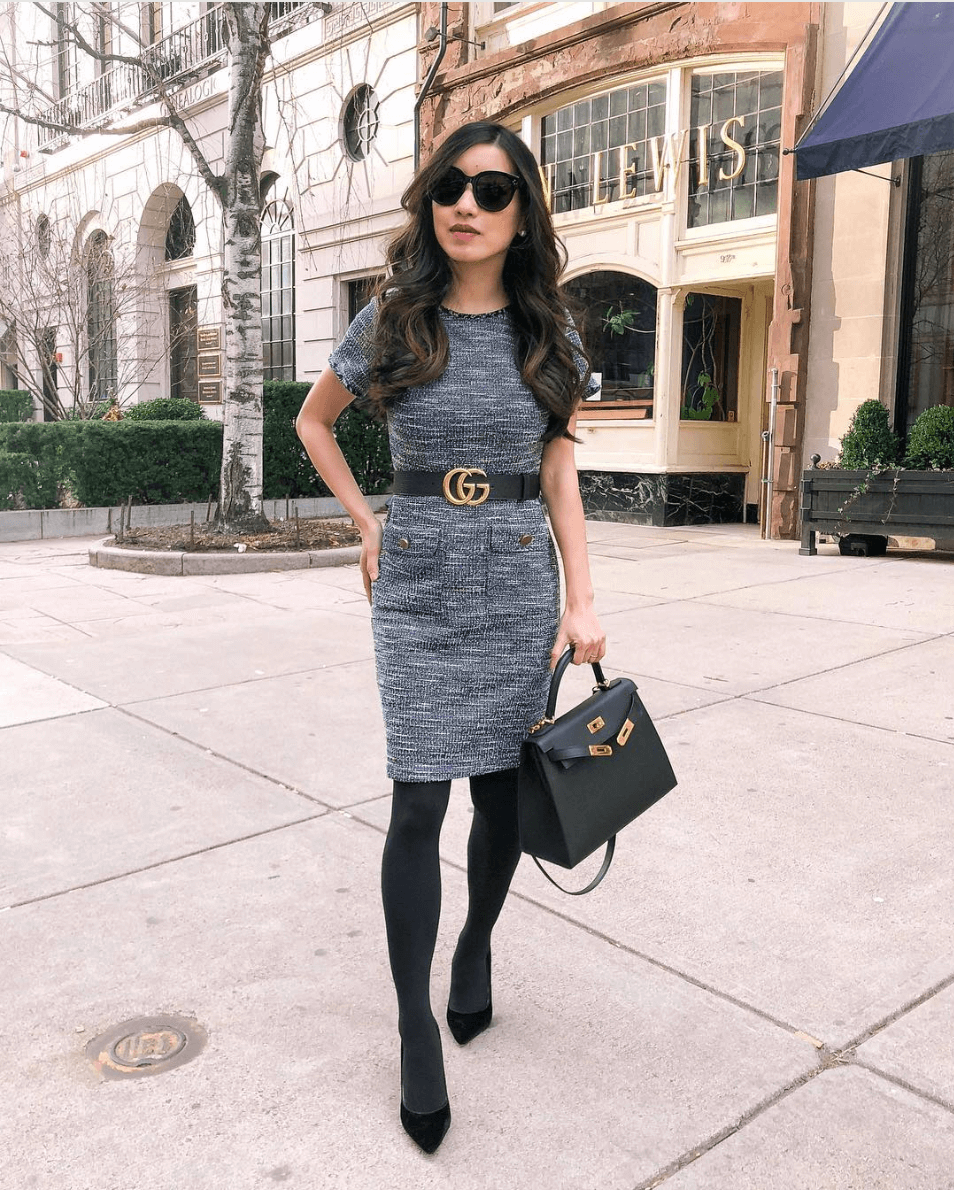 Skirts
It might be fall but there's no need to put away your skirts just yet or at all. Skirts can be worn all year round if you style them correctly. The trick is to layer up and ensure you're fully covered and staying warm.
Having a few skirts in your workwear will instantly make nailing the business casual dress code easier. Not only are skirts stylish; they're versatile.
When shopping for skirts for the office, pencil skirts are always appropriate but don't rule out A-line and pleated styles. Instead, simply ensure the length and slit, if it has one, is suitable for your work.
Wear with opaque tights – you can also vary the tights' thickness depending on how cold it is
Style with long jackets
Wear knee-length and midi skirts with tall boots
Mix skirts with knits and warm jackets
Wear lighter fabrics with weather appropriate layers
1. Pencil skirt + sweater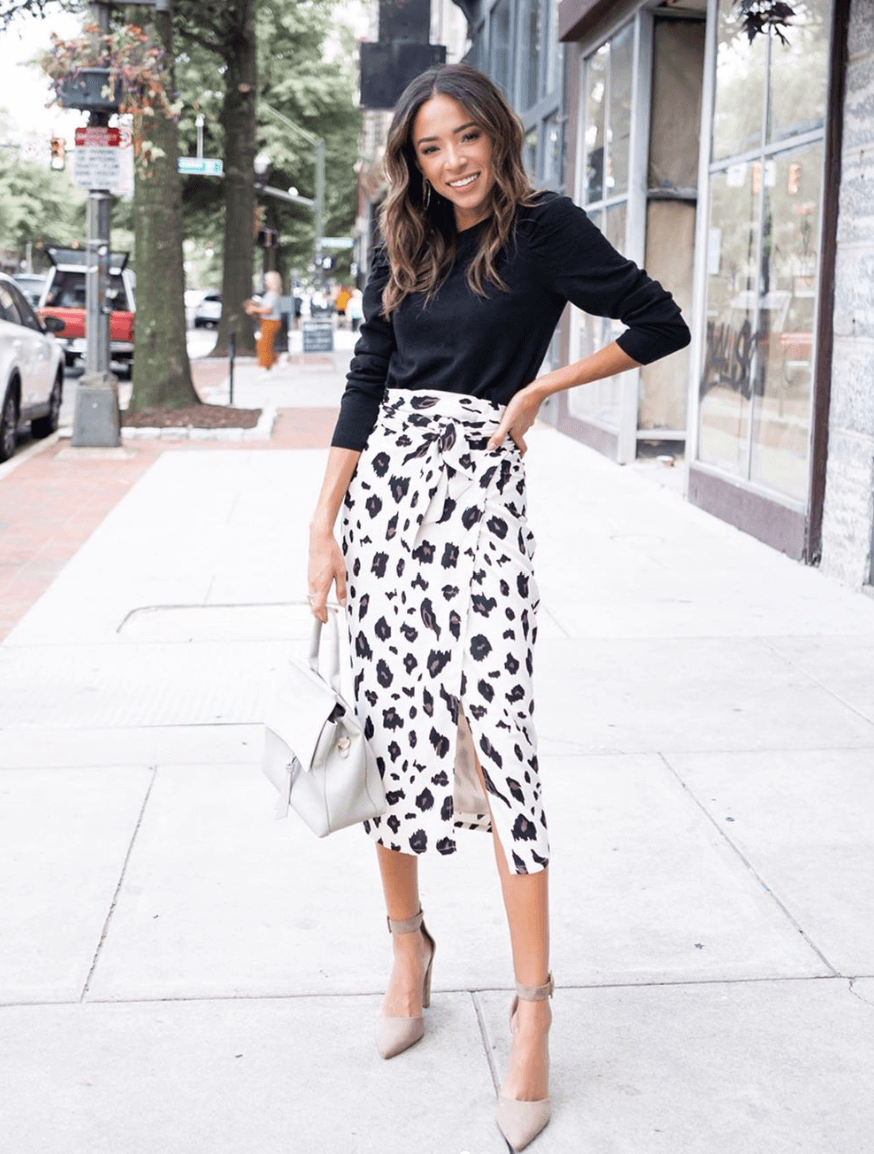 2. Animal print top + skirt + pumps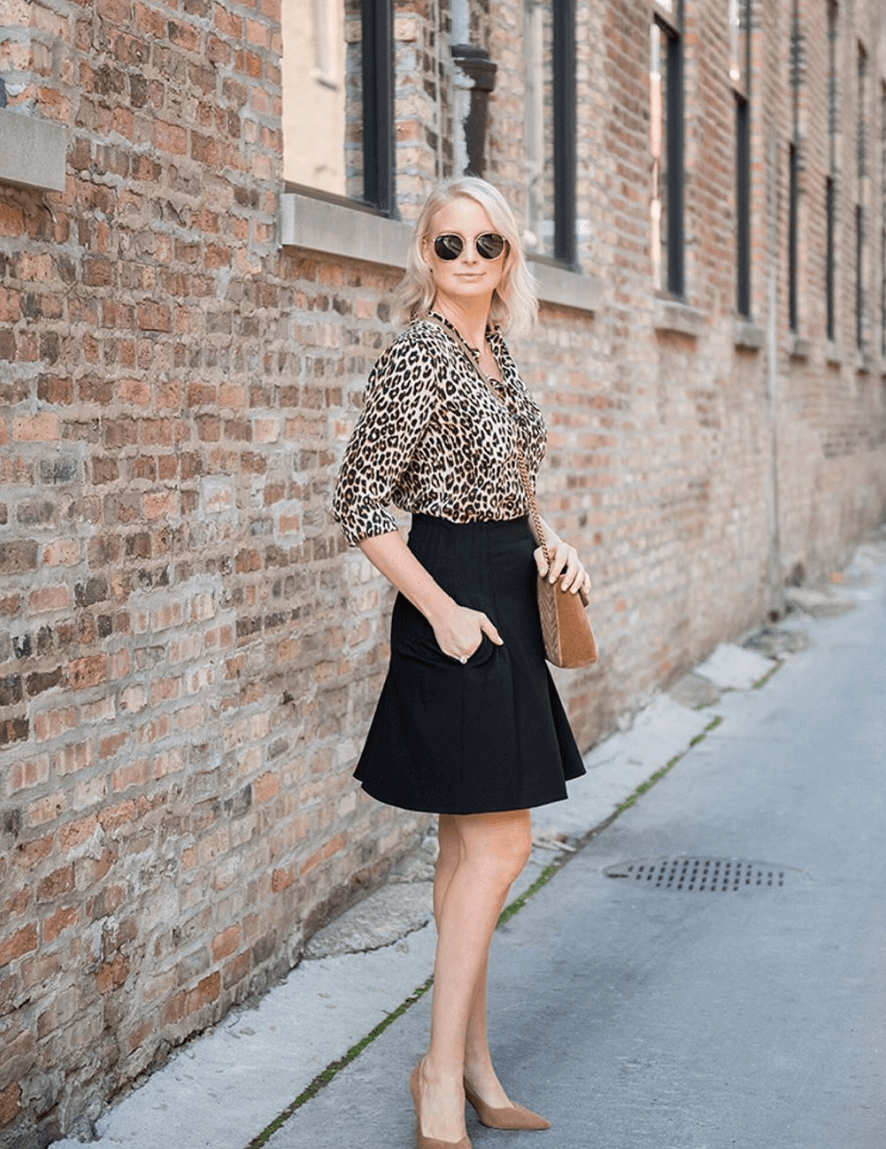 3. Floral pencil skirt + sweater + heels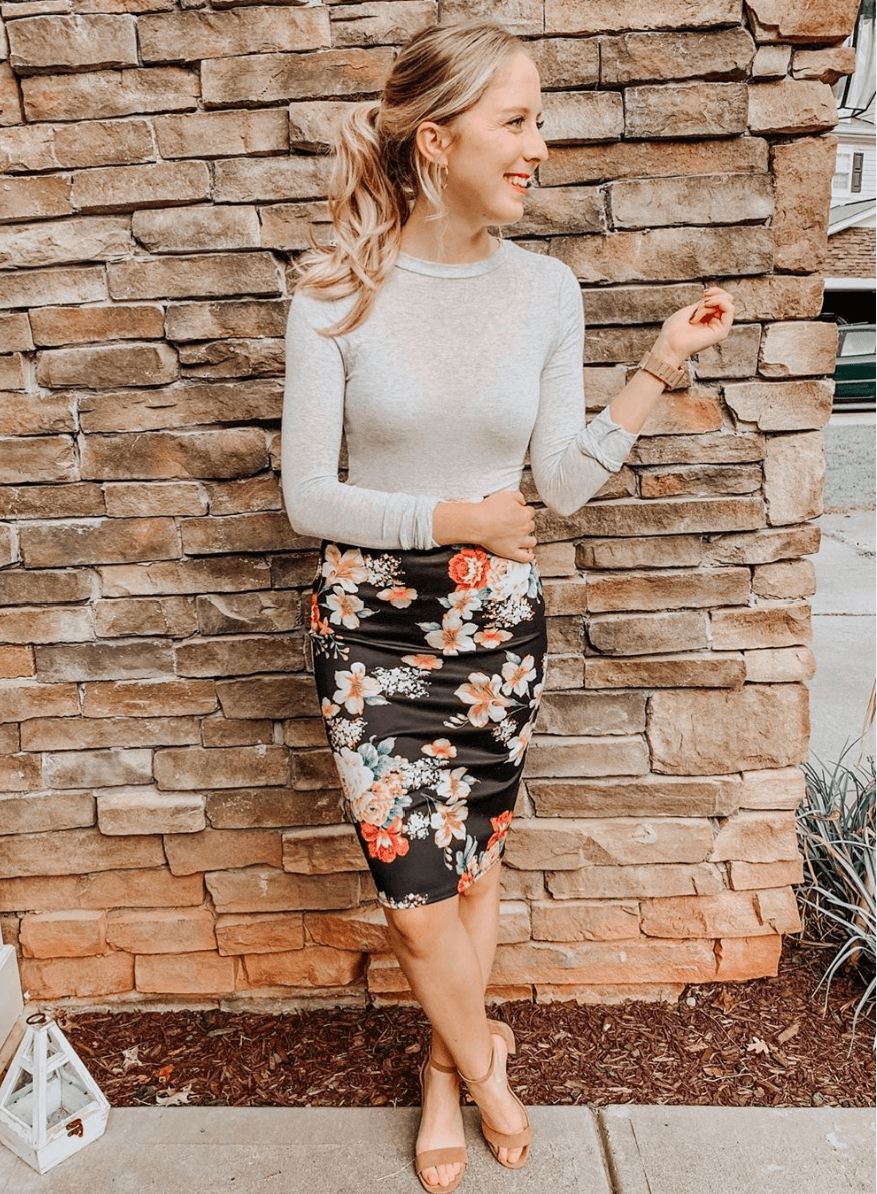 4. Button-down shirt + plaid skirt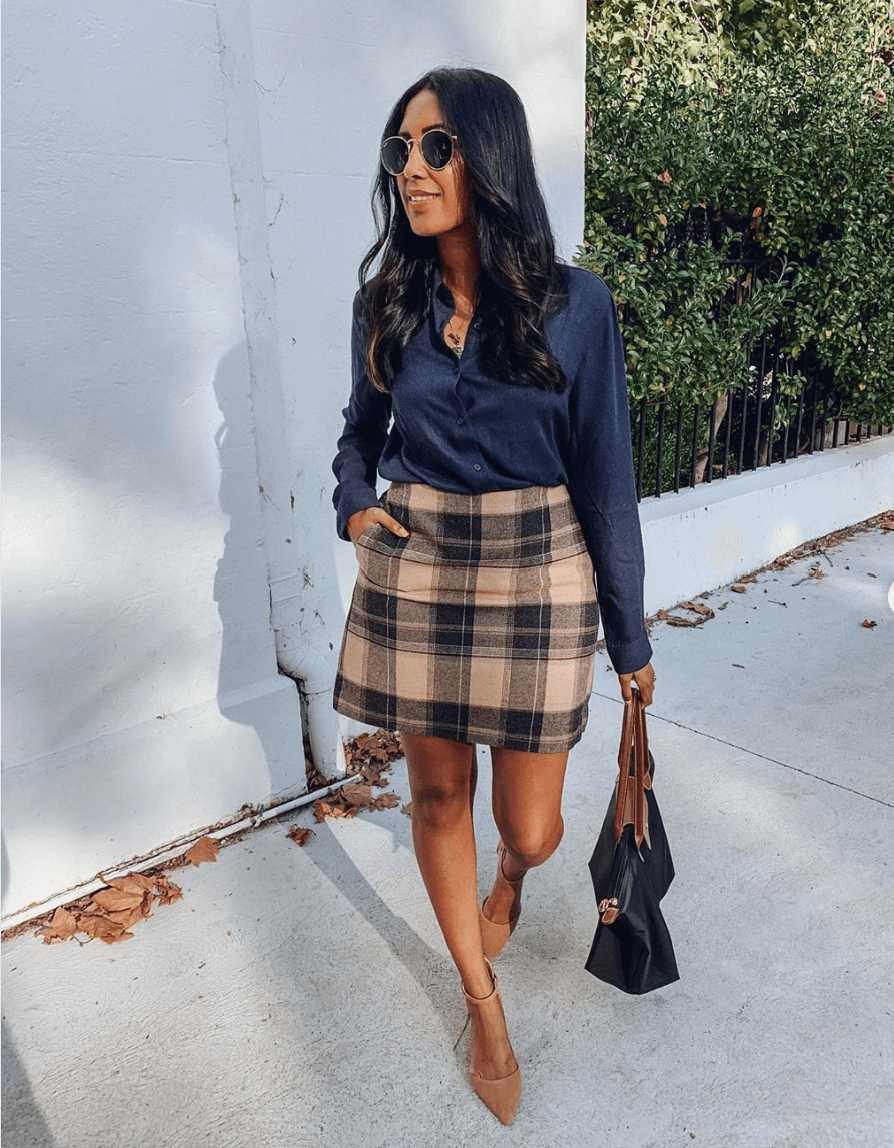 5. Midi skirt + fitted sweater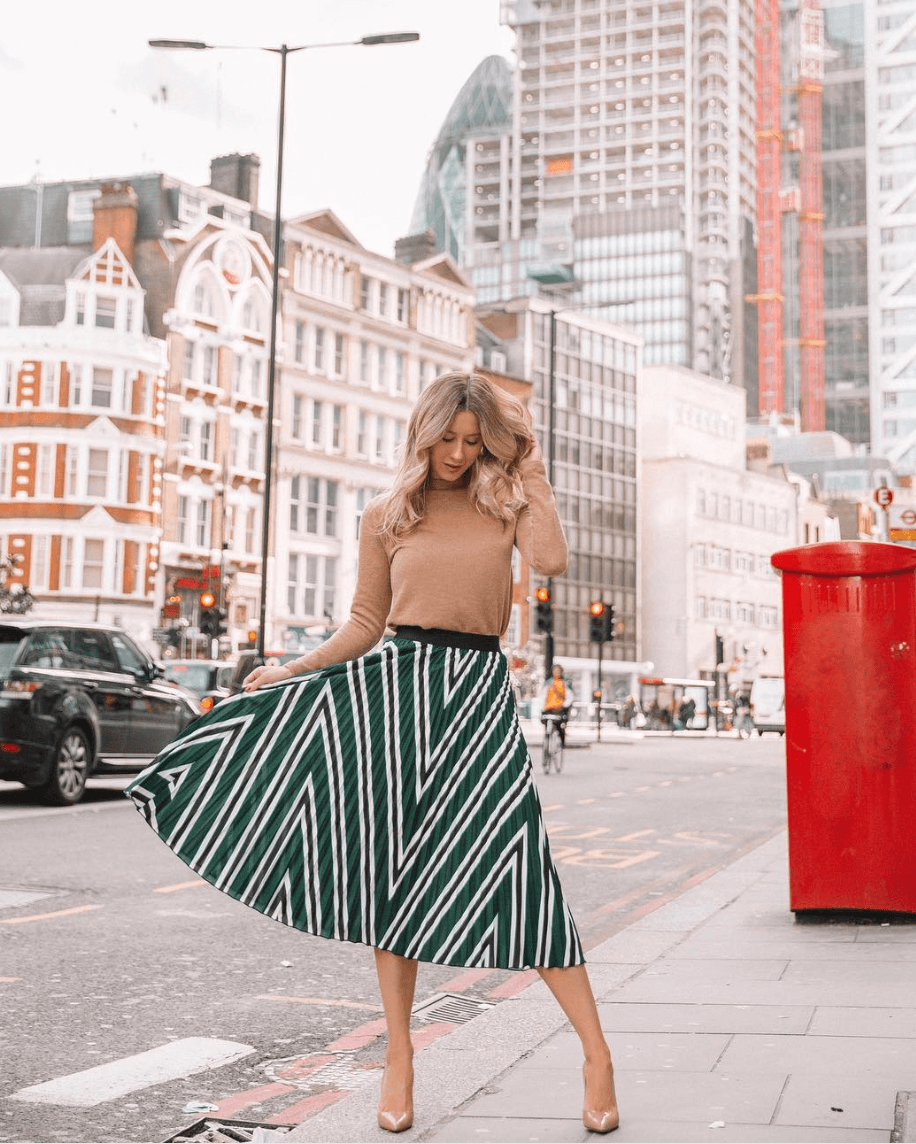 Fall is here, and dressing for the season can be tough. Hopefully, this list of fall outfit ideas for work gave you some inspiration to create your own and remember the way to get through fall is to layer, layer, and layer some more.
Which outfit was your favourite? Share in the comments!
If this post was helpful, pin on Pinterest!