Halloween is the perfect time to let your inner fashion monster roam free. Whether you're gearing up for a night out or simply looking to infuse your wardrobe with a dash of the Halloween spirit, you're in for a treat.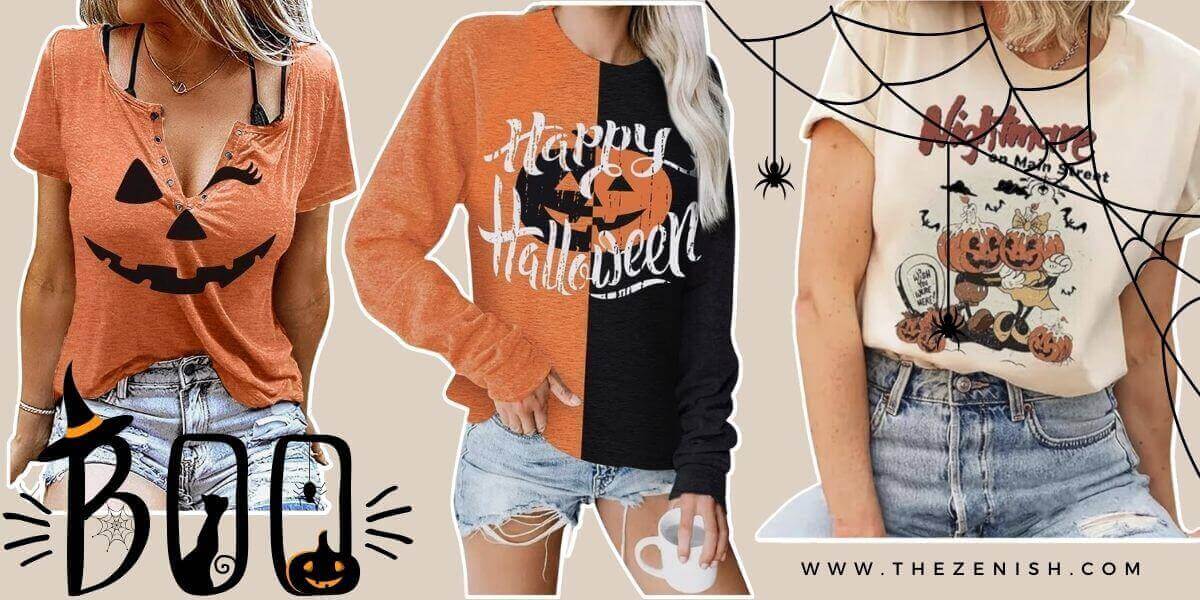 Here are some super cute Halloween inspired outfit ideas you can wear anywhere!
this post may contain affiliate links, which means if you purchase from one of these links, I may receive a small commission at no additional cost to you.
1. Orange and Black
Shop the look: Dress | Cardigan Coat | Earrings
The dynamic duo of Halloween, orange and black, can be stylishly combined in your outfit like in this black sweater dress covered in a Halloween-inspired pattern, go ahead and wear it with orange accessories or an orange coat to really take it up a notch.
2. Eerie Skull Motifs
Skull prints give your outfit a fun yet eerie twist. Choose an eyeball-print scarf or a skull-embellished top like this one to celebrate the season.
3. Bewitching Bats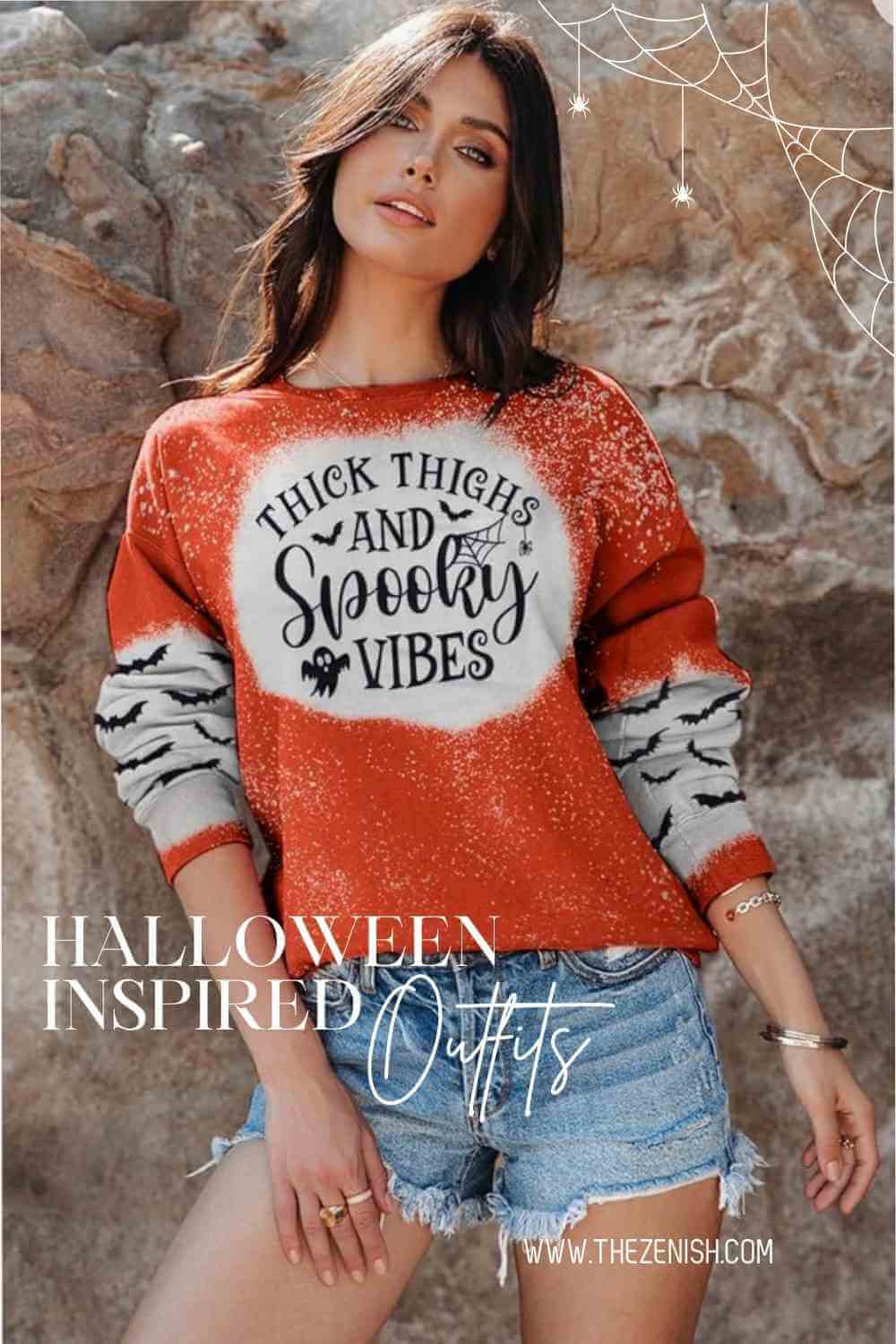 Bats are totally expected during Halloween right? So it's no surprise that bats are on this list. A bat-patterned top can be a playful way to embrace Halloween fashion. Like this top. This top is so cute that I'd wear it all season long and feel like a million bucks!
4. Pumpkins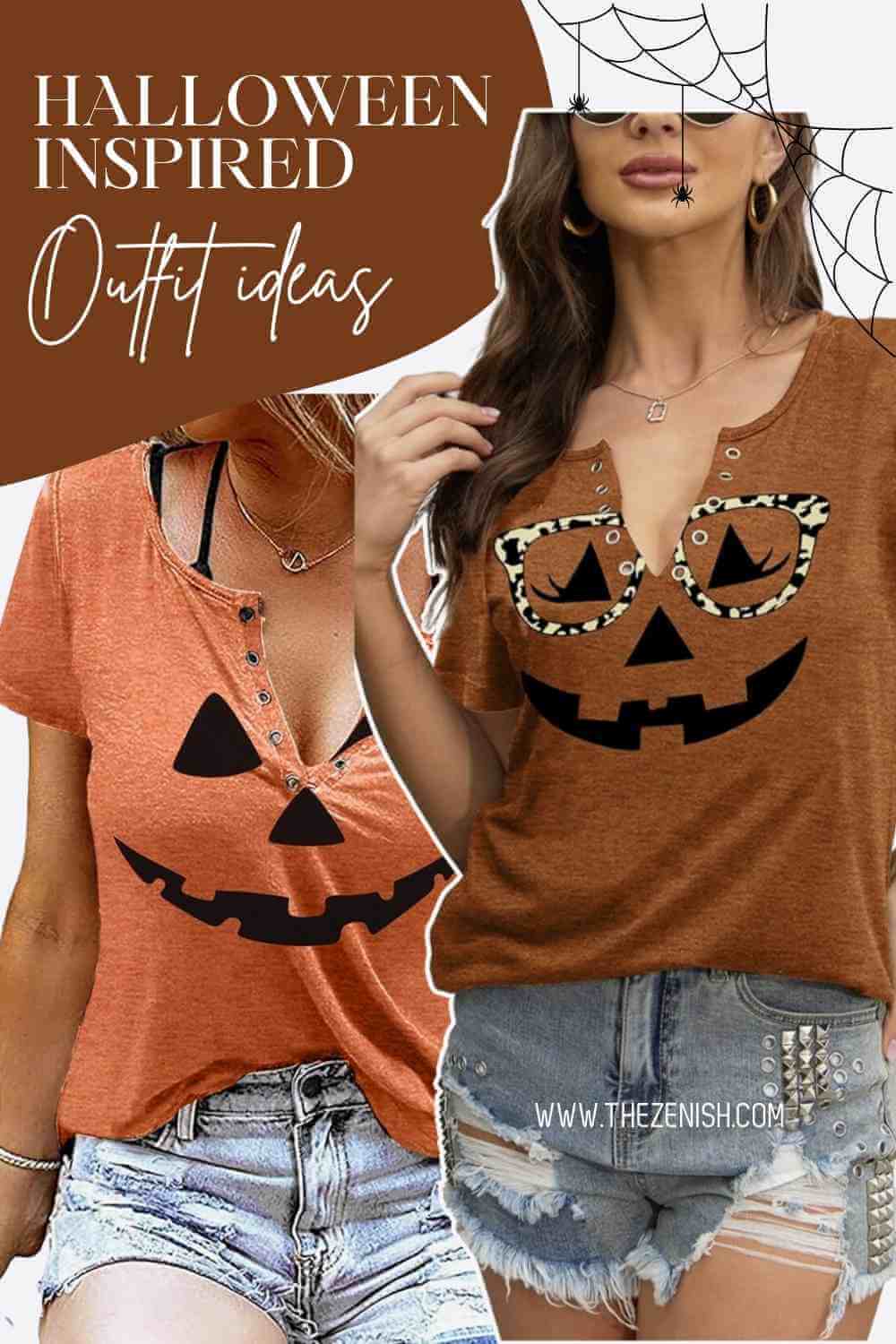 Shop the look: Shirt (orange) | Shirt (brown)
Pumpkin designs not only scream Halloween they're also perfect for fall and a cute top like this one, adds a lighthearted touch to your outfit. You could easily wear this with your favorite jeans, leggings, shorts, or skirt!
5. Ghosts and Ghouls
Shop the look: Sweater (apricot) | Let's Go Ghouls Shirt
Is it even Halloween without ghosts and ghouls? Yeah, I didn't think so. This super cute crew neck sweater will keep you nice and warm and in the Halloween spirit without being too much! These would look great with skinny jeans or leggings!
6. Hauntingly Beautiful Spiderwebs
Your Halloween fit doesn't have to be spooky. In fact, if you're of a certain age you're looking for something sexy. This outfit says sexy. Perfect for a date or going out with your best girlfriends. They'll definitely want to know where you bought this!
7. Happy Halloween
Sometimes simple is better! This sweater gets right to the point and it works. No gore no scare, just happy Halloween.
8. Hocus Pocus
Shop the look: Sweater (hocus pocus) | Shirt (come we fly)
What says Halloween better than Hocus Pocus? This movie is a Halloween cult classic (I know I watch it religiously every year) and you can count on seeing the movie and imagery everywhere during the season. If you're a fan then you can't go wrong with either of these!
9. Witches
Shop the look: Basic Witch Shirt | Frequent Flyer Shirt
With a pointy hat, a long black skirt, and witchy boots, you can confidently rock the witchy style.
10. Halloween Doodles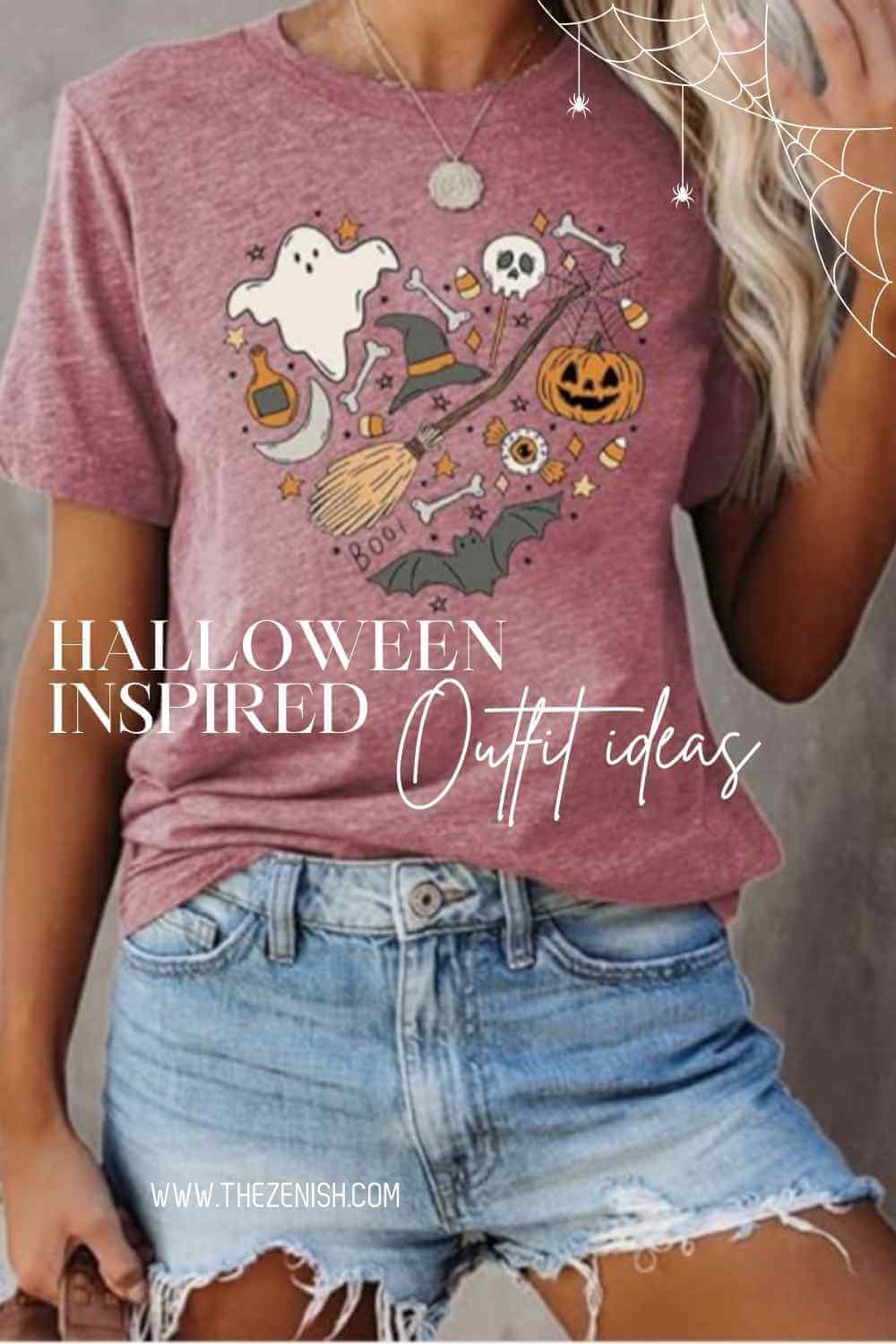 Who says Halloween can't be cute? This is another great outfit idea if you'd rather not deal with the blood and gore. It's a cute heart with little Halloween doodles in the middle aww. This is the type of shirt you could wear all year if you really wanted to. Halloween in June!
11. You Can't Sit With Us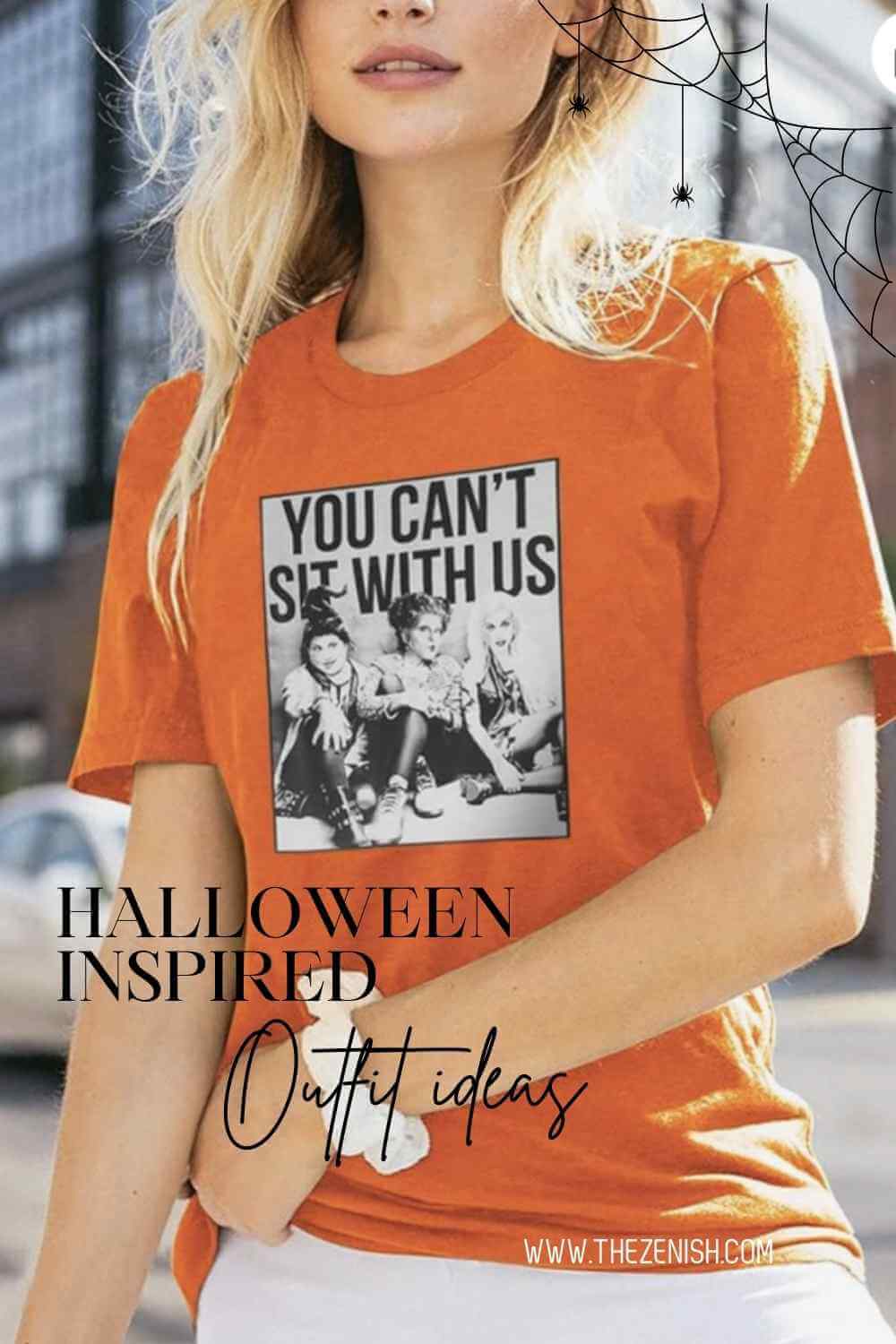 If you're a fan of the movie "Mean Girls" or "Hocus Pocus" then you'll love this shirt! I'm a fan of both and have happily watched both a million times and will watch a million times more, so believe me when I say this shirt is the "ish".
12. Sinister Pumpkin
This is another shirt that you could wear for Halloween and throughout the fall. It's a great fall color and at first glance, the pumpkin doesn't look so sinister and is a little cute. It's on the second glance that you realize "this is a Halloween shirt" and the pumpkin is a little "off".
13. Nightmare on Main Street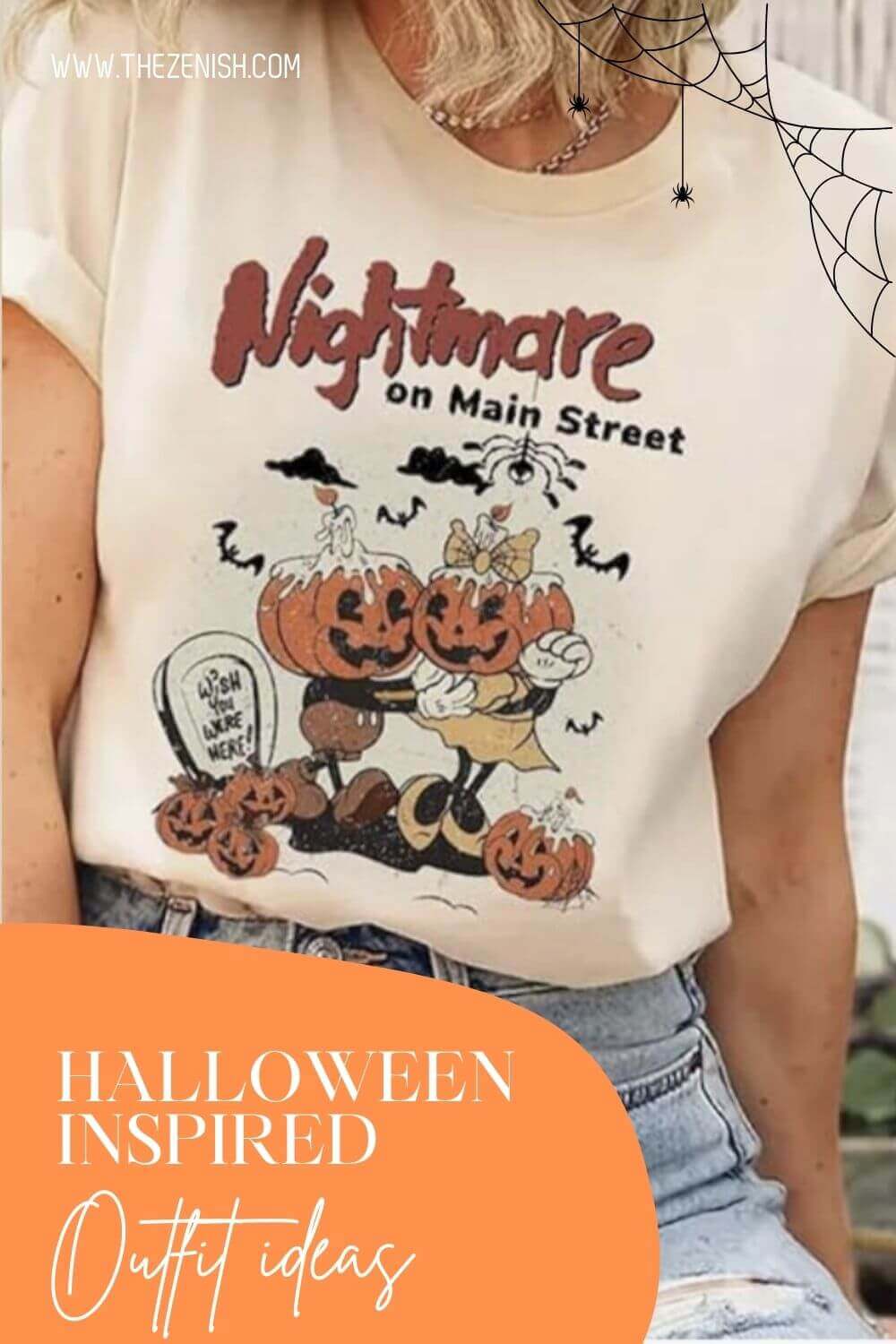 A little vintage, a bit of Disney, and a little spooky, this shirt has it all. And it's adorable. It's such a cute way to wear Halloween. And the best part is you can easily wear it with jeans, leggings, shorts or a skirt and look really good. This is a great shirt for multiple occasions.
Pin me for later📌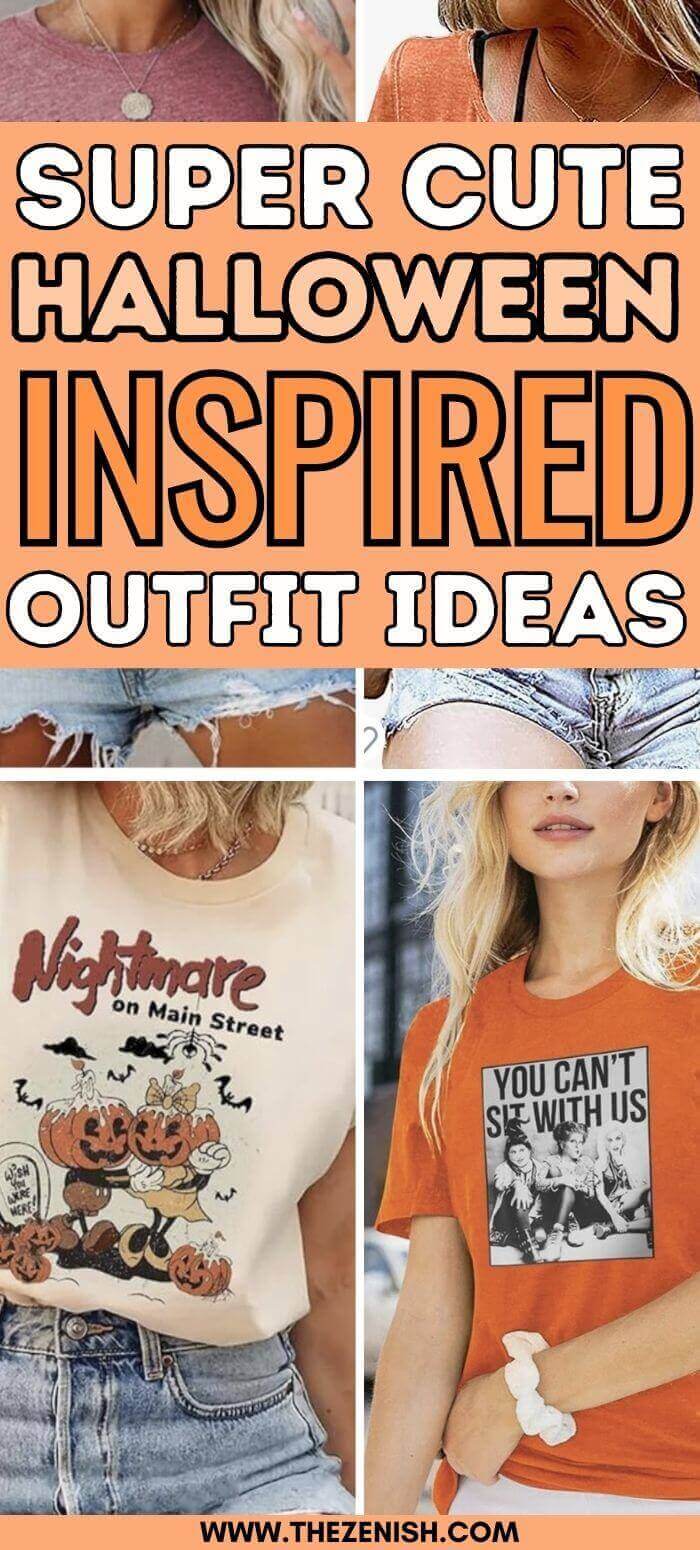 Halloween-inspired fashion is an exciting and creative way to celebrate the season. Whether you're going all out with a costume or adding subtle spooky touches to your outfits, there are countless ways to embrace the spirit of Halloween.
So, have fun and enjoy a spooktacular Halloween season of fashion and festivities! Happy Halloween!
Looking for more seasonal content? Great, read these next!