Cardigans and cute cardigan outfit ideas are popular right now.
Over the last few years, cardigans have become a fashionable alternative to turtlenecks and chunky knit sweaters.
And rightfully so. Cardigans offer endless layering and styling possibilities, which means you're able to wear them during transitioning weather and all year round.
You can style them with boots, jeans, and a t-shirt layered over a dress, and even wear them in the summer.
The added simplicity and versatility of a cardigan make it a practical layering piece, as we transition into fall.
Now, getting dressed while the weather transitions can leave some of us uninspired and in a rut.
You're left wearing the same leggings and sweater because you just don't know what else to wear and you need to keep warm.
And it's so easy for our cute clothes to get lost in the back of our closet during fall.
So I'll share a few cute cardigan outfit ideas you can copy and wear right now.
These outfits aren't fancy and are all very casual.
So take inventory of what you already have or might need and if you need to, make a few solid staple purchases.
Because we all need some inspiration to put away the leggings and reach for a pair of jeans and a cute cardigan every once in a while.
Here are a few cute cardigan outfit ideas to get you started…
this post may contain affiliate links, which means if you purchase from one of these links, I may receive a small commission at no additional cost to you.
Cute Cardigan Outfits For Fall
---
Outfit #1 | Statement Tee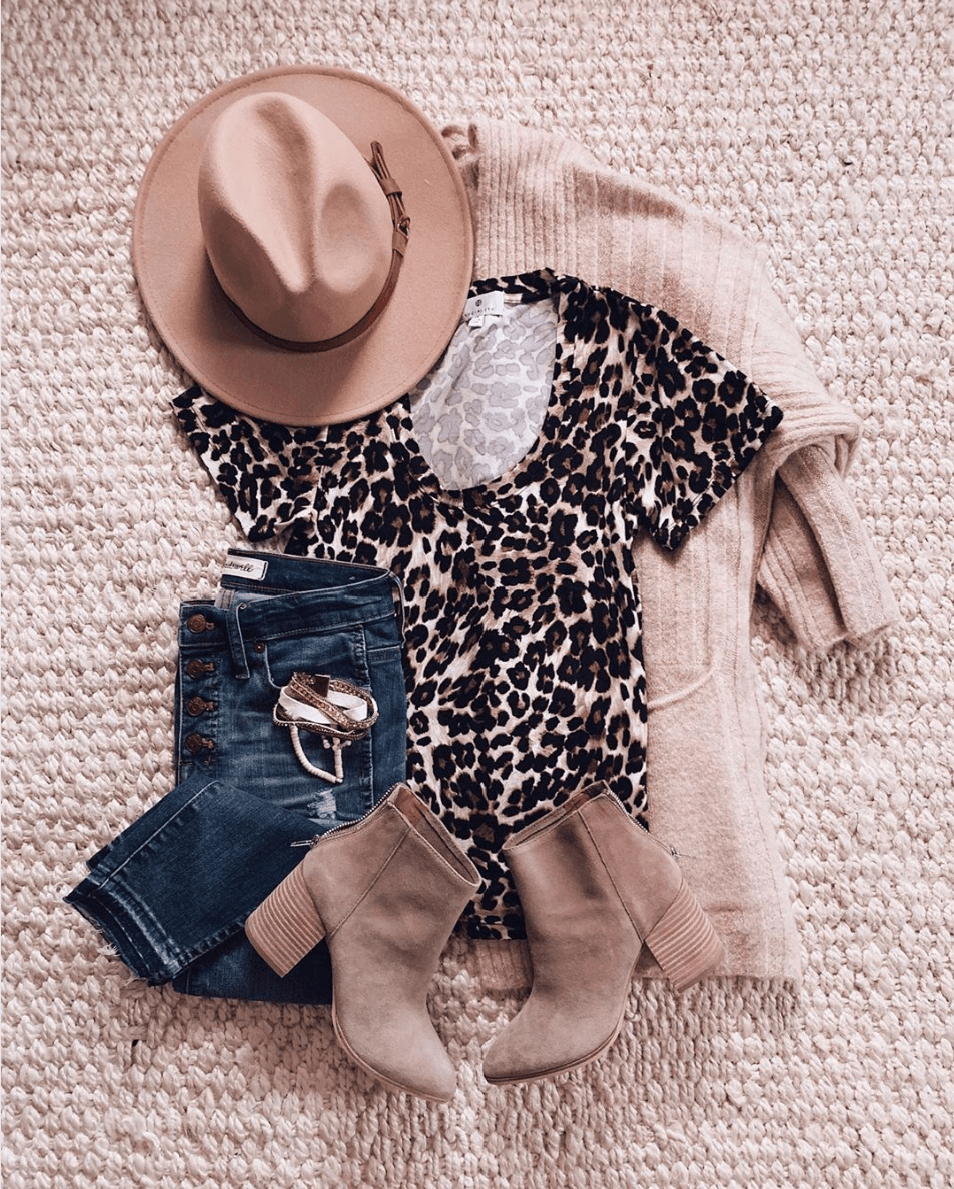 Get a similar look: Cardigan || Boots || Shirt || Hat
Sometimes a basic outfit just looks so good! This leopard shirt takes this look from basic to statement.
The tan sweater, boots and hat are great because they pair so well with leopard.
Pattern play and the same color family make this an easy outfit combo.
Related: 20 Cute Fall Outfit Ideas For Work
Outfit #2 | Classic Jeans & Tee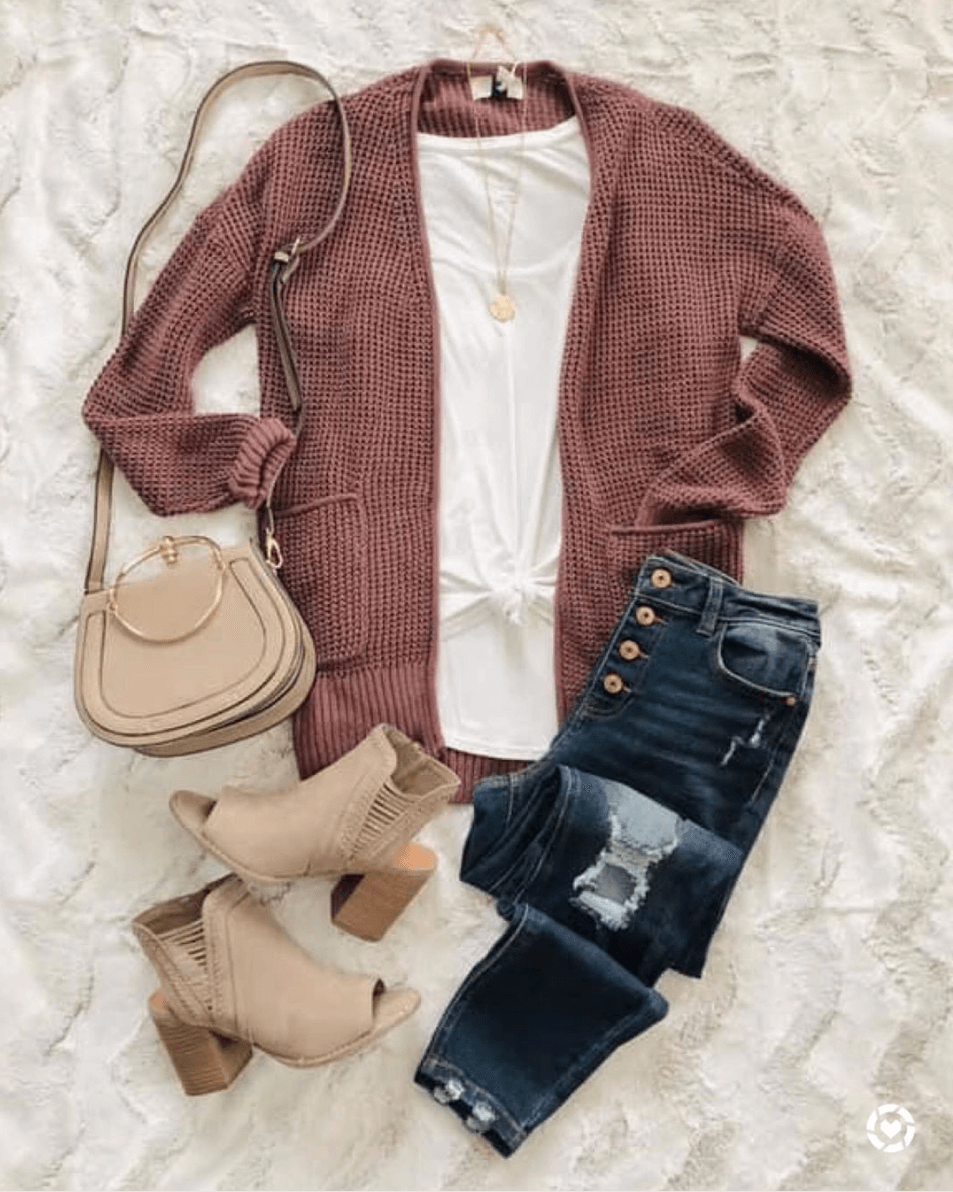 Get a similar look: Cardigan || Shirt || Shoes
This is casual chic right here.
Sometimes you wake up and just want to wear jeans and a white tee.
Forget the jacket and wear a slouchy cardigan over top for a relaxed and casual look and add a cute bag to hold all your staples and keep your hands free!
Outfit #3 | Cool Leopard Print
Get a similar look: Cardigan || Tank || Bag || Boots
The animal print trend is still going strong!
This cozy leopard cardigan is the definition of casual chic.
You'll be cozy while still looking cute and put together. These can be worn with leggings but looks great with jeans and boots.
These boots look so comfortable and go with just about everything. This outfit can be worn in the Fall, late winter and early Spring.
Outfit #4 | Warm & Cozy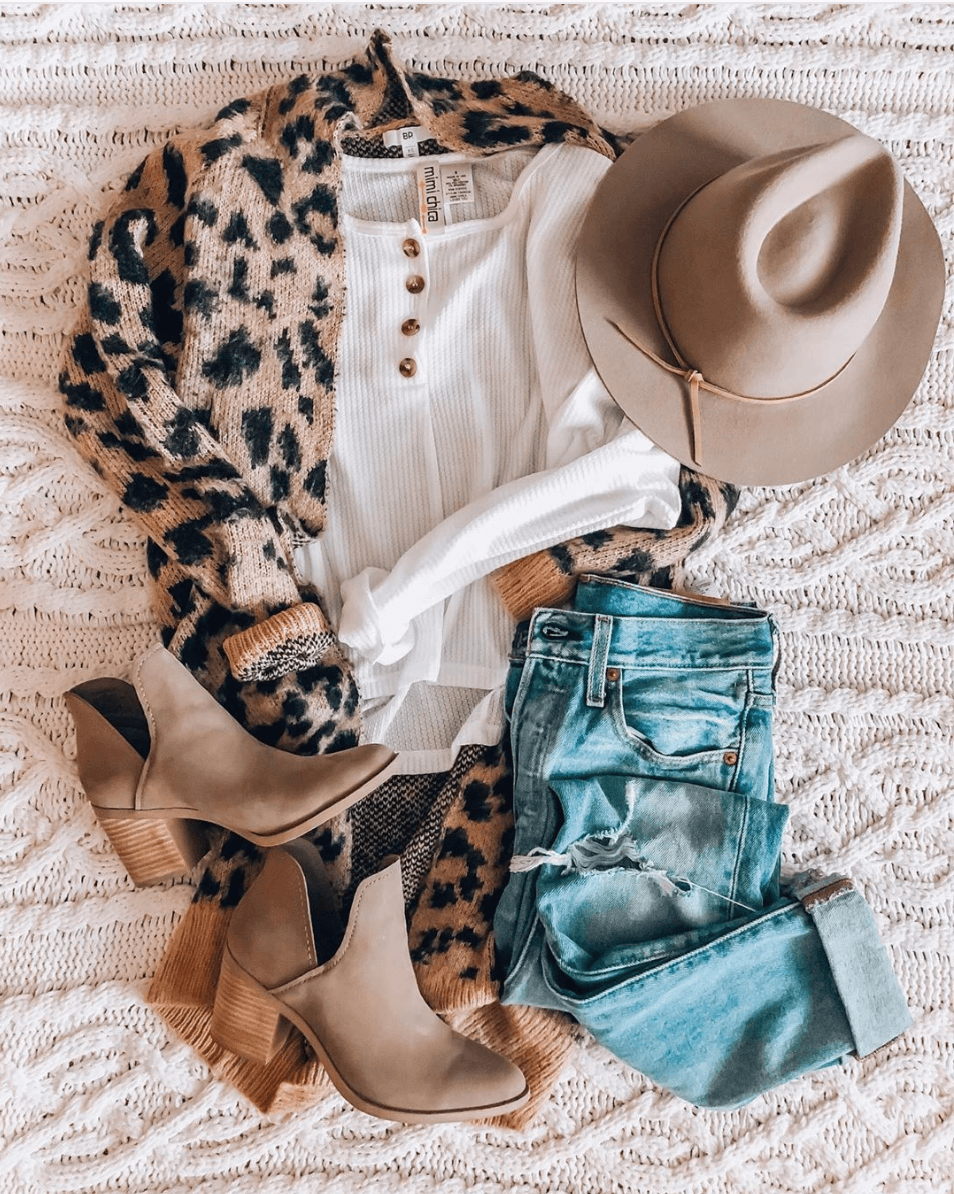 Get a similar look: Cardigan || Shirt || Boots || Hat
It doesn't get any simpler than a cute leopard cardigan with a t-shirt and jeans.
Add a pair of boots and some accessories like this hat and you are set!
Other ways you could switch up this same look…add a white collared button-down underneath or swap out the jeans for black denim.
Such an effortless, classic look!
And again, pattern play and the same colour family makes this an easy eye-catching combo.
Outfit #5 | Jeans & Striped Tee
Get a similar look: Cardigan || Shirt || Shoes
If the trendy prints aren't for you or you'd like to try something else, then consider a bold print like stripes and ground it by adding a beige cardigan.
To round out this casual fall look you can then style it with jeans, leggings, and flats or boots.
This grounding technique also makes busier prints like florals look more sophisticated.
Outfit #6 | Mini Skirt & Cardigan Combo
Get a similar look: Cardigan || Top || Skirt || Bag
Because it's fall doesn't mean you have to put away your short skirts.
Instead, add a touch of warmth and dramatic touch with a long, patterned cardigan like this one.
Layer it over a solid colour turtleneck and complete the look with equally dramatic accessories like chunky earrings, necklaces or a cute purse like this one.
Outfit #7 | Jeans & Trendy Tee
Get a similar look: Cardigan || Boots || Shirt
This look is a slightly edgier take on a classic look; pairing a leopard tee and jeans layered under a warm cardigan.
This leopard shirt is eye-catching and the jeans are a nice alternative to basic black leggings.
You can keep this top in rotation in the fall and layer it under a denim jacket or faux leather jacket.
Outfit #8 | Animal Print & Stripes
Get a similar look: Cardigan || Shirt || Flats || Sneakers
If you haven't already noticed, animal prints are hot for the fall.
Leopard print sweaters and snake print boots are all over social media and I can only see more coming soon.
The animal print trend can be worn with all shades of denim like these blue ones in the picture with solid colour cardigans.
You can also rock your cardigan outfits with trendy leopard boots, or flats which are great statement options.
Outfit #9 | Jeans & Graphic Tee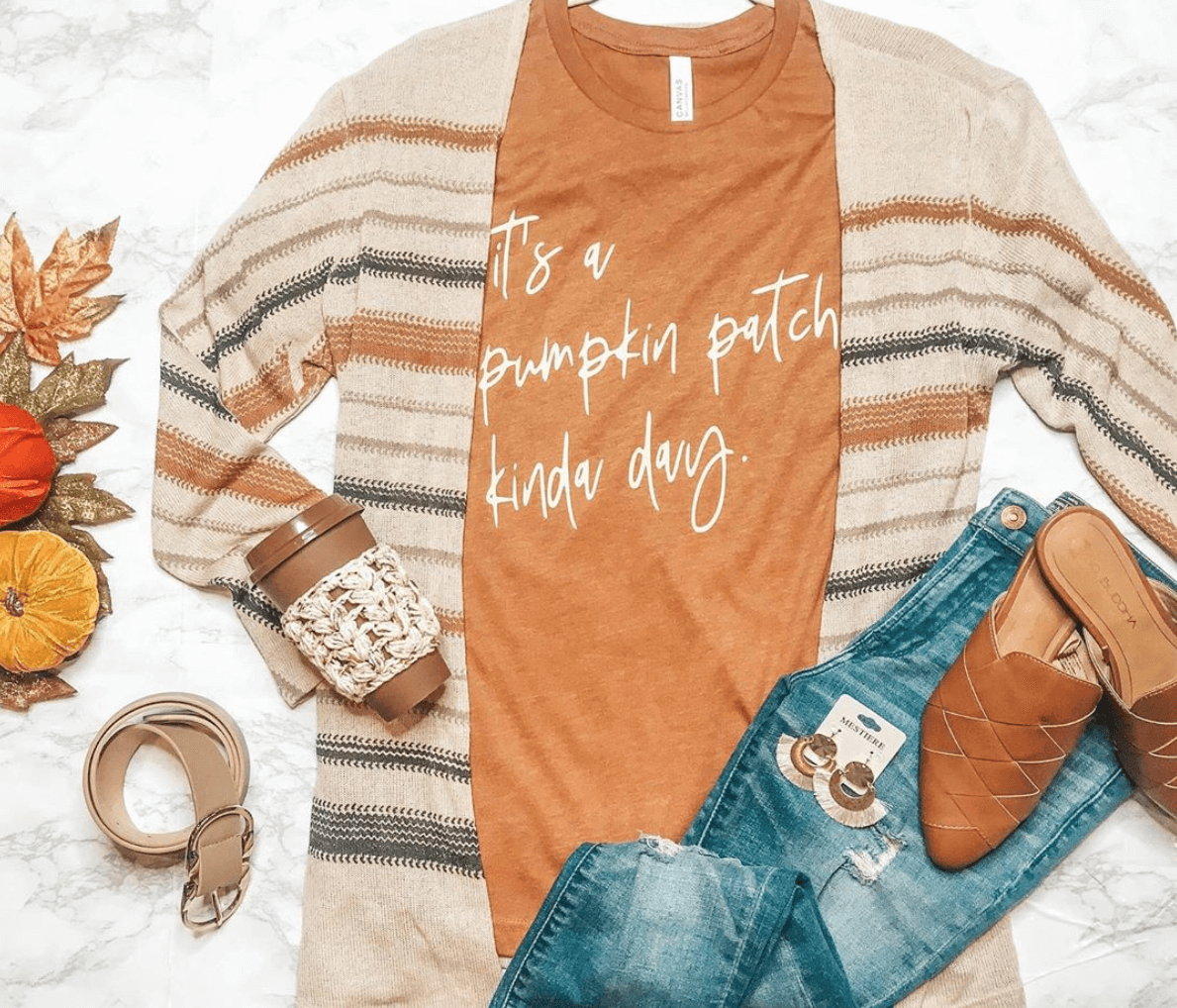 Get a similar look: Cardigan || Shirt
Cardigans are always a great way to dress up basic jeans and t-shirts.
Wear it with a cute fall graphic tee similar to this one, or mix it up for variety.
It can be dressed up or down, and the tan, orange and black stripes give a definite fall feeling and a little something extra.
Outfit #10 | Patchwork Cardigan
Get a similar look: Cardigan || Boots || Hat
Use a brightly coloured cardigan to add colour to an otherwise basic look.
This jeans and tee look is still very casual, but the patterned cardigan takes it up a notch and the bold colours are simple yet flattering!
You can rock this outfit with tan boots or trendy ones like leopard or a snake print.
A pair of white sneakers or flats would look great with casual cardigan outfits like this one and are also great options for fall.
Outfit #11 | Classic Cardigan & Dress
Get a similar look: Cardigan || Dress || Shoes || Hat
Update your outfit to casual chic by styling a brightly coloured lightweight cardigan with a shirt dress and heels.
This shirtdress and cardigan combo are super flattering!
Dress it down with sneakers or dress it up a bit with a wedge or block heel.
You could also wear this cute dress with a denim jacket and white sneakers this fall.
Outfit #12 | Statement Boots
Get a similar look: Cardigan || Boots
Dark wash jeans can be used to dress up any outfit.
It's still jeans, but they take your look up a notch and are usually slimming!
This cardigan looks so soft and cozy you just know it's warm!
The faux fur detail is also very pretty and these leopard boots look so chic and fun! Perfect for fall day or night!
Final thoughts
Hopefully, you've found some cute cardigan outfit inspiration here that you can incorporate into your day-to-day wardrobe.
This post isn't intended for you to buy all new clothes.
Instead, get inspired to go through your closet and mix and match to create new outfits!
If you see something that would go well with what you already have and want to and pick up a few new pieces, similar items are linked and available by clicking on the links provided.
What are some of your go-to fall cardigan outfits? Share in the comments!
If this was helpful then Pin on Pinterest!