What is the best The Ordinary routine for acne?
Known widely for their effective, targeted formulas and reasonable prices, The Ordinary has made it easier for the budget-conscious to start and stick with a basic skincare routine.
Problem is, that knowing what to buy can be daunting.
For anyone, finding products your skin loves can be a struggle. Finding skincare when you have persistent acne can be a nightmare.
So even though the products are effective and affordable, there is a bit of a learning curve learning what your skin likes and responds well to.
So if you'd like to know how to combine The Ordinary into a skincare routine that won't irritate your acne-prone skin or cause even more breakouts and help your skin heal, then keep reading.
this post may contain affiliate links, which means if you purchase from one of these links, I may receive a small commission at no additional cost to you.
What's the best The Ordinary routine for acne?
Whether it's 3 steps, 7 steps or 12 steps if you can't commit to following it consistently, then it won't be effective.
So for that reason, the absolute best skincare routine is one that you can stick with.
Morning routine
Step 1. Squalane cleanser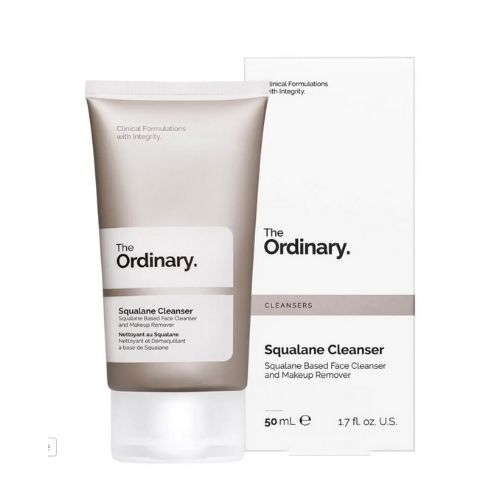 The first step in any good skincare routine is washing your face. And this cleanser makes that easy to do. It's super effective yet gentle enough that you can use it in the morning and evening.
However, like most things from The Ordinary, this cleanser has a bit of a learning curve.
To get the best results, you need to rub it between your palms until the thick consistency melts into a balm.
In fact, I'd say that only after it warms up does the magic really happen. So stick with it for a few seconds longer than you normally would because the texture can take some getting used to but the results are well worth it.
You can buy The Ordinary Squalane Cleanser online from SkinStore, Beauty Bay or Amazon.
Overall this is a great cleanser but it's oil-based and for some, it can cause breakouts. So if you'd rather not use an oil-based product to wash your face then here are some other great alternatives.
Alternative oil free cleansers
Step 2. Salicylic acid
When you're acne-prone, salicylic acid is a must and if you're not already using one, you really should be.
Salicylic acid is a great antibacterial exfoliant that helps reduce redness, calm inflamed acne and soothe irritated skin.
Unfortunately, the salicylic acid 2% solution from the brand is currently unavailable because of reformulation but they do have a salicylic acid 2% mask that's gotten rave reviews that you should definitely try.
However, if you would like to use a serum instead, and not have to wash it off so it works a lot better, then here are a few alternatives.
Salicylic acid alternatives
Step 3: Niacinamide 10% + zinc 1% solution
Niacinamide and zinc help reduce inflammation which is the underlying cause of acne.
Inflammation is your body's way of fighting the bacteria trapped underneath your skin. Using niacinamide and zinc just helps to calm that reaction down a little bit.
But that's not all they do, niacinamide also helps remove those annoying dark spots/scarring acne sometimes leaves behind that takes forever to fade and zinc helps control your oil and shine.
You can buy the Niacinamide 10% + zinc 1% solution online from SkinStore, BeautyBay or Amazon.
Step 4. Natural moisturizing factors HA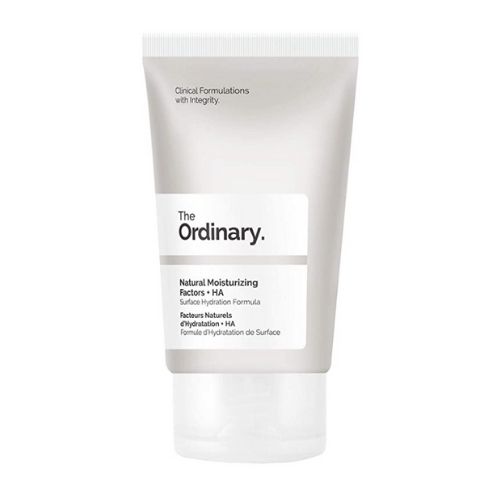 Hydration is important, in fact, it's even more important when you have oily skin. Excess oil in some cases is actually a sign that your skin is dehydrated so using a good moisturizer can help control it.
The Ordinary Moisturizing Factors HA will leave your skin feeling healthy, protected and hydrated without making your skin feel oily or clogging your pores.
You can buy the Natural Moisturizing Factors HA online from SkinStore, BeautyBay or Amazon.
Step 5. Sunscreen
The last step of your morning skincare routine should always be sunscreen, especially if you're using acids.
Acids make your skin more susceptible to sun damage so you should definitely be using sunscreen.
Sunscreen also helps protect your skin from premature ageing and skin cancer.
Now, you can use The Ordinary's Mineral UV Filters SPF 30 but I personally prefer to use something else because it tends to leave a white cast.
Here are some other great alternatives:
Sunscreen alternatives without a white cast
Evening routine
Step 1. Squalane cleanser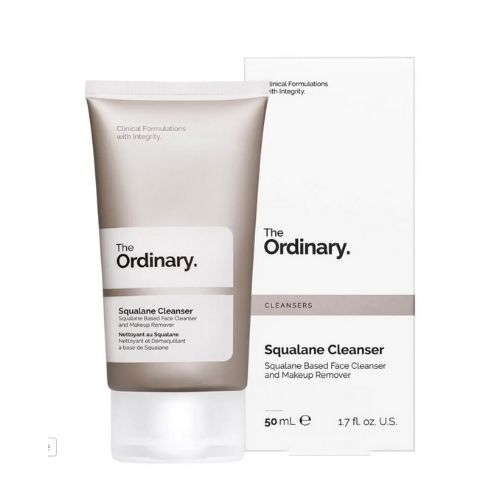 Your nighttime cleanse isn't much different from your morning cleanse. Unless you prefer to double cleanse, which might not be necessary since the squalane cleanser is oil-based.
Personally, I like and prefer double cleansing, but find that I don't need to after using this because it does a great job getting rid of my makeup.
Just remember to warm it up first.
You can buy The Ordinary Squalane Cleanser online from SkinStore, Beauty Bay or Amazon.
Step 2. Granactive retinoid 2% in squalane (use 2-3x per week)
Retinoids are good for acne-prone skin because it helps speed up your skin's natural exfoliating process which helps keep your pores clean.
It also prevents dead cells from clogging your pores which goes a long way in limiting and preventing breakouts.
When using retinoids it's better to start with the lowest possible concentration and build your tolerance slowly. Otherwise, you run the risk of drying out your skin.
If you're using retinoids for the first time, The Ordinary's Granactive 2% in Squalane is a good place to start.
It's a super low concentration of retinol so it won't cause irritation and it's perfect for beginners and sensitive skin.
Because retinoids make your skin more sensitive to the sun, you should only use them at night. Buy it online from SkinStore, BeautyBay or Amazon.
Step 3. Azelaic acid solution 10% (optional)
If you've ever tried benzoyl peroxide and thought it was too harsh then azelaic acid might be a better alternative.
Azelaic acid helps kill acne-causing bacteria, reduces the inflammation that triggers acne and helps keep your pores clean, thus reducing clogged pores and breakouts.
When I tried this my skin looked amazing. It looked brighter, and my dark spots and acne cleared up however it was very irritating to my skin.
If you find this too irritating, try mixing/diluting it into your moisturizer which can take away most of the burning and itching.
Buy it online from SkinStore, BeautyBay or Amazon.
Azelaic acid alternatives
Step 4. Natural moisturizing factors HA and/or 100% Plant-derived squalane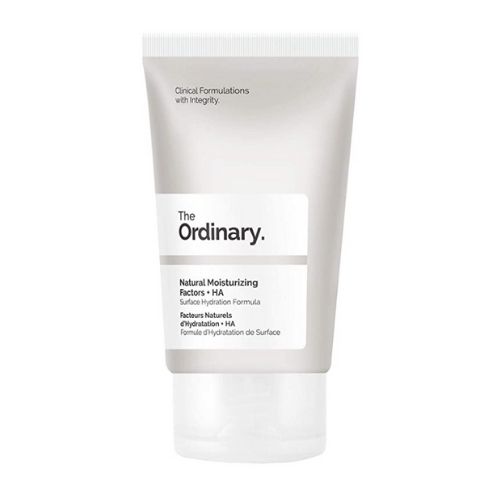 The moisturizer you used in the morning is perfectly fine to use at night; there's no need for a separate night cream.
However, if you find that your skin needs more hydration than it's currently getting then try mixing a few drops of squalane oil into your moisturizer.
I tried this and my skin loves it! At first, I was reluctant to use any type of oil on my already oily face. But I ended up trying The Ordinary's Squalane oil when the moisturizer was out of stock and I loved the effect it had on my skin.
My skin glows! So now I just add a few drops into my moisturizer at night and my skin soaks it up. Buy the Plant-Derived Squalane online from SkinStore, BautyBay or Amazon.
Buy the Moisturizing Factors HA online from the SkinStore, BeautyBay or Amazon.
Frequently asked questions
How to use The Ordinary products for acne?
The key to having a successful The Ordinary acne regimen, especially if you're new to acids, retinol etc, or if you're just starting your skincare routine for the first time, is to start slow and be patient.
First, you start by introducing one product at a time into your routine so you can see how your skin reacts. Then you continue slowly adding products one by one over a few weeks.
This ensures that you're building your routine slowly and carefully, taking the time to gauge how each product affects your skin before moving on to the next.
The Ordinary offers a range of products that can be used to help treat acne-prone skin.
Here is a general guide on how to use The Ordinary products for acne:
1. Start with a clean face: Before applying any skincare products, make sure your face is clean and free of makeup and dirt. Use a gentle cleanser to wash your face and pat it dry.
2. Use a salicylic acid product: Salicylic acid is an effective ingredient for treating acne-prone skin. The Ordinary offers a Salicylic Acid 2% Masque and a Salicylic Acid 2% Solution that can be used to help treat current acne and prevent future breakouts. Use the masque once a week and the solution daily, applying a small amount to affected areas.
3. Add a niacinamide product: Niacinamide is another ingredient that can help reduce the appearance of acne and improve skin texture. The Ordinary offers a Niacinamide 10% + Zinc 1% serum that can be used daily.
4. Moisturize: It's important to keep your skin hydrated, even if you have oily or acne-prone skin. The Ordinary offers a range of moisturizers that can be used to help keep your skin hydrated without clogging pores. Try the Natural Moisturizing Factors + HA moisturizer or the Squalane + Probiotic Gel Moisturizer.
5. Don't forget sunscreen: Sunscreen is important to protect your skin from damage and prevent further breakouts. The Ordinary offers a range of sunscreens that can be used to help protect your skin from harmful UV rays.
Which Ordinary products are best for acne?
The Ordinary skincare guide
The Ordinary has a wide range of products that target different skin concerns, like aging, acne, pigmentation, hydration, etc. Which is great however, their products can be quite confusing to navigate, especially if you're not familiar with their scientific names and percentages. So I'll help you understand their products and how to use them effectively.
First, you need to know your skin type and your main skin goals. Do you have dry, oily, combination, or sensitive skin? Do you want to prevent or treat wrinkles, dark spots, redness, or breakouts? Depending on your answers, you can choose the products that suit your needs best. You can also use the Regimen Builder on their website to get some suggestions based on your preferences.
Second, you need to know how to layer your products correctly. The general rule is to apply your products from thinnest to thickest consistency, and from lowest to highest pH.
This means that you should start with water-based serums, then oil-based serums, then suspensions or creams. You should also avoid mixing certain ingredients that can cause irritation or cancel each other out. For example, you should not use vitamin C and niacinamide together, or retinoids and direct acids together.
Third, you need to be patient and consistent with your routine. The Ordinary products are potent and effective, but they may take some time to show results. You may also experience some purging or sensitivity at first, especially if you're using strong ingredients like retinoids or acids. Don't worry, this is normal and it will subside as your skin adjusts. Just make sure to patch test your products before using thm, and always wear sunscreen during the day.
To give you an idea of what a routine using The Ordinary products can look like, here are some examples for different skin types:
Final thoughts
If you were curious about the brand The Ordinary and wanted to know if they had products suitable for oily acne-prone skin then yes, they do.
The ordinary routine for acne-prone skin is a simple yet effective one. And the best part is you can add and remove products as your skin needs.
For example, if you find that azelaic acid really irritates your skin (like it did mine) then ditch it.
And if you already have a moisturizer you love, and can't be bothered buying another one then don't.
The point is it's your skin and your routine so do what works for you. But if you're starting from scratch feel free to use it as your base. Good luck!