5 Best The Ordinary Products For Acne
What are the best The Ordinary products for acne? Most people (myself included) love 'The Ordinary'. And to me, it's a no-brainer because their products are effective and super affordable.
The downside is that you'll probably get carried away and buy 'all of the things and then struggle to figure out how to use them.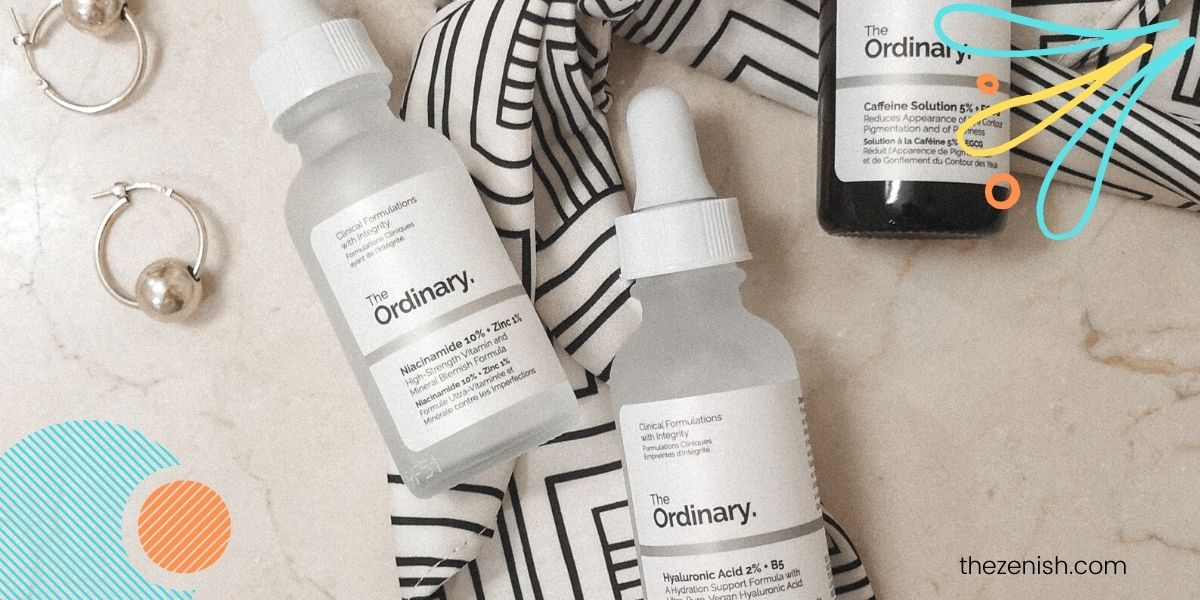 If you're already struggling with acne, the last thing you want is to struggle to figure out how to use the products that are supposed to help you clear up your skin.
So here's a helpful list of some of the best products from The Ordinary for acne.
These products target everything from breakouts to acne scarring, all while keeping your wallet happy.
Trust me you won't regret adding these into your routine.
Does The Ordinary help with acne?
Funny thing is, 'The Ordinary' doesn't have targeted products for acne, even though some of the products work well for acne. How can that be you ask?
Well, the products that help clear up acne tend to have ingredients known for reducing acne flare-ups and preventing future breakouts.
So even though they're not made to treat acne, these ingredients help clear up your acne anyway.
this post may contain affiliate links, which means if you purchase from one of these links, I may receive a small commission at no additional cost to you.
Which The Ordinary products are best for acne?
The best The Ordinary products for acne are:
1. 100% Plant-Derived Squalane
hydrating absorbs quickly, and won't clog pores
What is it?
Naturally found in the skin, squalane is an exceptional hydrator that helps keep your skin healthy and young.
What does it do?
Squalane helps to smooth, soften and hydrate dry skin. It's gentle and light enough for you to use daily or whenever you need it. It's an easy addition to any skincare routine.
You can buy the 100% Plant-Derived Squalane on Amazon
2. Niacinamide 10% + Zinc 1%
anti-inflammatory, skin lightening, helps reduce large pores
What is it?
A form of vitamin B3, Niacinamide targets breakouts, and decongestion and helps to regulate your skin's sebum production.
What does it do?
Niacinamide does a great job reducing oil and shine, targeting blemishes as well as soothing your skin with its calming anti-inflammatory properties and improving its overall health. Niacinamide is a must-have if you have acne.
Can I use The Ordinary niacinamide every day?
Yes, you can use The Ordinary's Niacinamide 10% + Zinc 1%, in the morning and evening.
Buy the Niacinamide 10% + Zinc 1% on Amazon.
3. Salicylic Acid 2% Masque
targets acne, blackheads and pimples
What is it?
A beta-hydroxy acid (BHA), that exfoliates the skin by diving deep into your pores to break up and dissolve debris that causes acne.
What does it do?
Salicylic acid is an excellent treatment for current acne and prevents breakouts, making it one of the best acne fighters. It offers a gentle exfoliation while it helps unclog and clear any impurities from deep within your pores.
If your skin is acne-prone then this product is a must-have for combatting issues deep within your pores as well as on the surface.
You can buy the Salicylic Acid 2% Masque on Amazon.
4. The Ordinary Azelaic Acid Suspension 10%
anti-Inflammatory improves skin tone, prevents breakouts
What is it?
Azelaic Acid is naturally present on your skin, made from yeast already living on your skin. It's a multi-functional support ingredient for your skin that also acts as an antioxidant.
What does it do?
Azelaic acid helps reduce the growth of the bad bacteria that causes acne and decreases skin inflammation and redness.
It also helps to brighten up your skin tone, improve any unevenness in your skin texture and reduce the look of blemishes.
This is a great addition to your skincare routine because it's effective and you can use it safely with other acne-fighting ingredients.
You can buy the Azelaic Acid Suspension 10% on Amazon.
5. The Ordinary Retinol 1% in Squalane
anti-acne and anti-ageing
What is it?
Retinol is a form of retinoic acid, which is a vitamin A derivative. Retinol is best known for fighting acne and the signs of ageing.
What does it do?
When used properly, retinol promotes cell turnover and prevents dirt and bacteria from clogging your pores and causing breakouts. Mixed with squalane oil, The Ordinary's Retinol is both hydrating, blemish fighting and packs a punch.
Just keep in mind that retinol increases your skin's sensitivity to UV radiation, so you should always remember to use sunscreen.
You can buy the Retinol 1% in Squalane on Amazon.
Final thoughts
The Ordinary might not have targeted acne-fighting products, but the few that help clear up acne and acne-related issues surpass expectations.
The best The Ordinary products for acne-prone skin include; salicylic acid, niacinamide, azelaic acid, and retinol. These are so effective, and affordable that after trying them you'll fall in love with The Ordinary too!
Just resist the temptation to buy all of the products at once. When adding new products to your skincare routine, you should introduce them one at a time, and slowly build from there.