Winter is here which means cooler weather for enjoying date nights. When it's cold outside, it can be a challenge to look cute without freezing.
But don't worry – staying warm doesn't have to mean giving up on style. With some creative layering, you can put together chic outfits that will keep you cozy cozy cozy!
this post may contain affiliate links, which means if you purchase from one of these links, I may receive a small commission at no additional cost to you.
⏰ Only have a sec? No worries! Here are some quick tips for staying warm and cute on winter date nights.
If you're unsure of what to wear, you can always fall back on a classic… sweater and your best jeans.
If you want to make a statement and get a little sexy you can't go wrong with a sweater dress, tights, and thigh-high boots.
Tip: Skirts aren't just for summer, you can wear them during the colder months too! Layer your favorite skirt over some tights or leggings, pull on a cute oversized sweater, and you're ready to go.
And don't forget a hat, scarf, and gloves!
Most importantly, choose an outfit that makes YOU feel great. Your date wants to see you relaxed and smiling, so wear something that makes you feel good!
Here's a list of winter date night outfit ideas perfect for freezing temps. These looks will keep you toasty and fashionable no matter where your date takes you. Get ready to impress your special someone with these stylish and warm date night outfits!
Outfit Idea #1: Sweater Dress and Boots
If you're looking for a comfortable and stylish option for a winter date night, a sweater dress is the way to go. Not only will you be warm, but you'll also look amazing! To take your look to the next level, wear your sweater dress with thigh-high or ankle boots.
This combination is perfect for any occasion, whether you're going out for a fancy dinner or just grabbing a casual drink. Go ahead and try out this chic and trendy outfit for your next winter date night!
Outfit Idea #2: Leather Pants and a Top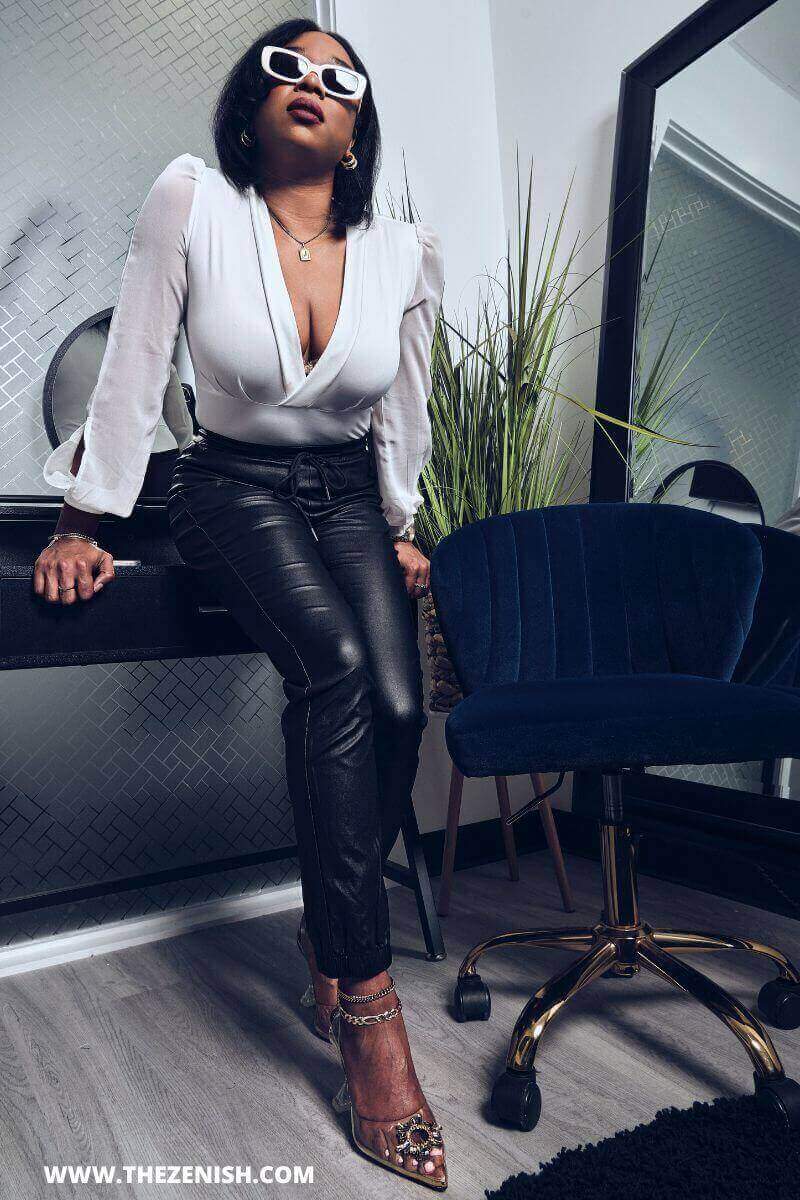 If you want to turn heads on your date but stay comfortable, leather pants are the way to go. Consider pairing leather pants with a warm turtleneck sweater. This look has great style while also keeping you cozy on cooler evenings. Leather pants add a touch of sophistication, while the turtleneck provides the necessary insulation.
To balance the edginess of the leather pants, you can try a softer material like cashmere for the sweater. You can also layer a long pendant necklace for a touch of sparkle. Best of all, both leather pants and turtlenecks are versatile pieces you can mix and match with other items in your wardrobe for many outfits to come! Give this chic yet cozy combination a try – it's sure to keep you looking and feeling fantastic all night long.
Outfit Idea #3 Long Coat, Skirt, and Boots
When temperatures drop, a long coat is essential for staying stylish yet warm on a winter date. A jumper dress offers feminine flair along with built-in leg coverage so you don't have to layer as much.
Complete the look with a heel to give your outfit some polish. A long coat provides maximum insulation from wind and snow, while the jumper dress keeps your whole body cozy and comfortable.
Heels elevate the look without sacrificing warmth since your legs will be covered. This outfit allows you to bundle up without compromising on cuteness. With a long coat to take you from day to night, you'll be prepared for whatever winter weather or plans come your way on your romantic evening out!
Outfit Idea #4 Long Puffer Jacket, High-Waisted Skirt and Boots
You want a puffer jacket in your wardrobe. Not only are they incredibly warm, but puffer jackets are also quite stylish these days. You can't go wrong pairing one with classic high-waisted jeans for a flattering, comfortable fit.
Finish the look with a pair of fashionable boots – they'll keep your feet cozy while adding some height. This outfit allows you to embrace the winter season in style without compromising on warmth or function.
With jeans and boots providing insulation for your lower body, the puffer jacket ensures the rest of you stays toasty too! It's a look that's perfect for everything from strolling downtown windows shopping to enjoying winter activities together.
Outfit Idea #5: Faux-Fur Coat and Sequin Skirt
Want to feel like a glamorous winter goddess on your next date night? A faux-fur coat paired with a sequin skirt is sure to keep your date's eyes on you while keeping you warm and comfortable. Faux fur provides plush insulation without harming animals, while sequins add just the right amount of shimmer and shine.
This outfit allows you to embrace your inner diva without sacrificing practicality. The fluffy coat keeps your top half toasty, and the skirt's reflective accents will catch eyes whether you're indoors or out strolling sparkling storefronts lit with holiday lights.
Best of all, both pieces can be mixed and matched with other items in your closet for multiple party-ready looks all season long. You'll feel and look like a winter queen in this showstopping ensemble!
Outfit Idea #6: Turtleneck Dress
A turtleneck dress is the perfect choice when you want to turn heads (or one person's in particular) on a winter date without sacrificing comfort. The high neckline keeps your chest warm while the silhouette provides full coverage.
To take this simple yet chic look to the next level, accessorize with some jewelry, like a chunky necklace to draw attention in a flattering way. Or try a pair of funky earrings that can be seen from across the room!
Accessories allow you to change up your look without much effort. Plus, they add personality so you feel confident and unique. With a turtleneck dress as your base and eye-catching accents, you'll be ready for whatever date night has in store – all while staying stylish and toasty warm from head to toe!
Outfit Idea #7: Coat, Blouse, Tailored Trousers and Pumps
Want to feel polished and put together for a wintertime date? A bodysuit with tailored trousers and pumps is the definition of sophisticated yet comfortable. A bodysuit ensures a seamless silhouette while also trapping in body heat.
Pair it with fitted trousers in a warm fabric like wool to keep your legs cozy yet stylish. Finish the look with some elegant pumps – they'll make your outfit feel special without adding bulk. This ensemble allows you to dress to impress without compromising on function or warmth.
With its streamlined fit and tailored touches, you'll exude confidence whether enjoying a night out or making plans by candlelight. Timeless pieces like these never go out of style either, so you can stay chicly bundled up all winter!
Outfit Idea #8: Long Coat, Satin Blouse and Skirt
Looking for a comfortable yet put-together look for a low-key winter date? I've got you! A cardigan probably isn't the first thing you reach for for a date but hear me out. A trendy cardigan (like this one) provides essential insulation while a satiny blouse feels polished.
Pair them with a suede skirt for texture and warmth at the same time. This outfit allows you to embrace casual elegance without sacrificing practicality. You'll feel relaxed and chic whether grabbing coffee or enjoying an indoor activity together.
With moto-inspired suede and luxe satin, you'll exude confidence and style even in relaxed mode. Best of all, each piece mixes well with other items in your wardrobe, so you can stay comfy-chic from this date to the next.
Outfit Idea #9: Tuxedo Jacket Over a Slip Dress
Want to feel elegant and polished for a special winter date? A tuxedo jacket with a silky slip dress paired with an overcoat is the perfect sophisticated yet cozy ensemble.
A tuxedo jacket adds structure and style. Beneath it, a slinky slip dress feels luxurious against the skin while still trapping in warmth. Complete the look with an overcoat for extra insulation from the elements. This outfit allows you to dress to impress without sacrificing comfort or functionality.
With its tailored touches and layered look, you'll feel your most confident self whether enjoying a night at the theater or holiday party. Plus, each piece can be mixed and matched beyond this occasion, so you can stay stylish all season long!
Winter Date Night Outfits for Different Plans
Movie Date 
Looking to feel cute but relaxed for a movie date? A sweater vest, jeans, and ankle boots are ideal. A sweater vest provides lightweight layering over a tee or blouse, keeping you toasty.
Pair it with your favorite denim and comfy boots for a relaxed yet put-together look. You can accessorize simply with a crossbody bag and belt for function and flair. This outfit allows you to lounge in style while enjoying your favorite films together.
Ice Skating Date
Bundle up for an ice skating date with this cozy-chic outfit. A wool coat provides essential insulation from wintry winds. Add earmuffs and gloves to safeguard your extremities from frostbite.
Beneath, a sweater dress, tights, and ankle boots combine comfort with cute flair. A sweater dress keeps your torso toasty while flaunting your unique style. Pair it with opaque tights to lock in warmth and boots with traction for gliding safely. Don't forget your bag – it's perfect for holding essentials close as you twirl and spin together!
This outfit allows you to embrace winter activities in warmth and confidence. With protection from head to toe, you'll feel free to fall – knowing you look good doing it too!
Hot Chocolate Date
When tasty treats are on the agenda, stay snug with this comfy-chic outfit. A chunky sweater provides plush insulation to keep you toasty inside. Pair it with buttery soft leggings and knee-high boots for full-body warmth and flexibility.
Top it off with an adorable beanie and gloves – your hands will thank you! A crossbody bag is perfect for carrying essentials as you nibble and sip the night away. This outfit allows you to indulge without sacrificing comfort or cuteness.
With luscious layers and cute accessories, you'll feel nothing but cozy and confident enjoying melted chocolate and other melty delights with your date. Now all that's left is finding the perfect spot to stay warm over warm drinks and food together!
The most important thing is picking something you feel confident in and is appropriate for your plans.
Remember to Dress for the Experience 
When planning a winter date, it's important to dress for the occasion. Consider the activities and location, and dress in layers so you can stay comfortable and adjust to temperature changes. Don't forget practical items like hats, scarves, and gloves to protect yourself from winter winds.
But above all, remember that the goal is to connect with your date and make memories together. Your outfit should help you relax and enjoy yourself, not stress you out! Have fun expressing your personal style and let your confidence shine through.
Your date will appreciate seeing you relaxed and smiling more than any specific look. So dress comfortably and focus on the experience. With a little preparation and a positive attitude, you'll be sure to have a great time together no matter what the winter weather brings!