Cerave and Aveeno are both popular brands recommended for dry and sensitive skin, but Cerave vs Aveeno: which is better?
With so many skincare products to choose from, it can be overwhelming trying to find the right one for your needs.
The question is, what are the differences between the two and which one should you use?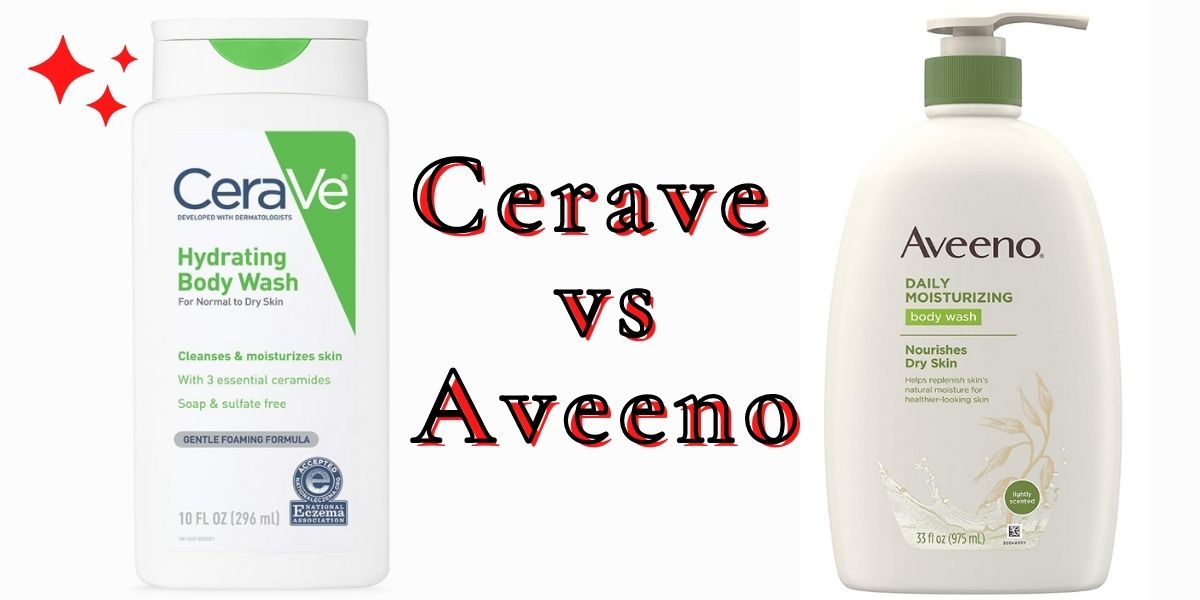 About Cerave
Cerave was founded in 2005 by a group of scientists looking for the best formula for dry sensitive skin types.
The results were so successful that Cerave became the top-selling brand for facial moisturizer in 2015, and was soon followed by a line of budget-friendly formulas.
Cerave has been featured in articles on major media websites, is studied by both dermatologists and researchers, and has received numerous awards from the National Eczema Association.
All Cerave products are tested by dermatologists and formulated with essential ceramides.
These ceramides play a pivotal role in the health and strength of the skin barrier and are important in reducing a number of skin conditions like eczema.
About Aveeno
Established in 1945 by brothers Sidney and Albert Musher, Aveeno, a much older brand, offers a wide range of skincare products with the intention of healing sensitive and dry skin types.
Aveeno's products are suitable for all skin types. They also sell hair care items and baby skincare products and offer a variety of products for psoriasis, eczema and acne.
The Aveeno brand has worked with dermatologists to find natural ingredients that help the skin.
They've had over 75 years of research and their methods have even been recognized by dermatologists at the Mayo Clinic.
Cerave vs Aveeno: Ingredient list
Both Cerave and Aveeno brands make affordable skin care products that are hypoallergenic and recommended by dermatologists for eczema and psoriasis.
Each brand has its own pros and cons, so continue reading to find out which brand is best for you.
Cerave vs Aveeno: Cost $$$
Cost is also worth considering, in terms of both the initial and ongoing cost.
While they're both drugstore skincare brands, the price point does vary and it makes sense to avoid higher priced products when buying similar products with similar ingredients.
Yes, a few dollars can make a big difference so you want to ensure you're buying what YOU need.
If price is an important factor for you, then choose Aveeno.
Aveeno products are usually cheaper than Cerave products and Aveeno bottles are generally the same or bigger (ounce-wise) than Cerave's.
Though Aveeno's jar sizes are generally smaller than Cerave's.
So in terms of cost, Aveeno is often the clear winner.
Cerave vs Aveeno: Popular products
Body wash
Both Cerave and Aveeno have body wash products that cater to hydrating and moisturizing.
CeraVe's Soothing Body Wash contains not only their usual three essential ceramides but also castor seed oil and hyaluronic acid.
Castor oil is a well-known ingredient for moisturizing the skin and is particularly beneficial for people with psoriasis, eczema, and dermatitis.
Aveeno Daily Moisturizing Body Wash helps to relieve dry skin and replenish lost moisture to leave you looking healthier.
This creamy body wash is infused with natural colloidal oatmeal, and rich emollients to lock in moisture and will leave your skin feeling silky soft after each wash.
It's gentle on the most sensitive skin and is soap and dye free.
Body lotion
Both CeraVe and Aveeno make excellent body lotions for normal to dry skin types.
If you have very dry skin, your options are Cerave's Daily Moisturizing Lotion or Aveeno's Daily Moisturizing Lotion.
The main difference between these two products is the active ingredients.
Cerave body lotion uses ceramides and hyaluronic acid to help seal in moisture and protect the skin barrier.
Aveeno, on the other hand, uses prebiotic colloidal oats.
The best choice for you will depend on which ingredients work best for your skin.
The Aveeno body lotion is a good choice if you are prone to skin irritation, and the Cerave body moisturizer is a good choice if your skin is prone to dehydration.
Body cream
Developed with dermatologists, Cerave Moisturizing Cream has a unique formula that helps restore the skin's natural moisture barrier and keep moisture in the deep layers of skin.
It has three essential ceramides and hyaluronic acid, which will help maintain 24-hour hydration.
It uses patented MVE technology to release a steady stream of moisturizing ingredients throughout the day and night.
Cerave Moisturizing Cream is a rich, non-greasy, fast-absorbing, non-comedogenic formula that is ideal and the better choice for dry, eczema-prone and sensitive skin and can be used on both the face and body.
On the other hand, Aveeno Skin Relief Moisture Repair Cream is a great option for extra-dry itchy skin.
It has a unique formula that prevents your skin from drying out and helps to rehydrate the skin surface.
Clinically shown to deliver intense hydration for 24 hours, this formula features a unique proprietary formula that prevents moisture loss and helps restore your skin's moisture barrier.
Made from Triple Oat Complex, ceramide, and rich moisturizers, this fragrance-free cream is also steroid-free and won't clog your pores so you can experience all-day, intensive moisture and help heal your extra-dry skin.
Facial cleanser
If you have dry skin and you're looking for a foam-free facial cleanser, then consider either Aveeno Calm & Restore Nourishing Oat Cleanser or Cerave's Hydrating Cleanser.
The Aveeno Calm & Restore Nourishing Oat Cleanser has a thicker consistency, but the difference in quality between the two is minimal.
Both products are hypoallergenic, non-comedogenic and fragrance-free.
Although this Cerave cleanser is suitable for sensitive skin, if you have especially sensitive skin prone to redness, then the Aveeno cleanser is the better option.
Gentle enough for everyday use, this cleanser is formulated with a blend of nourishing oat and calming feverfew, which helps calm irritated, dry skin while strengthening the skin's barrier for long-term resilience.
Daily moisturizer
If you're looking for a moisturizer for normal to dry skin, both brands make a simple, effective face cream that adds moisture without leaving any greasy residue.
When you're trying to choose between the two, there are a few things to take into account.
Cerave's moisturizer contains sunscreen, whereas Aveeno's moisturizer doesn't. The ingredients in each product are slightly different.
Cerave's daily moisturizer contains hyaluronic acid and ceramides, which help protect the skin's barrier and keep it moisturized.
Aveeno contains oats, which help soothe and nourish the skin.
If you want your skin to stay moisturized with added sun protection then Cerave Facial Moisturizing Lotion would be an effective moisturizer.
However, if you're susceptible to allergic reactions or itchy skin? The Aveeno Daily Moisturizing Face Cream can help.
Sunscreen
Cerave and Aveeno both make great daily sunscreens for your face that are suitable for all different skin types.
However, this particular Aveeno sunscreen gives the illusion of a more even skin tone, diffuses light across your skin, and leaves your skin looking radiant.
Its non-greasy formula also layers well under makeup and won't pill.
The Cerave sunscreen is great for hydration and also for skin barrier repair.
It won't clog your pores, cause acne, leave a greasy feeling, or leave a chalky residue on your skin. Both are good moisturizers and layer well underneath makeup.
Compared to the Aveeno sunscreen, the Cerave sunscreen was more moisturizing, so if you have dry skin, it might be the best option.
However, if you have sensitive skin, the Aveeno sunscreen is the clear winner, especially if you're looking for more hydration and to limit blotchiness.
Night cream
Cerave and Aveeno both offer night creams to use after cleansing, treating etc.
It's always best to use a night cream after washing your face because washing helps to remove dead skin cells and opens your pores for what comes next.
Aveeno offers a few options for night cream, so you can select the right one for your skin type or issue.
Cerave only offers one.
Cerave's Skin Renewing Night Cream is formulated with peptides, hyaluronic acid, and three essential ceramides that work together to hydrate your skin while you sleep so you can wake up to skin that feels refreshed and renewed.
This non-greasy, intensely moisturizing night cream is designed to soften and renew the look of tired skin and help reduce the look of fine lines and wrinkles.
The Aveeno Skin Relief Overnight Cream is designed for very dry, itchy skin and is formulated with shea butter which contains five fatty acids that help the skin's barrier and help lock in hydration.
Cerave vs Aveeno: Different skin conditions
Aveeno and Cerave both carry different products to address common issues like acne, eczema, and wrinkles.
They also have ranges designed specifically for babies.
Cerave vs Aveeno: Which is better for eczema?
Both brands offer products to help with eczema.
Aveeno offers a popular Daily Moisturizing Cream and Itch Relief Balm and their Hand and Face Cream provides a more intense level of relief if needed.
Cerave Eczema Relief Creamy Oil
If you're looking for an effective moisturizer for eczema, consider Cerave's amazing Eczema Relief Creamy Oil.
It contains 1% colloidal oatmeal, three essential ceramides, safflower oil, niacinamide, and hyaluronic acid to help relieve itching and intensely moisturize dry skin.
Cerave Hydrocortisone Anti-Itch Cream
Cerave also offers a hydrocortisone cream. The cream gives relief for skin irritations, itchy, dry skin and rashes.
It contains 1% hydrocortisone, ceramides, hyaluronic acid and niacinamide.
AVEENO Eczema Therapy Hand Cream
Want a hand cream you can take with you? Aveeno's Eczema Therapy Hand Cream may be perfect for you.
It's designed to ease inflammation and dryness and comes in a small tube so it is easy to carry around.
Cerave vs Aveeno: Acne
Aveeno and Cerave make many products that target acne-prone skin.
Aveeno's acne products include exfoliating pads, a foaming salicylic acid face cleanser, and an everyday moisturizing lotion.
Cerave makes three products for skin prone to acne, a benzoyl peroxide cleanser, a salicylic acid wash, and a treatment gel.
If your skin is inflamed or irritated, try Aveeno's acne products instead of Cerave.
The Cerave gel can cause excessive dryness if used too often, and the benzoyl peroxide wash may inflame already irritated skin.
Aveeno products for acne
Aveeno Exfoliating Pads
Aveeno Daily Cleansing Exfoliating Pads were designed with soy extract and salicylic acid to help prevent the development of acne while clearing existing acne symptoms.
They are hypoallergenic, free of oil and soap, alcohol-free and non-comedogenic.
Aveeno Clear Complexion Foaming Oil-Free Facial Cleanser 
The Aveeno Foaming Salicylic Acid Cleanser helps keep the skin clear and evens out your skin tone.
It contains salicylic acid and soy to gently cleanse and hydrate the skin.
Safe for everyday use, this face wash is oil-free, hypoallergenic and non-comedogenic.
Aveeno Cream Face Cleanser With Salicylic Acid
If you're sensitive to face washes that make a lot of lather or are looking for a wash that won't dry out your skin, this cream cleanser is a great option.
It contains salicylic acid and soy and is oil-free, hypoallergenic and non-comedogenic.
Aveeno Clear Complexion Daily Moisturizer
This is one of the best lightweight, yet moisturizing, Aveeno moisturizers for sensitive or acne-prone skin.
In addition to clearing up breakouts and preventing them from returning.
The lightweight formula contains salicylic acid and soy extract and won't clog your pores.
Cerave Products for Acne
Cerave Acne Foaming Cream Cleanser
Benzol Peroxide Cleanser contains 4% benzoyl peroxide to help get deep into your pores and dissolve the dirt and excess oils that lead to blocked pores and breakouts.
It is a cream cleanser that prevents acne without making your skin feel dry or flaky.
With consistent use, your blackheads and acne disappear and your skin begins to look brighter and more even.
Cerave Acne Control Cleanser
This salicylic acid wash has 2% salicylic acid, to help clear up your acne, shrink your pores and soak up any excess oil on your face.
Cerave Acne Control Gel
Apply this gel to your skin 1-3 times a day.
The original formulation was made with 2% salicylic acid to help clear the skin, but the new version also has lactic acid and glycolic acid plus salicylic acid to give clearer healthier skin.
Cerave vs Aveeno: Which is better for oily skin?
Aveeno offers specific skincare solutions for specific skin concerns, whereas Cerave offers a more general solution.
Cerave can be used on oily skin, as it doesn't leave any greasy film over the skin's surface when applied.
Aveeno on the other hand is formulated for dry, sensitive, and problematic skin, using it on oilier skin may cause a heavy and greasy feeling.
Cerave vs Aveeno: Anti Aging
Cerave and Aveeno both have various anti ageing products though It's difficult to compare them because they both create very different products with different active ingredients and purposes.
The Cerave anti-aging range offers treatments like serums with peptides, retinol, vitamin C, and exfoliating acids.
Aveeno, on the other hand, offers different types of anti-aging products that can be used to create a complete skincare routine.
Final thoughts
It seems like Cerave is the better option. It's an easy-going, low-maintenance brand that can be used on most skin types to help with hydration and rejuvenate the skin's barrier and give you healthier skin.
Ingredients are specially designed to be packed with moisture and to deeply moisturize your skin.
Aveeno however is great for sensitive skin. It's made with dry skin in mind, and they use natural, fragrance-free ingredients to give your skin that extra bit of care.
Aveeno can also be good for aging skin and is great for preventing brown spots and blotches if you have dry skin.
However, if you have oily skin Aveeno probably isn't ideal or the right product for you to choose.