Moisturizing your skin is an essential part of any skincare routine to achieve flawless-looking skin.
Moisturizers are one of the most crucial products that can help you achieve radiant-looking skin.
A good facial moisturizer is important for many reasons.
For starters, it will help keep your skin hydrated and prevent it from drying out.
It can also help to soothe any inflammation or redness from irritation.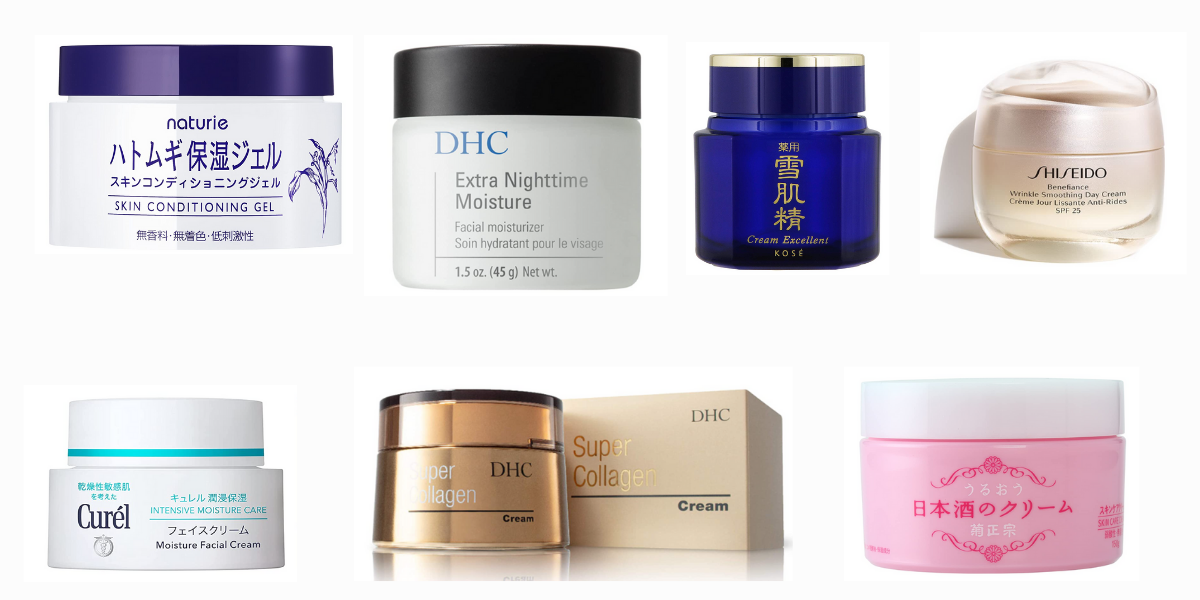 And lastly, it can help protect your skin from sun damage like fine lines, wrinkles and age spots.
One way to achieve this is by introducing Japanese skincare products into your skincare routine.
Japanese women are renowned for their flawless skin.
The reason for having such beautiful skin is that they are dedicated and very particular about their skincare routines.
The Japanese cosmetics industry is world-class.
Japanese beauty brands formulate skincare products that are the most effective and top-rated.
Most of the products made in Japan are of the highest quality and available at extremely affordable prices.
Some of the most popular Japanese beauty products are moisturizers.
They are often made with hydration-boosting ingredients from high-tech and innovative technology.
These Japanese moisturizers are some of the best products and most effective. They will leave your skin moisturized, hydrated and glowing.
The Japanese skincare industry has decades of experience and expertise in crafting quality skincare products that can help you achieve perfect-looking skin every day.
Here are some of the best Japanese facial moisturizers for various skin types.
Best Japanese facial moisturizer for dry skin
Hada Labo Gokujyun Hyaluronic Perfect
Formulated to provide intensive hydration and nourishment to the skin, it works as a toner, essence, moisturizing cream, serum, and face mask in one.
It contains no artificial fragrance or colour and is oil and alcohol-free, making it suitable for dry sensitive skin.
It's the best moisturizer if you have dry skin and need an extra layer of hydration.
It not only moisturizes, but it soaks into your skin without leaving any greasy residue nor will it clog your pores.
For best results use it on a damp face and immediately follow it up with a moisturizer so your skin stays super hydrated all day long.
Kiku-Masamune Sake Skin Care Cream
Infused with four amino acids to help protect the skin from moisture loss, ceramides, placenta extracts, rice bran oil and rice germ oil, jojoba oil and squalane for a moisturizing effect, and sake which is naturally rich in kojic acid, this combination effectively smooths and repairs the skin.
Kojic acid is a natural by-product of the fermentation process and can fight the signs of aging.
It also helps the skin appear lighter, diminishing the look of sun damage, dark spots, acne scars, and wrinkles.
This cream has a whipped texture, which makes it easy to spread across your skin.
It leaves behind no residue or stickiness and can be used on your face or body.
Yu-Be Moisturizing Skin Cream
It contains vitamins that support healthy skin, is ideal for both men and women, and is perfect for all skin types.
You can use it for your hands and body to moisturize and soothe dry skin.
Made with sodium hyaluronate, glycerine, camphor, vitamin E, and B2, this hydrating skin cream helps to nourish and soothe itchy and irritated skin.
This moisturizing cream is vegan, non-comedogenic, fragrance-free, paraben-free, alcohol-free, and artificial colour-free to avoid irritation and is suitable for sensitive, combination, oily skin types.
Apply it often on dry spots on your body for deep hydration.
Hada Labo Tokyo Skin Plumping Gel Cream
After use, your skin is left feeling hydrated, soft, and smooth with a youthful, natural bounce.
This hydrating face cream combines the power of a serum with the intense hydration of a moisturizer to give your skin a refreshed texture and a hydrated, soft, and smooth complexion.
Featuring a special combination of hyaluronic acid, this formulation delivers long-lasting moisture to restore and rejuvenate the skin.
The three types of hyaluronic acid in this formulation help provide long-lasting hydration for your skin.
This plumping moisturizing cream provides powerful multi-layer hydration to help dramatically reduce the appearance of fine lines and wrinkles.
The non-greasy, lightweight hydration gel-like cream moisturizes quickly and absorbs beautifully into the skin to leave it feeling softer and smoother.
Apply your makeup on top to create a flawless application that lasts all day long.
Non-comedogenic, fragrance-free, paraben-free, dye-free, and mineral oil-free, this facial cream emphasizes simplicity without unnecessary ingredients and is suitable for all skin types.
For best results, apply to damp skin and massage into your face and neck in the morning and evening.
DHC Rich Moisture
This unique Japanese formula helps plump and revitalize tired-looking skin with a lightweight, non-greasy texture that absorbs quickly to reveal smoother younger-looking skin.
Formulated with olive oil, which naturally contains healthy antioxidants, it helps moisturize your skin, reducing the appearance of fine lines.
Sodium hyaluronate, vitamin E, royal jelly, and squalane work in synergy to protect your skin from free radical damage that can prematurely age your skin.
This gentle, soothing formula also helps to hydrate and calm mild skin irritation. Fragrance and dye-free it's especially suitable for dry, dehydrated skin types.
Hada Labo Gokujyun Hyaluronic Acid Premium Lotion
This Japanese face moisturizer comes in a rich, soft texture that feels comfortable on the skin and delivers instant and long-lasting hydration.
This lotion is fragrance-free and contains no artificial colourants, no oil, no alcohol and no parabens.
It also comes in environmentally friendly packaging. The addition of hyaluronic acid makes this a good moisturizer for different skin types, but especially hydrating if you have dry, flaky skin.
Best Japanese moisturizers for sensitive skin
Kao – Curel Intensive Moisture Care Moisture Facial Cream
This intensely hydrating facial cream penetrates the layers of the skin to help soften uneven skin tone and rough skin texture but feels feather-light when applied.
This leaves your skin feeling soft, smooth, and supple, without a sticky or heavy feel, unlike other sticky moisturizers.
Curel Kao intensive moisture cream can be used day or night and is free from fragrance, colourants, and alcohol, and is best for very dry, sensitive, and mature skin types.
DHC Extra Nighttime Moisture
It contains botanical ingredients that can soothe and nurture the skin as well as antioxidant agents to guard against the day's stresses.
It's formulated with antioxidant-rich olive oil, squalane, and vitamin E to hydrate and maintain the skin's natural moisture barrier, plus hydrolyzed collagen to promote the appearance of elasticity and ward off signs of aging.
This night cream would typically be used as the fourth step in the Japanese skincare routine.
For best results, apply evenly over your entire face at nighttime after applying a liquid lotion.
It is fragrance-free, colourant-free and ideal for sensitive, dry skin, combination or acne-prone skin types.
Minon Amino Moist Charge Milk
This gentle formula helps to strengthen and restore the skin's natural acid mantle to retain moisture.
This milky lotion has a milk-like texture that feels rich and silky on the skin. It provides intense hydration without leaving a sticky feeling and is a good moisturizer for both day and night and is suitable for dry and sensitive skin.
Best Japanese facial moisturizer for wrinkles and fine lines
Sana Nameraka Isoflavone Facial Cream
The Isoflavone Facial Cream is rich and moisturizing, which is one of the best options for dry skin.
However, this might not be the best option for you if you have oily or combination skin type, as it may be too moisturizing.
It is good news for you if you have sensitive skin that is prone to dryness and redness.
The rich texture is perfect for hydrating dry skin and promoting collagen production, resulting in smoother-looking skin.
Shiseido Benefiance Wrinkle Smoothing Day Cream
It provides deep moisture that supports a youthful appearance.
This moisturizing cream targets wrinkles, fine lines, and other signs of aging and will help keep your skin hydrated and moisturized all day.
Formulated with botanical extracts of mukurossi, which helps to suppress the activity of wrinkle-triggering enzymes, chlorella, gambir, and tumeric, it reduces fine lines, and wrinkles, and protects the skin from DNA damage caused by UV rays.
This face moisturizer is extremely luxurious and hydrating and will help your skin feel young and healthy even as you age.
KOSE Sekkisei Cream Excellent
The formula contains angelica extract and Korean ginseng which both work to brighten and moisturize the skin with consistent use.
It also helps to eliminate dark spots, freckles caused by UV rays, skin discolorations, and fine lines and wrinkles.
This can be a great moisturizer if you have melasma or acne scarring. It also helps refresh the skin to prevent dryness and roughness and leaves it feeling silky smooth, supple, and healthy.
Its lightweight texture won't clog your pores and the best part, it's suitable for all skin types.
For optimal results, use at night as the last step of your skincare routine and apply sunscreen in the morning.
Best Japanese moisturiser for oily skin
Tatcha The Water Cream
Tatcha is one of the best Japanese brands with some of the best Japanese skin care products, and this water cream doesn't disappoint.
The ingredients promote clear skin by controlling excess oil production and encouraging natural skin turnover.
Formulated with nutrient-rich botanicals like Japanese leopard lily and Japanese wild rose, this Japanese moisturizer is best for oily skin because it won't clog pores.
This product also contains three anti-aging Japanese superfoods: green tea, rice, and algae, along with 23-karat gold.
These three ingredients, combined, restore healthy skin and promote a dewy glow. It is dermatologist-tested and suitable for sensitive, mature, oily, and acne-prone skin types.
A portion of every purchase supports education equality worldwide, so with every purchase, you give back to a worthy cause.
Best Japanese facial moisturizer for combination skin type
DHC Super Collagen Cream
A nourishing facial moisturizer, it's made with the patented ingredient dipeptide-8 which delivers a high concentration of micronized collagen to the skin.
This exclusive formula is clinically proven to smooth and brighten the skin for a more youthful appearance.
Infused with organic olive oil, squalane, rapeseed oil, jojoba oil, and ingredients like vitamin E and vitamin C derivatives, this moisturizer moisturizes, brightens, evens the skin tone, and has a light texture that absorbs quickly.
These ingredients combined can help to rid the skin of fine lines, wrinkles, dryness, dark spots, dark circles, and other skin discolorations.
This is probably one of the best Japanese moisturizers with collagen-boosting properties, and one of the best face creams for aging skin.
It helps protect skin from free-radical damage that accelerates signs of aging and is fragrance-free, colourant-free, mineral oil-free and paraben-free.
Best Japanese facial moisturizer for acne-prone skin
Naturie Hatomugi Skin Conditioning Gel
Job's tears is a natural grain often used in skincare as an antioxidant to reduce the natural production of melanin.
It also has Vitamin B3, or Niacin, which brightens the skin and peptides which help to firm the skin and reduce fine lines.
It has a light, non-sticky formula that will leave your skin feeling soft and smooth after each use.
This Gentle formula is hypoallergenic, non-comedogenic, and safe to use if you suffer from acne.
It can even be used as a facial treatment essence, is fragrance-free, colourant-free, oil-free, and great for all skin types.
Why choose a Japanese moisturizer?
Japanese skincare is more about prevention than anything else which is what most people love about Japanese moisturizers or Japanese skincare products in general.
Japanese moisturizers are also gentle and can be easier on the skin because the ingredients are natural and moisturizing and typically better for your skin.
Some of the best Japanese moisturizers use fewer chemicals and mostly concentrate on plumping the skin with intense hydration using organic ingredients.