Toners can be a great addition to your skincare routine, regardless of your skin type. But if you have acne-prone skin then a toner is a must.
Why? Because it helps exfoliate dead skin cells away from your pores and controls excess oil.
Oil, dirt, and dead skin cells can lead to blackheads, whiteheads, and acne breakouts.
So a toner is a good thing to use, but finding the right toner is where things get tricky.
You might have heard that if it's burning it's working, but that's not true. If it's burning it's damaging and that's the last thing you need.
this post may contain affiliate links, which means if you purchase from one of these links, I may receive a small commission at no additional cost to you.
5 Best toners for acne prone skin
---
The Ordinary Glycolic Acid 7% Toning Solution
The Ordinary Glycolic Acid 7% Toning Solution remineralizes the skin and offers long-term benefits for a bright complexion, smoother texture, and increased radiance. It's an ideal addition to any skincare routine or as a complementary solution for someone with acne or oily skin.
It's an inexpensive, yet powerful toner that won't over-irritate your skin. It helps with texture, clarity, and exfoliation, which gives you a fresh, glowing complexion.
Use it once a day in the evening and be sure to use sunscreen in the morning because exfoliating acids tend to make your skin more sensitive to the sun.
Bioderma Hydrabio Tonic Lotion
Bioderma Hydrabio Tonic Lotion is a refreshing, toning, and purifying lotion designed specifically for dehydrated skin.
The formula of this product refreshes the skin and helps it recover from environmental stressors. Stressors such as dryness, dehydration, and irritation.
This is a great lotion for your skincare routine if you use treatments that dry out or irritate your skin. It contains hydrating and soothing ingredients that help your skin heal and return to its healthy state.
Pyunkang Yul Essence Toner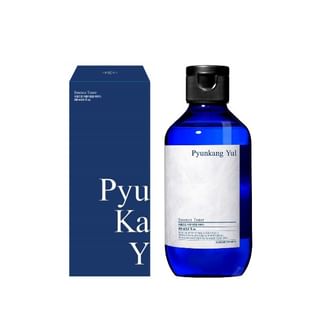 Pyunkang Yul Essence Toner is a gentle and effective toner. Made with natural ingredients like aloe and green tea extracts.
It gently removes any impurities and restores the skin's pH to balance out your skin. This essence toner has a thick, slick consistency that's great for dry, dehydrated and irritated skin.
With only seven ingredients, it lessens exposing your skin to harsh chemicals that will irritate and inflame it. This toner will work well for you if you experience dry, dehydrated, or sensitive skin.
Its deep-moisturizing formula helps to restore the skin's natural oil balance. All while restoring the moisture barrier and providing the skin with a fresh feeling of comfort.
COSRX Refresh ABC Daily Toner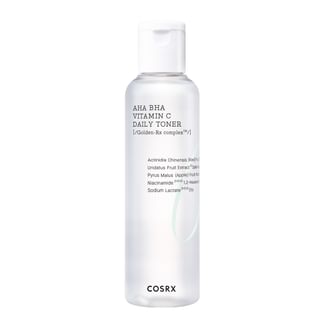 COSRX Refresh ABC Daily Toner refreshes and soothes the skin with natural botanical ingredients. Ingredients such as aloe, green tea, soybean extract, and more. The main ingredient is aloe which is known to be naturally soothing for dry skin. It also contains green tea extract and soybean extracts that help prevent aging by moisturizing the skin.
This could be the perfect toner for you if you want to refresh your skin and remove any makeup. Or if you want to remove skincare residue with a soothing, alcohol-free toner.
Paula's Choice RESIST Advanced Repairing Toner with Niacinamide & Hyaluronic Acid
Paula's Choice RESIST Advanced Repairing Toner with Niacinamide & Hyaluronic Acid is a lightweight toner perfect for oily skin types. It can help improve your complexion and skin tone, and make your pores look smaller
It also has a wide range of hydrating, soothing, and restoring ingredients. Ingredients like glycerin, niacinamide, willow bark extract, antioxidants, and hyaluronic acid. All ingredients that'll help your skin look healthy and feel supple again.
FAQ
What does a toner do?
Toners help to remove oil, dirt, or debris left on your skin after cleansing. It also helps to soothe, hydrate and restore your skin's natural balance. They also help prepare your skin to better absorb the ingredients in your serums and moisturizers.
Toners contain acids that can gently alleviate the build-up on the surface of your skin so it looks more radiant.
Are toners really necessary?
The jury is up for debate on this one.
Some studies show that there is a correlation between the use of facial toners and skin improvement. However, other studies show that facial toners are not a necessity for healthy skin.
There are two different types of people. Those who have skin that doesn't require additional cleansing. And those who need to cleanse their face more often than others.
The latter group is the one for whom facial toner can be helpful. It will provide them with an extra layer of protection against dirt and bacteria.
Toners can also give you additional hydration that you might not be getting from your serums, essences, or moisturizers.
Do toners help with oily skin?
Toners are an easy way to balance your skin's pH levels and help with oily skin, as well as provide hydration and oil control. They are also a great option because they contain antioxidants that protect the skin from free radicals.
Using a hydrating toner can help balance your sebum production and give your skin lots of hydration. Toners with hydrating ingredients, such as hyaluronic acid and glycerin, work to keep your skin hydrated.
It does this so your skin doesn't need to overcompensate and overproduce oil to keep hydrated and healthy. The result is skin that looks healthier and less oily.
Can toners cause breakouts?
Facial toners are often used to refine the skin by removing dirt and oil and providing it with nourishment. The short answer is that they can, but it depends on what type of facial toner you are using.
Facial toners generally contain alcohol, which can dry out your skin if you use them too often. You should only use them when needed for cleansing your skin before applying moisturizer or makeup.
Your best bet is to go for an alcohol-free facial toner so that you don't run the risk of causing acne breakouts.
If you have sensitive skin, be sure to test a small amount on a piece of cloth before applying it all over your face to make sure that there are no adverse reactions.
Do toners help fade acne scars?
The answer is complicated. Facial toners aren't proven to help fade acne scars, but they do make your skin feel smoother and more hydrated.
They also keep your skin healthy by controlling oil production and removing impurities.
If you want to get rid of acne scars, lasers or chemical peels are your best bet. However, no one can guarantee that treatments will remove all scars on the face.
These treatments are expensive, so I can see why you would prefer to try facial toners instead. Toners are much cheaper and might give some results in the long term.
Is apple cider vinegar a good toner for acne?
Apple cider vinegar has long been associated with several health benefits. Health benefits such as improved dental health and heartburn relief. But it's generally not recommended for use as a toner.
ACV isn't recommended as a toner because it doesn't come in proper concentrations. Meaning you will either have to dilute it or use too much of the product.
And really, it's too acidic for your skin and can potentially damage its natural protective barrier. So really, the acid in vinegar is too strong for your skin and can cause irritation and chemical burns.
What is a good toner for acne?
When it comes to choosing a toner for acne, there are a few key ingredients to look for.
First, look for a toner with salicylic acid. Salicylic acid is a beta-hydroxy acid that's great for unclogging pores and preventing breakouts. It works by dissolving the dead skin cells and oil that can clog pores and lead to acne.
Another great ingredient to look for in a toner for acne is witch hazel. Witch hazel is a natural astringent that can help to reduce inflammation and redness associated with acne. It also helps to remove excess oil and impurities from the skin, leaving it feeling clean and refreshed.
Finally, consider a toner that contains tea tree oil. Tea tree oil is a natural antiseptic that can help to kill the bacteria that can cause acne. It's also great for reducing inflammation and redness, making it a great choice for those with acne-prone skin.
Overall, when it comes to choosing a toner for acne, look for ones with salicylic acid, witch hazel, or tea tree oil. These ingredients help unclog pores, reduce inflammation, and kill bacteria, helping you achieve clearer, healthier-looking skin.
Final thoughts
A toner can be great for your skin and the health of your skin. When you have oily acne-prone skin, a toner not only helps to exfoliate dead skin cells. But also helps control any excess oil that can lead to blackheads and breakouts.
Finding the right toner, however, is about balance. The best toners for oily, acne-prone skin have a combination of exfoliating ingredients and salicylic acid.
And have glycolic acid with formulations designed for troubled skin because they offer hydration without any greasy feeling. Toners that are too harsh can irritate your skin causing it to overproduce oil and lead to even more breakouts.