Cetaphil vs Aveeno: Which One is Better?
Aveeno and Cetaphil are both well-established popular brands recommended by dermatologists for a wide range of skin conditions and skin products.
They both offer a wide range of different products formulated to treat a variety of skin types and concerns, including sensitive, acne-prone, rosacea, eczema and psoriasis.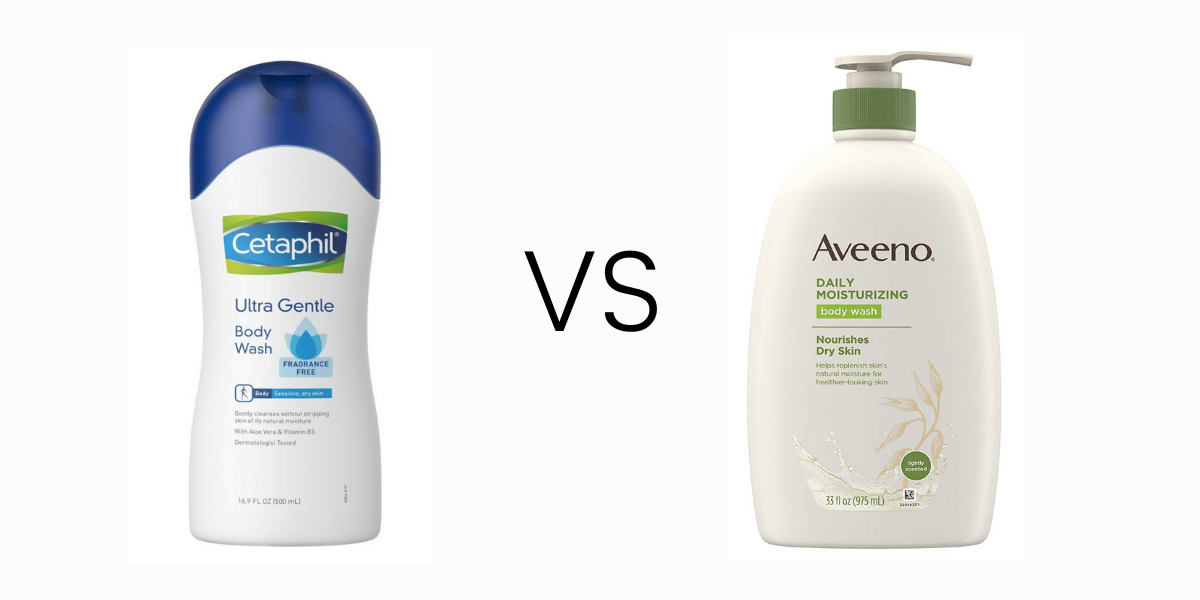 With so many products to choose from, it can be difficult to find the right one for your needs.
The key is figuring out your skin's needs and then choosing a product that meets those needs.
The question is, what are the differences between Cetaphil and Aveeno and which one should you use?
this post may contain affiliate links, which means if you purchase from one of these links, I may receive a small commission at no additional cost to you.
About Cetaphil
Cetaphil is a dermatologist-recommended skincare brand with a wide range of products used to treat skin conditions such as acne, rosacea, eczema and psoriasis.
Created by a pharmacist in 1947 and developed by Galderma Laboratories the company started by producing only one product.
Its first product was a gentle soap for babies and children's delicate skin.
Since then, Cetaphil has expanded its range of products to include face wash, moisturizers, sunscreens and other products for adults with sensitive, dry or oily skin.
Cetaphil is a phthalate-free, fragrance-free, oil-free, non-comedogenic and hypoallergenic formula.
Cetaphil is the #1 dermatologist-recommended brand. It has been used for over 50 years to care for a baby's delicate skin and successively expanded its range of products.
Their products now include face wash, moisturizers, sunscreens and other products for adults with sensitive or dry skin.
About Aveeno
The Aveeno brand owned by Johnson & Johnson has an extensive line of products ranging from skincare, hair care and baby products.
The company was first established in 1945 by brothers Albert and Sidney Musher and offers a wide range of skincare products, including moisturizers, cleansers, lotions and sunscreens.
These products are marketed as being suitable for all skin types. Aveeno also sells hair care products and baby skincare items.
Aveeno offers products to treat various skin conditions, such as sunburn, eczema, acne, and psoriasis.
They also offer products to diminish the signs of aging and the appearance of dark spots.
Aveeno is recommended as an effective first line of defence when it comes to managing eczema and psoriasis symptoms.
Cetaphil vs Aveeno: Ingredient list
Cetaphil is made of 100% gentle and non-irritating ingredients. Aveeno contains natural oatmeal.
The two product lists are very different in both the marketing and ingredient lists.
Cetaphil is marketed as being non-irritating, while Aveeno has natural oatmeal as one of its main ingredients.
Cetaphil's key ingredients
Cetaphil's ingredients are designed to be gentle on the skin and are non-comedogenic.
Some of the main ingredients in Cetaphil products include water, niacinamide, glycerin, petrolatum, propylene glycol, stearyl alcohol, cetyl alcohol, Tocopheryl Acetate (Vitamin E), hyaluronic acid, ceramides, aloe vera, avocado oil, sweet almond oil, panthenol, caprylyl glycol, cetearyl alcohol, and sodium lauryl sulphate.
Aveeno's key ingredients
Aveeno's entire range of skincare products is formulated with natural ingredients, making it an excellent choice for you if you're sensitive to fragrances or just prefer natural ingredients.
Aveeno uses mostly natural ingredients in their products like colloidal oatmeal, soy, feverfew, kiwi and blackberry.
As well as water, glycerin, distearyldimonium chloride, petrolatum, isopropyl palmitate, cetyl alcohol, avena sativa kernel flour, benzyl alcohol, sodium chloride, disodium edta, sodium hydroxide and salicylic acid.
Some Aveeno products also have active ingredients like dimethicone 1.2% which is a silicone that forms a protective barrier on the skin that gives it a silky smooth feel and smooths fine lines.
Aveeno products are also free from parabens, phthalates, dyes, and fragrances. So there's minimal risk of irritation or allergic reactions to these products.
Cetaphil vs Aveeno: Cost $$$
While they're both drugstore skincare brands, the prices of Cetaphil and Aveeno products vary.
If you're on a budget then it makes sense to avoid spending the extra cost. Especially when buying a similar product with similar ingredients.
Yes, a few dollars really can make a big difference so you want to ensure you're buying the right product.
If price is a major buying point for you, then choose Aveeno.
Their products are usually cheaper and Aveeno bottles are generally bigger (ounce-wise) than Cetaphil's. So in this case, they are the clear winner.
Cetaphil vs Aveeno: Popular products
Now let's compare some of the popular and similar products from both brands. This will help determine and identify other notable differences between the two.
Body lotion
Cetaphil Moisturizing Lotion
Cetaphil Moisturizing Lotion moisturizes the skin by providing long-lasting, lightweight hydration perfect for dry skin.
It is an emollient-based lotion, composed of oils and fats like macadamia oil, petrolatum, and others.
These ingredients are used to coat the skin in a protective layer that allows moisture to remain in the skin.
The list of ingredients includes benzyl alcohol, citric acid, cetyl alcohol, stearyl alcohol, and water.
Cetyl alcohol and petrolatum moisturize the skin without adding a greasy feeling afterwards.
Benzyl alcohol, which is considered a safe preservative, prevents the growth of germs and bacteria.
This Cetaphil lotion does not have any added fragrance or dyes. Cetaphil Moisturizing Lotion could be your best option if you are looking for something light and moisturizing for your skin that can be used on your entire body.
Aveeno Daily Moisturizing Lotion
Aveeno Daily Moisturizing Body Lotion is another great option if you have dry skin.
This Aveeno moisturizer is designed to hydrate and nourish your skin by locking in moisture. Which will quickly and noticeably reduce roughness and leave your skin feeling soft and smooth.
It helps hydrate and rebuild your protective skin barrier to protect it from moisture loss by moisturizing your skin from the outside in. This lotion is fragrance, paraben and oil-free.
Avena Sativa (oat) kernel flour is added to the formula, which contains natural anti-inflammatory fats and moisturizing carbohydrates.
Making this a good option for dry, irritated or eczema-prone skin.
Facial moisturizer
Cetaphil Daily Facial Moisturizer SPF 15
Cetaphil Daily Facial Moisturizer SPF 15 is a broad-spectrum moisturizer.
It gives your skin moderate protection against damaging UVA/UVB rays that can be responsible for premature lines and wrinkles.
It also features a non-greasy formula that absorbs quickly, won't clog pores, and helps lock in moisture for up to 24 hours.
The ingredients include avobenzone (3%), a synthetic UVB filter that blocks UVA/UVB rays to protect your skin against sun damage, water, glyceryl stearate, diisopropyl Adipate, cyclomethicone, glycerin, polymethyl methacrylate, phenoxyethanol and benzyl alcohol.
Cetaphil Daily Facial Moisturizer SPF 15 is dermatologist-tested, non-comedogenic, and recommended for all skin types.
It is great for normal, dry, sensitive or acne-prone skin.
Aveeno Positively Radiant Daily Facial Moisturizer For Even Skin Tone, SPF 15
Aveeno's Positively Radiant Daily Facial Moisturizer with SPF 15 is the perfect way to maintain your skin's healthy glow.
It is a moisturizing, oil-free formula that creates an even skin tone and nourishes your skin's surface for a healthy cellular turnover.
This non-comedogenic moisturizer is clinically shown to improve skin tone and texture caused by overexposure to the sun, age spots, acne, and fight the early signs of aging.
This formula also contains soybean extract for a radiant, bright and even complexion.
It is oil-free, hypoallergenic, and non-comedogenic, so it won't clog pores as it hydrates your skin.
This non-greasy moisturizer is perfect for wearing underneath makeup and is suitable for many different skin types.
Body cream
Cetaphil Moisturizing Cream
Cetaphil Moisturizing Cream provides 24-hour hydration and long-lasting relief to very dry skin.
This fragrance-free cream is enriched with ceramides to leave your skin feeling silky soft, smooth, and healthy.
This moisture-rich cream is hypoallergenic, non-irritating and non-comedogenic, so it won't clog your pores or irritate sensitive skin.
Designed to provide relief for itchy, irritated, red or raw skin and problem areas such as eczema and psoriasis.
It works to bind water to the skin preventing water loss and helps keep skin supple and moisturized.
The non-greasy formula is perfect for use on hands, feet, elbows, knees, and any other areas in need of intense hydration.
Recommended by dermatologists and clinically proven to be gentle for even the most sensitive skin types, it's safe for everyday use and ideal for all skin types.
Aveeno Skin Relief Moisture Repair Cream
Aveeno Skin Relief Moisture Repair Cream provides intense 24-hour hydration and relief for severely dry skin.
Formulated with natural colloidal oatmeal and rich emollients, it helps to restore your skin's elasticity and prevent skin from losing more moisture.
It also helps to repair the skin's natural protective barrier, leaving it feeling smooth and supple.
This moisture-intensive cream is also infused with the antioxidant properties of vitamin E, which promote healthy-looking skin.
It's fragrance and steroid-free, non-comedogenic and helps provide relief from skin irritation for dry skin types related to eczema, psoriasis, and other skin conditions.
The Aveeno Moisturizing Cream is perfect if you experience dry skin that lacks elasticity.
It helps to immediately restore your skin's suppleness and leaves it feeling moisturized.
Facial cleanser
Cetaphil Gentle Skin Cleanser
The Cetaphil Gentle Skin Cleanser is a clinically tested, creamy, non-foaming daily facial cleanser.
It is ideal for dry-to-normal and sensitive skin types. This gentle yet effective face cleanser uses micellar technology to remove dirt, makeup and impurities.
All while hydrating and maintaining your skin's natural pH balance.
Formulated with a blend of key ingredients like hydrating glycerin and skin essential vitamin B5 (panthenol) to hydrate, soothe and preserve the natural skin barrier, and B3 (niacinamide) to help smooth the skin's texture and retain the skin's moisture barrier.
It hydrates and soothes as it cleans. It also aids in defence against 5 signs of skin sensitivity, reinforces the skin's natural moisture barrier and provides 48 hours of hydration.
Hypoallergenic, soap, fragrance, paraben and sulphate-free it cleanses without irritation and without clogging pores. Leaving even the most irritated skin feeling soft and smooth.
Cetaphil Gentle Skin Cleanser is a soap-free, fragrance-free, non-comedogenic formula that cleanses and refreshes the skin.
It is designed for sensitive skin and leaves the skin feeling soft and smooth.
Aveeno Daily Moisturizing Facial Cleanser with Soothing Oat
The Aveeno Daily Moisturing Facial Cleanser with soothing oat extract is a gentle and non-irritating cleanser that uses prebiotic oat and natural antioxidants to moisturize and nourish your skin.
It helps to soften the skin to make it more receptive to other treatments and is suitable for all skin types.
Recommended by dermatologists, this face cleanser gently removes dirt, oil, and impurities while hydrating your skin to leave it soft and supple.
Developed with pure, non-GMO food-grade oat to help preserve its purity, this moisturizing face wash has a formula that rinses easily for a clean feel.
It is also fragrance, paraben, sulphate, soap, and dye-free. Facial application: wet skin with warm water and apply the soothing oat cleanser in a gentle, circular motion for best results.
Body wash
Cetaphil Ultra Gentle Body Wash Fragrance-Free
This hypoallergenic body wash gently cleanses and cares for dry sensitive skin.
And is a better option for you if you have sensitive skin or skin allergies, and is fragrance-free.
Dermatologist-tested, non-comedogenic, soap-free and pH balanced it is a great choice if your skin is easily irritated, sensitive or you suffer from another skin condition such as eczema, psoriasis etc.
Infused with aloe vera, vitamin B5, and a unique combination of moisturizers that won't clog pores or strip your skin of its natural protective barrier, this soap-free formula will leave your skin feeling clean, soft and replenished.
It is perfect for all skin types and daily use.
Aveeno Daily Moisturizing Body Wash
The Aveeno Daily Moisturizing Body Wash is a gentle, soap-free cleanser clinically proven to keep your skin moisturized for up to 24 hours.
With Aveeno Daily Moisturizing Body Wash, you'll have a product that's comfortable enough for sensitive skin that cleanses while still keeping your skin soft and hydrated.
Formulated to leave your skin feeling softer, smoother and more comfortable it's dermatologist-tested, hypoallergenic, non-irritating and specially formulated to be kind to sensitive skin.
And designed to give you healthier-looking skin and alleviate dryness while replenishing moisture.
With the help of soothing oatmeal and rich emollients, this product helps to moisturize your skin, leaving it soft and healthy.
It can be used every day to cleanse, moisturize and relieve dry skin.
Conclusion: Which One Should You Choose?
The answer to this question is not straightforward, as it depends on your individual skincare needs, budget, etc.
Both brands are suitable for sensitive or dry skin. Though Aveeno is a good choice if you often experience eczema or psoriasis flare-ups. Both are fragrance-free.
Aveeno is less expensive, but Cetaphil is made with safer, healthier chemicals, and can feel more moisturizing and soothing.
Aveeno and Cetaphil both offer great products, but they also have their shortcomings.
When it comes to the ingredients list, Aveeno falls short, so go with Cetaphil.
If you're on a budget, however, Aveeno is the better choice.