Lubriderm vs Cetaphil: Which brand is better? (2022)
Lubriderm and Cetaphil are both popular affordable skin care options, but there are some critical differences between the two that can help you decide which is right for you.
So we'll compare Lubriderm vs Cetaphil to help you decide which brand of body lotions is right for you.
this post may contain affiliate links, which means if you purchase from one of these links, I may receive a small commission at no additional cost to you.
About Lubriderm
Founded over 75 years ago on the philosophy that less is more, Lubriderm was born out of simplicity and necessity.
In 1945, pharmacist Louis Schleuse developed a lightweight lotion he named Lubriderm to describe both its moisturization and dermatological benefits.
Since then, the brand has been used by dermatologists, hospitals, and pharmacists for rough or itchy, dry skin.
Lubriderm became available to the public in 1975 and their proven formulas became widely known for their fast-absorbing, long-lasting moisture.
They remain true to their vision by developing products for daily moisture, and extra-dry skin.
About Cetaphil
Cetaphil is a dermatologist-recommended skincare brand that has a wide range of products used to treat skin conditions such as acne, rosacea, eczema and psoriasis.
It was developed by a pharmacist in 1947 and started by producing only one product.
Cetaphil has since expanded its range of products to include facial cleanser, body wash, facial moisturizers, hair care products, sunscreens and other products for adults with sensitive, dry or oily skin. 
Lubriderm vs Cetaphil: cost $$$
One major difference and another factor to consider when deciding between Lubriderm vs Cetaphil skincare products is price.
Cetaphil products are known to be more expensive than Lubriderm and compared to Lubriderm products, Cetaphil products come in smaller packaging with less product per ounce.
So in terms of cost, Lubriderm is the clear winner.
Lubriderm vs Cetaphil: popular products
Lubriderm daily moisture lotion
The Lubriderm daily moisture lotion was developed by dermatologists, has been shown to provide up to 24-hour moisture protection and is one of the best lotions for normal to dry skin.
One of the major benefits of this moisturizer is that once you apply it to your skin, it's absorbed in seconds and won't leave behind a greasy feel.
This Lubriderm daily moisture lotion is formulated with hydrating shea butter, enriched with skin essential ceramides, vitamin B5 and cocoa butter. 
It's also unique in that it penetrates dry skin and gives the skin an excellent balance of moisture. This moisturizer should be used daily for maximum moisture and hydration from dry itchy skin.
It's also fragrance-free and gentle enough for sensitive skin types.
Ingredient list
Main ingredient: water, mineral oil, glycerin, caprylic/​capric triglyceride, stearic acid, cetyl alcohol, phenoxyethanol, cetearyl alcohol, dimethicone, carbomer, ceteareth-20, sodium hydroxide, sodium citrate, methylparaben, propylparaben, citric acid, ethylparaben, panthenol
Key ingredient: glycerin and panthenol
Lubriderm advanced therapy lotion
Lubriderm is a fast-absorbing, fragrance-free, non-greasy therapy lotion that is formulated for extra-dry skin.
When you use this lotion twice daily, it turns your dry skin into healthy-looking skin within one week.
This dermatologist-developed lotion has skin-shielding ingredients, powerful antioxidants like vitamin E and pro-vitamin B5, and repairs the skin by strengthening its moisture and skin barrier.
It offers long-lasting relief and helps skin stay hydrated all day long when applied daily. It's a great option for all skin types, especially those with dry skin.
Ingredient list
Main ingredient: water, mineral oil, glycerin, cetyl alcohol, sorbitol, caprylic/​capric triglyceride, cetearyl alcohol, dimethicone, polysorbate 60, stearic acid, phenoxyethanol, lecithin, carbomer, sodium hydroxide, ceteareth-20, diazolidinyl urea, sodium citrate, methylparaben, BHT, retinyl palmitate, sodium pyruvate, propylparaben, fragrance, citric acid, ethylparaben, panthenol, tocopheryl acetate, titanium dioxide
Key ingredient: tocopheryl acetate, retinyl palmitate, glycerin, panthenol and titanium dioxide
Cetaphil moisturizing cream
Cetaphil's moisturizing cream is another popular Cetaphil lotion formulated for all skin types and perfect for daily use.
This body cream can be used on your face, your arms, legs, back, and feet and offers up to 24 hours of non-stop moisture and hydration.
This cream is also non-greasy and non-irritating. It won't leave a sticky feeling on the surface of your skin, and it won't cause a negative reaction even with everyday use.
This cream is also hypoallergenic, so it won't clog your pores. When selecting your skin care product, it's better to stick with non-comedogenic ones that won't clog your skin, especially if you have oily skin.
It's not the cheapest, but it's still affordable. It will also help to replenish your skin barrier while keeping your skin moisturized and hydrated.
Ingredient list
Main ingredient: water, glycerin, petrolatum, dicaprylyl ether, dimethicone, glyceryl stearate, cetyl alcohol, sweet almond oil, PEG-30 stearate, tocopheryl acetate, acrylates ​c10-30 alkyl acrylate crosspolymer, dimethiconol, benzyl alcohol, phenoxyethanol, glyceryl acrylate/​acrylic acid copolymer, propylene glycol, disodium EDTA, sodium hydroxide
Key ingredient: tocopheryl acetate and glycerin
Cetaphil daily hydrating lotion with hyaluronic acid
This Cetaphil daily hydrating lotion with hyaluronic acid is a gentle, oil-free, instant hydrating moisturizer.
This hyaluronic acid-based lotion has an oil-free, lightweight consistency that glides on like butter, hydrates the skin instantly, and locks in moisture for up to 24 hours.
It also doesn't cause breakouts, redness, or flaking.
Reviews say that it's so moisturizing that it eliminates dryness for people with particularly dry skin around their eyes.
This daily hydrating lotion is perfect for combination, sensitive, and acne-prone skin but it also works for dry skin too.
Ingredient list
Main ingredient: water, dicaprylyl carbonate, hydroxyethyl urea, cyclopentasiloxane, glycerin, glyceryl stearate, PEG-100 stearate, hydrolyzed hyaluronic acid, sodium hydroxide, homarine hcl, sodium PCA, cetyl alcohol, caprylyl glycol, phenoxyethanol, acrylates/​C10-30 alkyl acrylate crosspolymer, erythritol
Key ingredient: sodium PCA and glycerin
Cetaphil intensive healing lotion
The Cetaphil intensive healing lotion is an intense skin solution for rough, flaky, sensitive skin.
It contains amino acids and ceramides, a lipid naturally found in skin cells and makes up about 50% of the epidermis.
Ceramides help to hydrate the skin, repairing its natural moisture barrier while the amino acids absorb moisture to keep it supple and soft.
This lotion is gentle on sensitive skin, without irritation or inflammation.
There have been disputes, however, that it doesn't actually hydrate for 24 hours or heal cracked skin.
This is a good moisturizer for all skin types, but especially skin with issues such as irritation, roughness, tightness, dryness, or a weakened skin barrier.
Ingredient list
Main ingredient: water, glycerin, caprylic/capric triglyceride, dunflower seed oil, pentylene glycol, shea butter, cetearyl alcohol, sorbitol, behenyl alcohol, glyceryl stearate, cyclopentasiloxane, tocopheryl acetate (vitamin E), hydroxypalmitoyl sphinganine (ceramide), niacinamide (vitamin B3), allantoin, panthenol (vitamin B5), arginine, disodium ethylene dicocamide PEG-15 disulfate, glyceryl stearate citrate, sodium PCA, ceteareth-20, sodium polyacrylate, caprylyl glycol, citric acid, dimethiconol, disodium EDTA, sodium hyaluronate, cetyl alcohol
Key ingredient: niacinamide, vitamin E, glycerin, hydroxypalmitoyl sphinganine (ceramide), arginine, sodium PCA, sodium hyaluronate, allantoin and vitamin B5)
Lubriderm vs Cetaphil: which one is better for tattoos?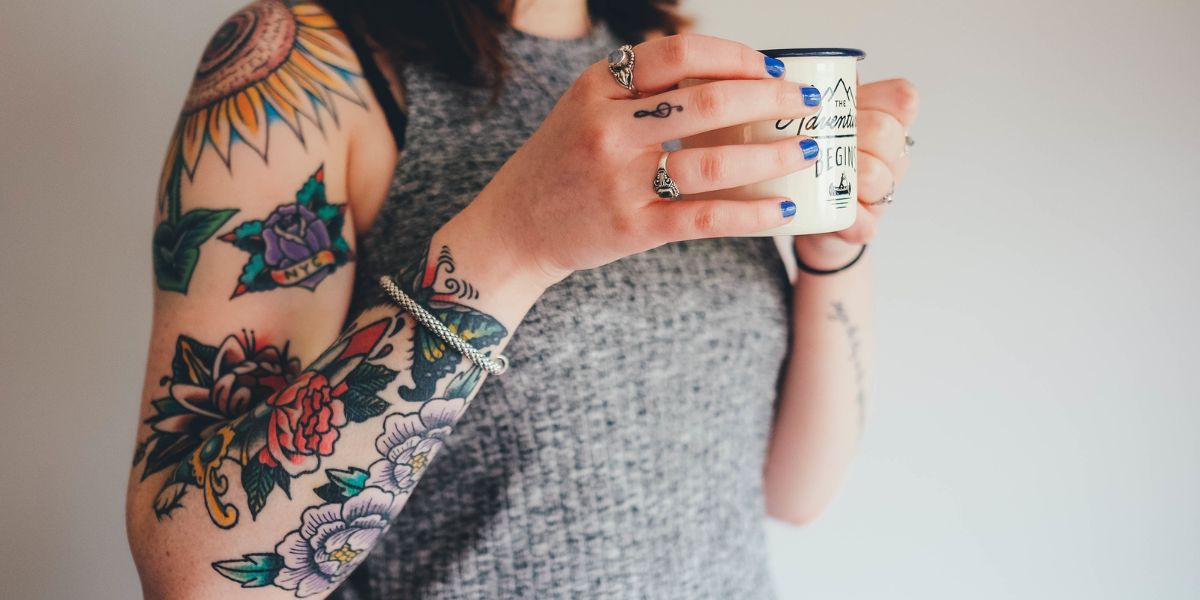 If you regularly get tattoos, or you're considering getting a new tattoo then consider buying a bottle of Lubriderm's daily moisture lotion to help with your tattoo aftercare.
Not only will this Lubriderm lotion keep your skin hydrated, but it can also keep your tattoo design intact and help minimize minor skin irritations and allergic reactions.
Lubriderm can be used to moisturize your skin after getting a tattoo, or it can be used to hydrate and moisturize your skin.
Tattoo artists emphasize using unscented lotions as part of your tattoo aftercare to help protect your skin's natural moisture barrier.
Lubriderm works well for this because it's fragrance-free and doesn't contain any synthetic dyes or other chemicals that might irritate your skin.
Applying a lightweight moisturizer during the peeling stage is important because it won't leave a thick layer on your skin and allows the tattooed skin to breathe.
Lubriderm is ideal because it doesn't leave a thick layer on your skin.
The best thing about this lotion is that it's lightweight and gets quickly absorbed into the skin all while making your skin feel supple and soft.
Final thoughts
To reiterate, both brands excel in delivering the hydration that dry skin desperately needs.
Lubriderm is a brand that knows how to nourish the skin with its hydrating, multi-purpose lotions.
While Cetaphil does offer some similar products, it also focuses on other skin issues like acne and dry skin.
If you have dry skin, both brands will work for you. If cost is a factor then choose Lubriderm.
Cetaphil is definitely more expensive than Lubriderm, but for the range of skin products and the fact that you could just use Cetaphil products in your skincare routine while Lubriderm only offers body moisturizers, the convenience is worth the extra cost.