If you struggle with acne or want to prevent breakouts, adding retinol to your routine will help you achieve clear skin.
Retinol is a topical form of vitamin A (retinaldehyde) that stimulates the production of collagen.
It's used in the treatment and prevention of skin conditions such as acne, psoriasis, and wrinkles without the irritation and redness associated with harsher treatments like steroid creams.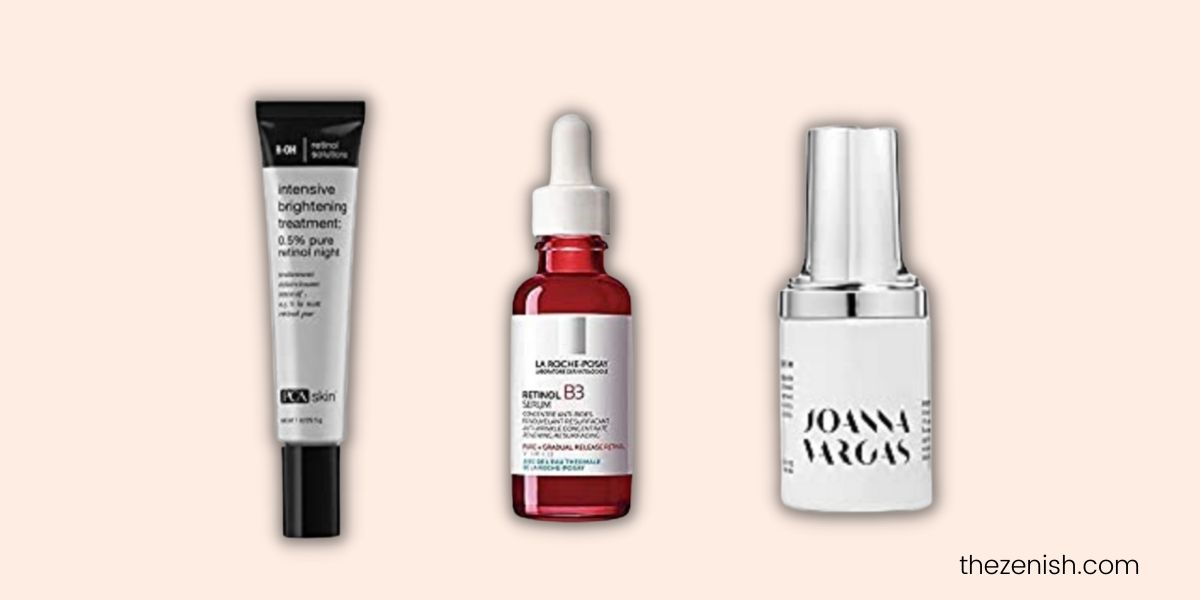 It's found in a variety of animal and plant sources and also helps reduce the appearance of scars on the skin.
Retinol is an important part of any skincare routine but is overlooked when it comes to acne treatment.
this post may contain affiliate links, which means if you purchase from one of these links, I may receive a small commission at no additional cost to you.
What are the benefits of retinol?
Retinol has many benefits for acne sufferers.
It helps increase cell turnover and collagen production and improves skin tone and texture.
Some people also find that it reduces the appearance of fine lines and wrinkles.
Retinol has proven to be one of the most effective treatments for anti-ageing and acne.
Due to its gentleness, speeding up the results of other treatments, and effectiveness in combating wrinkles.
It's also very easy to integrate with other prescription medications.
Best retinol serum for acne
---
PCA Skin Brightening Treatment provides visibly long-lasting brightening benefits.
With a blend of pure retinol and niacinamide, it helps to reduce the appearance of dark spots and discolorations.
PCA Skin's retinol helps remove dead skin cells and brighten skin tone.
It also improves texture, increases collagen production, and decreases fine lines and wrinkles.
This product is best for individuals with normal to dry skin who are struggling with acne.
It's also great for individuals with an oily complexion.
Although it's used at night, it can also be used in the morning to help produce even more radiant skin.
Check the price on Amazon.
Retinol Complete 1.0 is a scientifically formulated anti-wrinkle formula specifically formulated to reduce fine lines and wrinkles.
It also helps reduce sun damage, acne and uneven skin tone.
It rejuvenates and replenishes your skin with the power of retinol and peptides.
A top-selling retinol product, with a wide range of positive reviews from beauty bloggers and dermatologists alike.
It contains a formula of 5% vitamin A with 0% fragrance or colourant making it perfect for sensitive skin.
It is not just popular, but it is also well-recognized for its quality and effectiveness. Buy it now on Amazon.
3. Paula's Choice 0.3% Retinol + 2% Bakuchiol Treatment
Paula's Choice 0.3% Retinol + 2% Bakuchiol Treatment is a lightweight, serum made to reduce acne and prevent new breakouts.
This treatment uses retinol, anti-ageing plant extracts and bakuchiol to stimulate collagen production and reverse the signs of ageing, including fine lines and wrinkles.
Also, helping to reduce the appearance of acne and prevent new breakouts.
The ingredients are specially formulated for sensitive skin types so won't irritate or clog pores.
Joanna Vargas Super Nova Serum promises to bring back youth and vitality.
It is made with retinol, hyaluronic acid, peptides, antioxidants, vitamins A and C.
A significant number of people use this product for its anti-ageing properties. But it's also used by people with skin sensitivities.
And people who are looking for an alternative to the harsh chemicals typically used in skincare products.
This serum is perfect for you if you want a firming, plumping, and smoothing effect on your skin. Buy it now on Amazon.
SkinMedica Retinol 0.5 Complex is a gentle, yet effective formula that helps to improve the appearance of skin with targeted ingredients.
It provides the skin with intensive antioxidants to help reduce the signs of ageing, firmness, and uneven tone.
It also helps to improve all aspects of skin health – surface irregularities, texture, tone, elasticity and overall appearance.
Retinol 0.5 Complex lessens acne by promoting the renewal of skin cells while reducing inflammation without irritation or dryness. Buy it now on Amazon.
CeraVe Resurfacing Retinol Serum helps reduce acne and improve existing scars.
It uses peptides and retinol to produce collagen and elastin, making the skin smooth and more resilient.
The antioxidant properties in the serum also help to prevent free radicals from causing further damage to the skin.
It reduces acne and improves existing scars by reducing the number of new pimples.
The CeraVe Resurfacing Retinol Serum also controls the spread of existing pimples effectively reducing redness, exfoliating skin cells and hydrating the skin.
It also has hyaluronic acid for hydration and ceramides to aid in skin barrier function. And works by addressing key causes of acne.
Which includes inflammation caused by bacteria overgrowth on the skin surface and blocked pores.
This serum is a great choice if you're looking for an all-around solution for ageing or problematic skin.
And if you're looking for a product with great results. Buy it on Amazon.
La Roche-Posay Pure Retinol Face Serum with Vitamin B3 is an anti-ageing product that adds radiance and luminosity to the skin.
Retinol is an ingredient that helps remove dead skin cells and rebuilds new healthy ones.
While Vitamin B3 helps restore suppleness and elasticity to the skin.
Together these two ingredients help reduce wrinkles and dark spots and improve radiant, youthful-looking skin.
This serum is a bestseller on Amazon with rave reviews.
Users swear by this anti-ageing serum because of its effectiveness in reducing wrinkles.
And its effectiveness in reducing dark spots while adding luminosity to the skin. Buy it now on Amazon.
The Peter Thomas Roth Retinol Fusion PM Night Serum helps condition, revitalize, and rehydrate the skin.
The ingredients help to improve the appearance of wrinkles and hyperpigmentation without causing any irritation or redness on the skin.
It is a gentle formula perfect for use as part of your daily skincare routine.
And is suitable for all skin types including sensitive skin as it contains no harmful ingredients.
It's even recommended by dermatologists for those who have dry or combination skin.
It promises a smoother, more radiant complexion with continued use over time.
And its lightweight formula soaks quickly into the skin without leaving behind any residue or greasiness. Buy it now on Amazon.
iS CLINICAL Pro-Heal Serum Advance is a unique formula that reveals the natural beauty of your skin by unclogging pores and clearing acne.
It helps to even out skin tone, reduce redness, moisturize the skin and absorbs quickly.
While also reducing the appearance of wrinkles and fine lines.
The formula is boosted by a unique blend of peptides and ingredients proven to have anti-ageing properties.
And contains ingredients known for their ability to hydrate the skin's surface while creating a protective barrier against aggressors, reducing sun damage, fighting inflammation, and promoting collagen production.
The iS Clinical Pro-Heal Serum Advance is perfect for you if your skin needs more than just hydration.
It's an advanced formula with a potent combination of vitamins and minerals.
When combined they help to strengthen, repair, and restore the skin while also protecting it from the elements.
Epionce Intense Defense Serum Anti-Aging Repair is a high-performance serum that targets all of the signs of ageing.
And helps clear up acne as well as prevent further breakouts. It also repairs the skin barrier to help prevent future damage.
It works by restoring the skin barrier's natural ability to control oil and moisture, as well as protect against UVA and UVB radiation.
The formula includes a proprietary blend of ingredients like squalane, black cumin seed oil, and bacitracin zinc to help with the anti-ageing.
It's also alcohol and fragrance-free.
Epionce Intense Defense Serum Anti-Aging Repair is perfect if you're looking for a serum that will hydrate and protect your skin from the environment, prevent premature ageing and lessen breakouts.
Eve Lom's Radiance Essence Serum is a hydration booster that helps to improve skin tone and clarity.
It contains a potent combination of pure, natural plant extracts to help increase the production of new cells on the surface of the skin.
This luxurious feeling serum softens the skin for an even complexion with instant hydration and long-lasting moisture.
Its made with niacinamide to help balance the skin's natural oil production and calms redness.
The Radiance Essence Serum by Eve Lom is an anti-ageing serum that targets fine lines, wrinkles and signs of ageing the natural way.
It has powerful antioxidants that help boost collagen production on your face for smoother, more youthful-looking skin.
The 111SKIN Celestial Black Diamond Retinol Oil is a gentle, nourishing serum that works to lighten, brighten and revitalize skin.
It reduces the appearance of dark spots on the skin and helps erase age-related damage.
It contains black diamond-trimmed retinol for intense hydration that helps to restore elasticity and firmness to the skin and is suitable for all skin types.
The Dr. Dennis Gross Advanced Retinol Ferulic Texture Renewal Serum is a lightweight serum that can be applied daily or as needed to help improve your complexion by stimulating the production of new cells from within the deeper layers of the epidermis.
This serum is a powerhouse for anti-ageing treatment, and its ingredients like Retinol and Ferulic acid work synergistically to prevent and reverse signs of ageing.
The serum has been proven effective for minimizing acne, reducing fine lines and wrinkles, reducing redness, clearing up skin discolorations, and improving skin texture.
It's suitable for all skin types and the formula will not clog pores or cause irritation.
Paula's Choice Boost 1% is a retinol-based serum that helps restore the skin's health and vitality, with a formula that includes Vitamin A, C, and E.
It has been shown to reduce fine lines and wrinkles by 31%, improve skin elasticity by 23% and increase cell turnover by 49%.
It also delivers an even skin tone and goes on smoothly with no greasy or sticky residue.
How long does it take for retinol to improve acne?
For most people with acne, retinol will help clear up any breakouts and make their skin look better. But it can take a few weeks to see results.
Therefore it's important to remember that skincare needs time to work before seeing any noticeable improvement.
This is especially true if you have been struggling with acne, enlarged pores, hyperpigmentation and other symptoms of acne for a long time.
Which is better for acne retinol or salicylic acid?
Salicylic acid is a common ingredient in many acne products and is often used as a low-cost alternative to retinol.
Retinol, however, is more effective in reducing the symptoms of acne, improve skin tone, and increase collagen production.
The key difference between these two ingredients is their chemical structure. Retinol is an oil-soluble ingredient and salicylic acid is water-soluble.
This means that when using these two ingredients together, they react differently on the skin and benefit certain people more than others.
Some people find that retinol can be too irritating for their skin while salicylic acid provides a visible result in just weeks of use.
What are some side effects of retinol?
The most common side effects include redness, tightness, dryness, peeling, burning and breakouts.
Some other less common side effects can occur with retinol but these tend to be temporary or milder in nature.
These side effects include itching or swelling at the site and fine lines/wrinkles appearing more pronounced.
Can I use retinol while pregnant?
If you are pregnant or breastfeeding, it is best not to use any topical treatments that have a high concentration of Vitamin A in them.
Retinoids are a group of ingredients that includes Retin-A, Tretinoin, and Adapalene. Other ingredients in this category include Retinyl Palmitate and Retinyl Acid Phosphate.
Retinoids can cause harm if used by pregnant women because of their effect on the development of the embryo or fetus.
Therefore it's best to stay away from them if you're pregnant.
But, to get the most appropriate advice for you, you should consult your doctor.