Did you know buying a natural face toner was an option? I wasn't aware until recently.
Now, there's still some debate about toners. Are they necessary? Yes! Do you need a toner? Yes! Do they even do anything? Yes!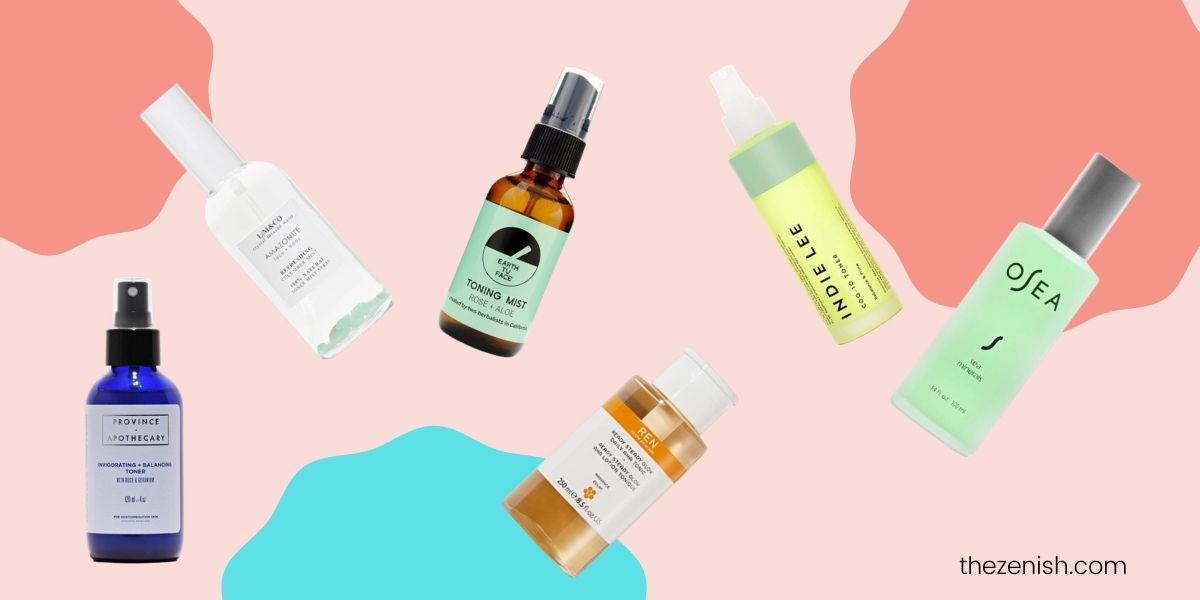 But since you're here I'm assuming you already know that toners are awesome and can do great things for your skin.
this post may contain affiliate links, which means if you purchase from one of these links, I may receive a small commission at no additional cost to you.
14 Natural face toners you should give a try
1. Osea Sea Mineral Mist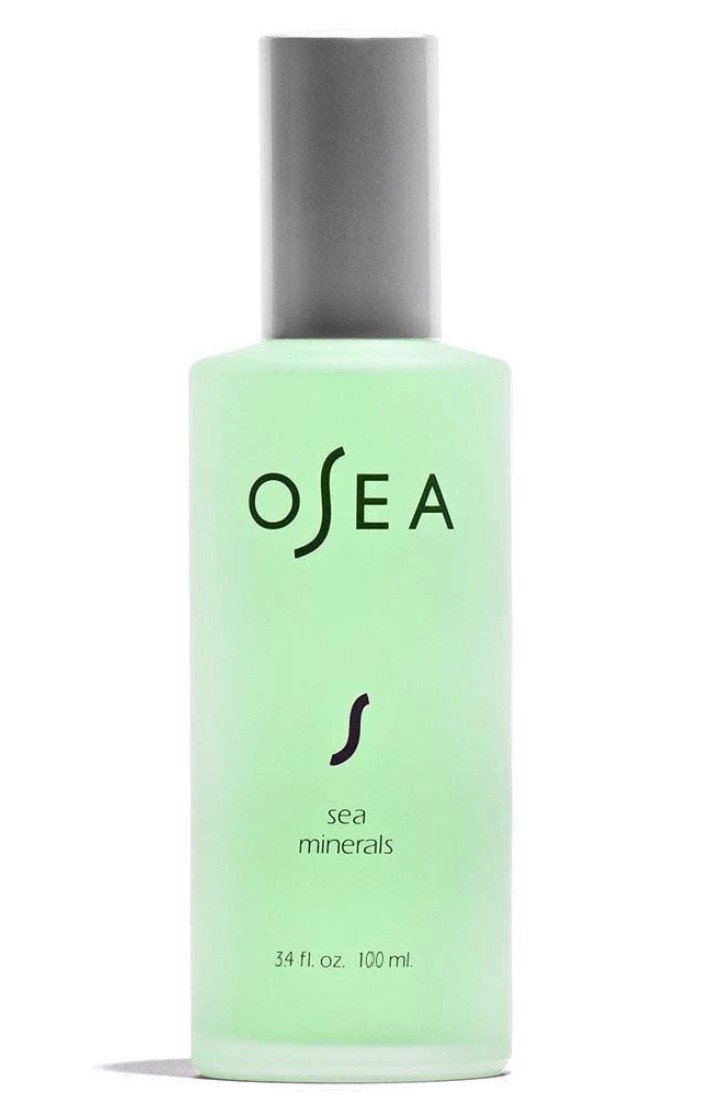 Just looking at this bottle makes me happy. It's such a beautiful shade of green. This would be a great product to display on your makeup table or displayed someplace where everyone can see it.
You know they would just have to ask you about it.
Pretty packaging aside, this refreshing toner lists some great ingredients like dead sea salt which is packed with essential minerals and aloe vera which is good for soothing irritation.
All skin types can reap the benefits from using this toner but if you have dry, sensitive, acne-prone or combination skin, definitely give this a try.
You can buy the Osea Minerals Mist on Petit Vour.
2. Ren Skin Care Ready Steady Glow Daily AHA Tonic
The steady glow tonic might work well for you if you have acne and oily skin. It's made with natural AHAs and BHAs that are supposed to help your skin shed build-up, and oil, deep clean your pores and keep your skin glowing throughout the day.
Which sounds good to me!
The natural salicylic acid extract from willow bark, lactic acid from yeast, and azelaic acid all help to gently exfoliate your surface cells, reduce redness and polish away imperfections.
You can buy the Ren Glow AHA Tonic on Amazon.
3. Indie Lee CoQ-10 Toner
This CoQ-10 hydrating toner is alcohol-free and formulated with aloe vera, cucumber and antioxidants. These ingredients protect the membranes of your skin's mitochondria and regenerate antioxidants, like vitamins C and E both of which are important for healthy-looking skin.
All these ingredients work together to help balance, refresh, prime and protect your skin without leaving it feeling dry and irritated.
It can be used in the morning or night and is a good option if you have normal, dry, mature, sensitive, blemish-prone or combination skin.
You can buy the Indie Lee CoQ-10 Toner on Amazon.
4. Province Apothecary Invigorating + Balancing Toner
If your skin is congested and in need of nourishment, then this may be the toner for you. Rich in antioxidants from the organic rose floral water (so there is a bit of a smell)this toner is alcohol-free with geranium which helps to hydrate your skin without disrupting its natural ph.
This is a great toner to use after cleansing to help control oil, if you have oily skin and to help prime your skin for the next steps in your routine.
You can buy the Invigorating & Balancing Toner on Petit Vour.
5. No BS Purifying Facial Toner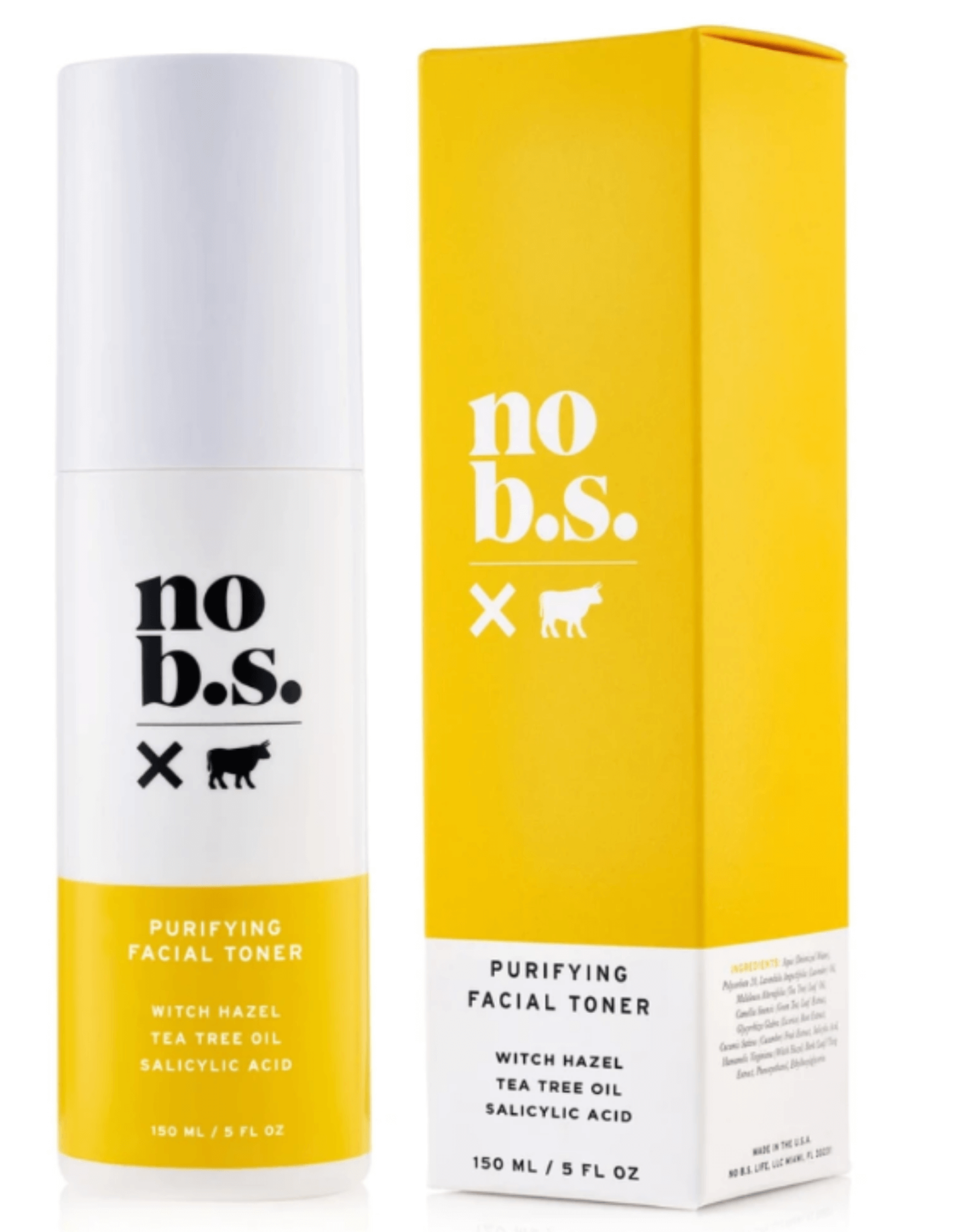 This toner is awesome just for the name alone. And the packaging is bright and cheerful which I love. Using it would make me happy all the time and that's just one of the reasons to use it.
However, if you struggle with acne or oily skin then you should give this one a closer look.
Made with acne-fighting and oil control ingredients like salicylic acid, tea tree oil, and witch hazel this combination works together to keep your face smooth and shine-free. The cucumber and green tea also give your skin a healthy serving of antioxidants.
You can buy the No B.S Purifying Toner on No B.S.
6. TIDAL ROSE Crystal Hydration Toner
The Tidal Rose Hyradtrion Toner is described as a hydration-enhancer and makeup settler.
Infused with seaweed extract rose quartz rosewater, white tea extract and Persian lilac extract, this nutrient-dense antioxidant-rich natural face toner will help your skin lock in moisture and restore its natural ph balance.
It also helps that this bottle is really pretty and looks expensive. But it's not! Pretty packaging gets me every time, I just love it!
This beautiful-looking toner would be good for dry, rough skin and if you're concerned about fine lines and wrinkles.
You can buy the Tidal Rose Crystal Hydration Toner on Earth Harbor.
7. Odacité Mint + Green Tea Hydra-Purifying Treatment Mist
Consider this natural face toner if you have oily acne-prone skin. One of its key ingredients is salicylic acid which helps to fight acne, clears your pores and removes dead skin cells. All of these are important if you have oily skin or suffer from acne.
It also has aloe vera and green tea which is great because both help reduces the appearance of redness which is helpful if you get frequent breakouts.
You can buy the Odacité Mint + Green Tea Hydra-Purifying Treatment Mist on Petit Vour.
8. Honua Skincare Hawaiian Beauty Water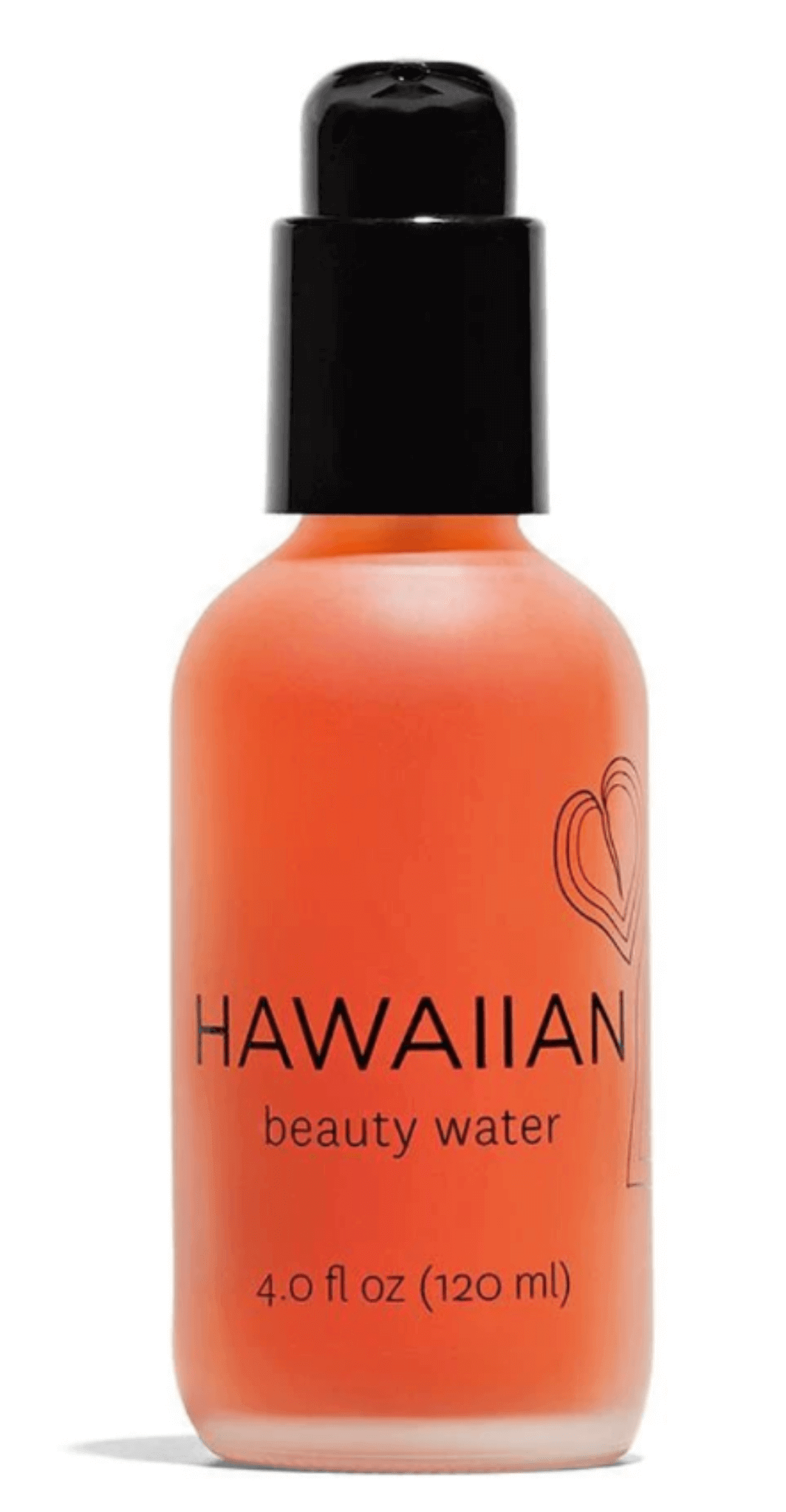 This beauty water is a toner-exfoliator hybrid and good for all skin types but even better for oily, acne-prone skin and clogged pores.
You may already know but, exfoliating is a necessary step in your skincare routine because it helps to deep clean your pores and skin.
Exfoliating also helps you get a glowing complexion and makes your skin smooth and your makeup look even better. So if you're not currently using one then you can give this one a try and cut out a step in your routine.
This beauty water is gentle enough that if you don't have sensitive skin you could use it 5 times per week and not see signs of irritation.
You can buy the Hawaiian Beauty Water on Petit Vour.
9. OSEA Sea Vitamin Boost
This toner also has a very eye-catching look to it which by now you know I love. Products like these just look so chic and make me feel like I'm doing something good for myself. Pretty packaging makes me happy.
Okay, packaging aside this boost is ideal if you have mature or dry skin and you're looking for hydration and protection.
It lists vitamin C (brightening & anti-ageing), organic seaweed, resveratrol (anti-ageing) and pomegranate as ingredients. It's versatile enough that you can use it as a toner, makeup setter, or as a refreshing mist throughout the day.
you can buy the Osea Sea Vitamin Boost on Petit Vour.
10. Josh Rosebrook Hydrating Accelerator

If your skin is excessively dry and lacks moisture then you might want to give this accelerator a try!
Some of its noteworthy ingredients include aloe, seabuckthorn, marula oil, calendula, rose hips, and elderberry which are all designed to deliver hydration and nutrients.
This is a multi-action product that, tones, hydrates and moisturizes.
This works well as a makeup setting or refresher spray that you can take with you and use anywhere.
You can buy the Hydrating Accelerator on Petit Vour.
11. Meow Meow Tweet Geranium Palmarosa Face Toner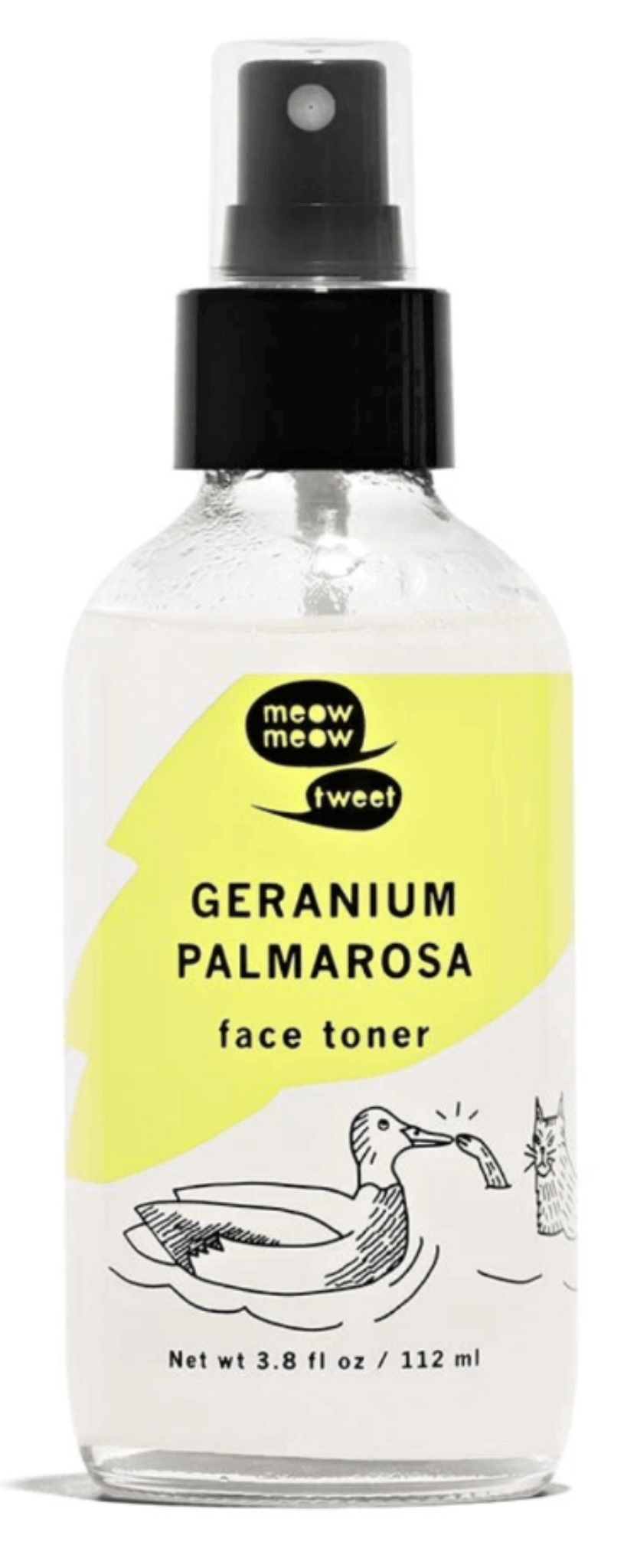 Described as a hydrating mist to balance and tone the skin this Geranium Palmarosa Face Toner is made of organic and botanical ingredients.
Packed with antioxidants and nutrients it will leave your face feeling fresh, balanced and toned. A product you want in your rotation!
This is a good option for all skin types but a great option if you have oily skin and get frequent or occasional breakouts.
You can buy the Geranium Palmarosa Face Toner on Petit Vour.
12. LM&CO Crystal Infused Toner Spray Amazonite
This is an interesting product I usually wouldn't go for but it sounds promising. Made with cucumber and mint extracts and infused with real amazonite gemstones this toner is supposed to help recharge your skin and your mind. Sounds interesting right?
What I like about it is that it helps refresh and clear your skin from impurities and pollution. And with air pollution being a real concern more than ever, my skin could use a bit more protection.
This is made for all skin types but especially for oily ones as it helps balance your skin's ph and reduces oiliness while it hydrates and brightens.
You can buy the Crystal Infused Toner on Petit Vour.
13. Derma E Essentials Radiance Toner
This alcohol-free radiance toner is affordable and works like a charm. Enriched with glycolic acid (which helps remove dead skin cells), rooibos and rosehip extract this exfoliating, beauty toner will help to tone, tighten and brighten your skin for a soft, smooth and glow-like appearance. Count me in!
Perfect for all skin types it's gentle enough that if you have sensitive skin you can use it a few times a week and not get irritated.
You can buy the Essentials, Radiance Toner, on Petit Vour.
14. Earth Tu Face – Organic Rose + Aloe Toning Mist
This is a basic no-fuss toner made with all the classic ingredients. Ingredients like rose water, aloe vera (soothing), witch hazel (astringent) and rose essential oils.
This has a smell, so if you're sensitive to smells you might want to skip this product and try one of the others.
However, it's a great basic toner suitable for all skin types and also perfect for setting your makeup, while boosting your skin's exposure to healthy botanicals.
You can buy the Organic rose & Aloe toning mist on Amazon.
What does a toner do for your face?
Helps to restore your skin's pH balance after cleansing
Helps your pores look smoother and smaller
Adds a layer of protection to your skin
Can target concerns, like acne, dryness, ageing etc
Helps to keep your skin hydrated and supple
Now, because they're great doesn't mean that they all have great ingredients which is cause for concern if you're worried about chemicals, toxins etc.
I love to use as few chemicals as possible on my face and prefer to use a natural toner when I can.
For that reason, I sometimes dabble in a little DIY. But that ish can get old fast! Between the prepping, making sure I'm storing it properly and my SO looking at me like I'm nuts. But it's all worth it, right?
However, sometimes it would be great to not have to DIY and still have an awesome toner that works and not have to stress about what chemicals are being absorbed into my skin.
If you're also having this problem then I've got you covered. I've searched the internet for some awesome natural face toners you can use and not stress about what's soaking into your skin.
FYI, if you'd like to take a shot at making your toner I've got some simple and easy DIY toner recipes you can check out. These are so easy they're foolproof.
Final thoughts
Toners have come a long way and many are now alcohol-free, but added chemicals and preservatives make them harmful to your skin. So try a natural face toner instead.
Natural toners can be gentle and effective and do an awesome job clearing away impurities from your skin.
They also help balance your skin's ph and prep it for moisturizers, serums, and other hydrating skincare products. A natural face toner is a good staple to have in your skincare stash.