Searching for the "perfect" gift for mom during the holidays can be difficult. From deciding what to give to hoping that she loves what you eventually decide to give her, it can all be somewhat stressful.
Enter DIY Christmas gift basket ideas! Hallelujah!
What I love about gifting gift baskets is that they're completely customizable, they work for any budget and they're really easy to put together!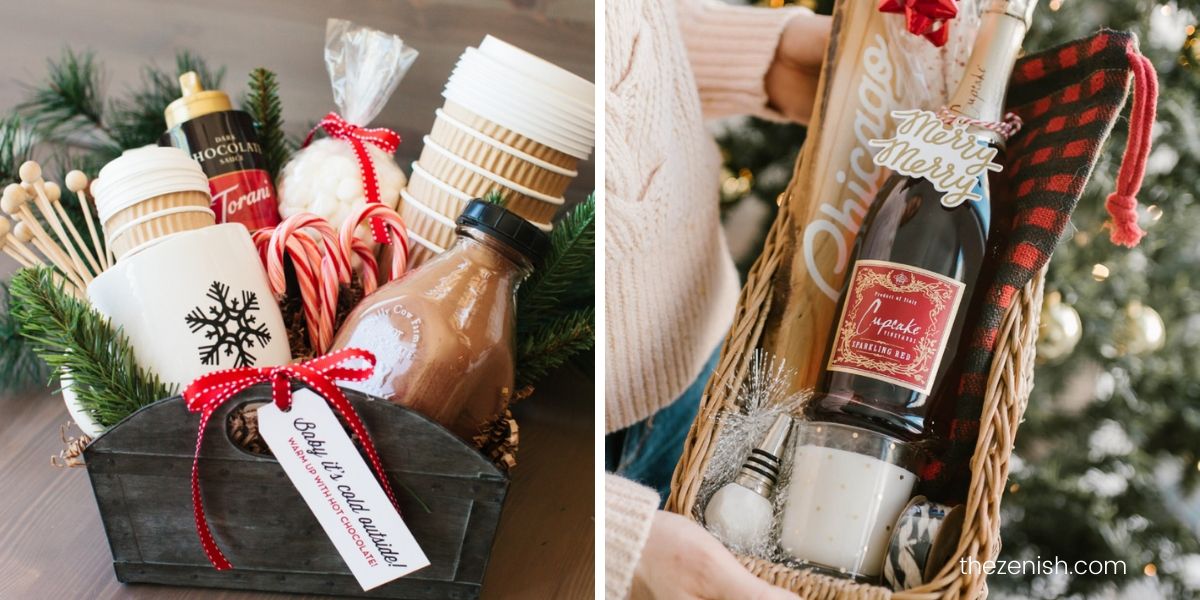 This way you can gift mom multiple things that she will love, instead of wasting time searching for the elusive perfect gift.
Whether you want to put together a six month supply gift basket of your mom's favourite beauty products or you need a DIY gift idea for a mom with multiple and various interests, there's a gift basket idea here that is going to perfectly fit your needs. I can't wait for you to try these!
Related: DIY Christmas cards your friends & family will love!
Christmas gift baskets ideas for mom
---
1. Coffee gift basket | belle vie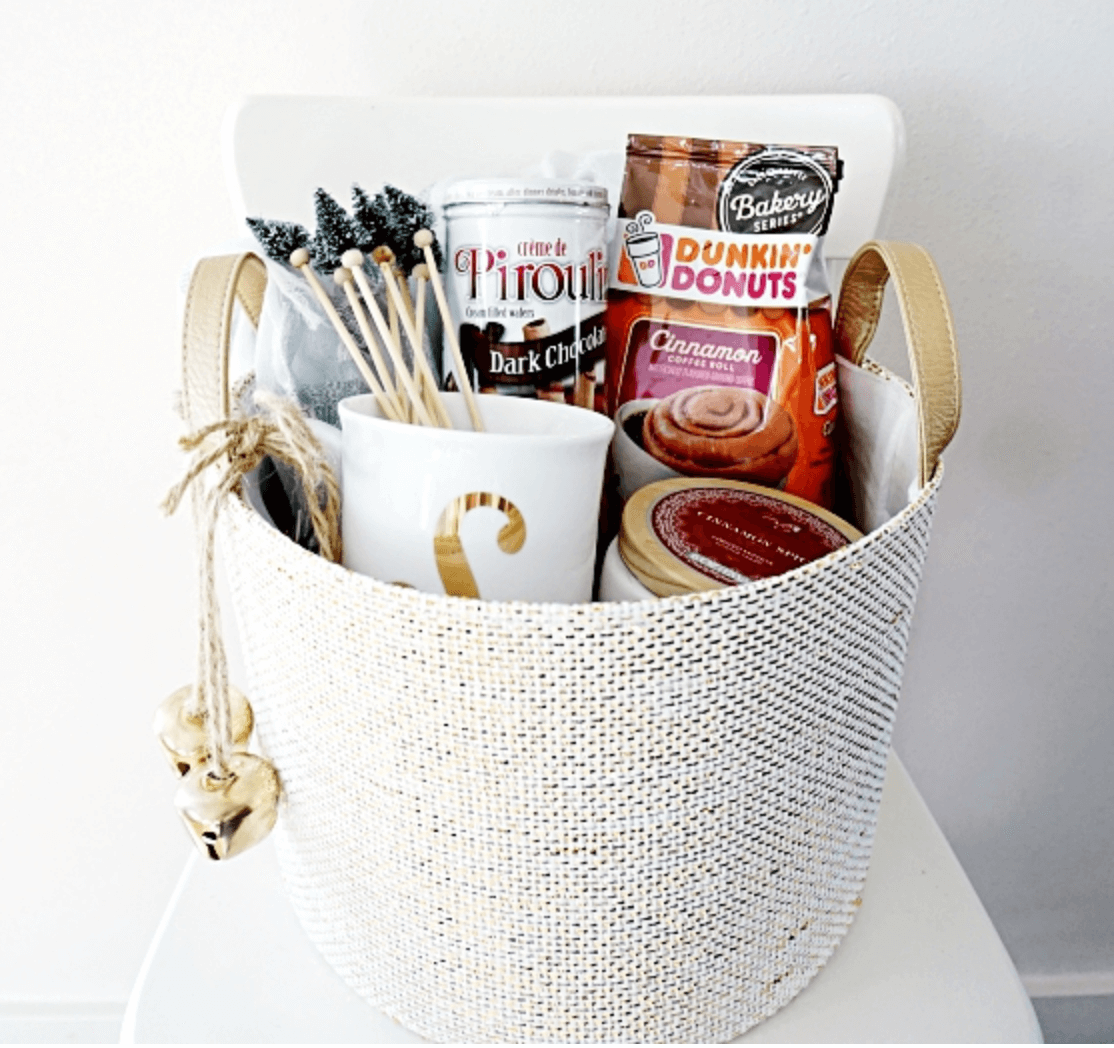 If your mom is a coffee drinker then this DIY gift basket might just be perfect for her! Because who wouldn't love such a thoughtful gift?!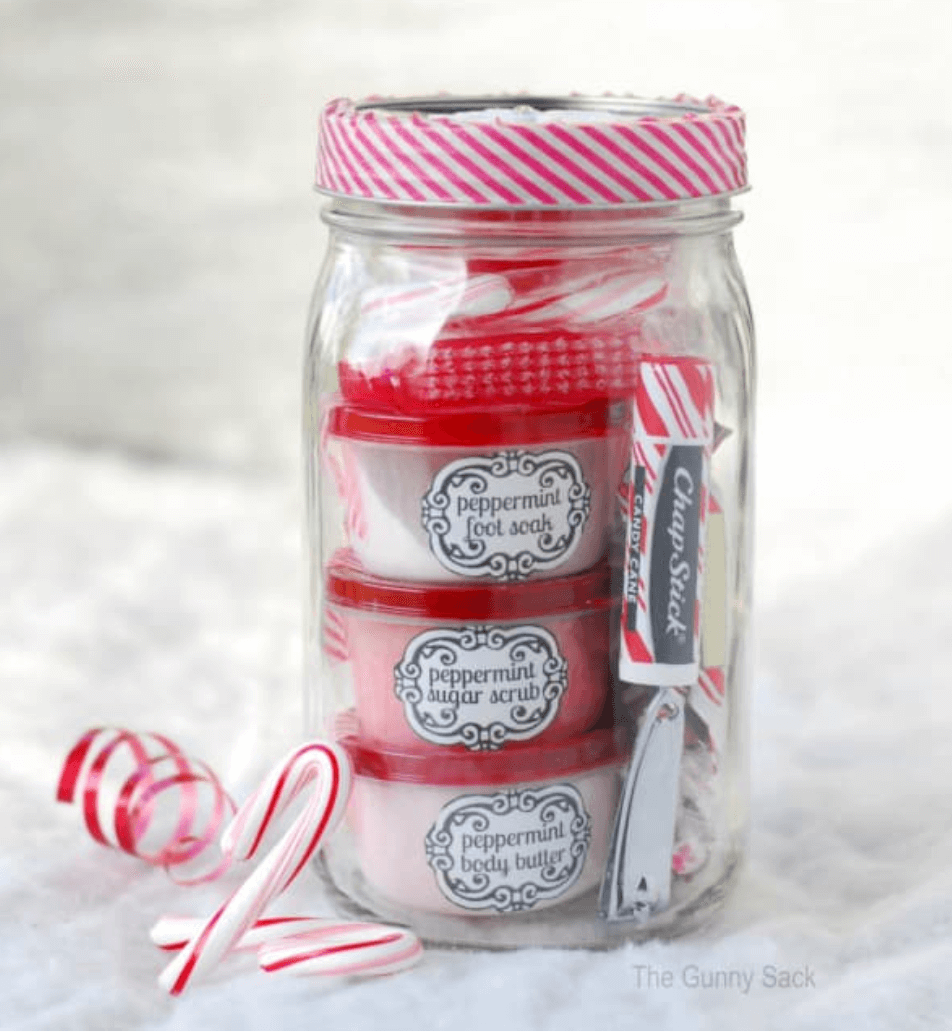 Whether in a jar or basket this would be a perfect homemade gift basket for mom during the holidays. This Pampering Jar includes body butter, foot, and sugar scrub.
3. Gift Basket of assorted goodies | Hairs out of place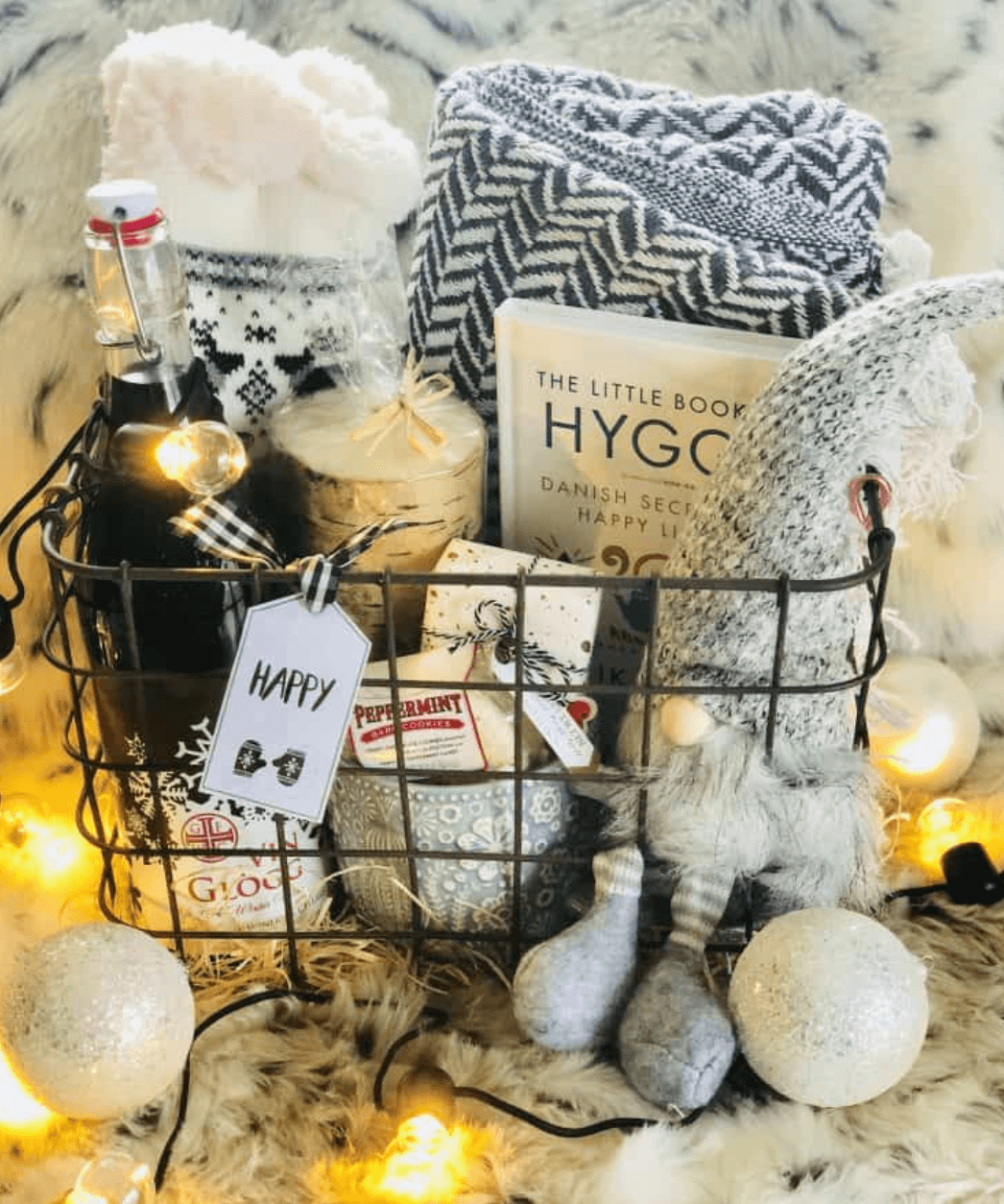 Whether you're putting together a pamper gift basket for Christmas, a cozy winter basket use this basket of assorted goodies as inspiration to put together all your mom's favourite things, or goodies that she'd never buy for herself and gift them to her for the holidays!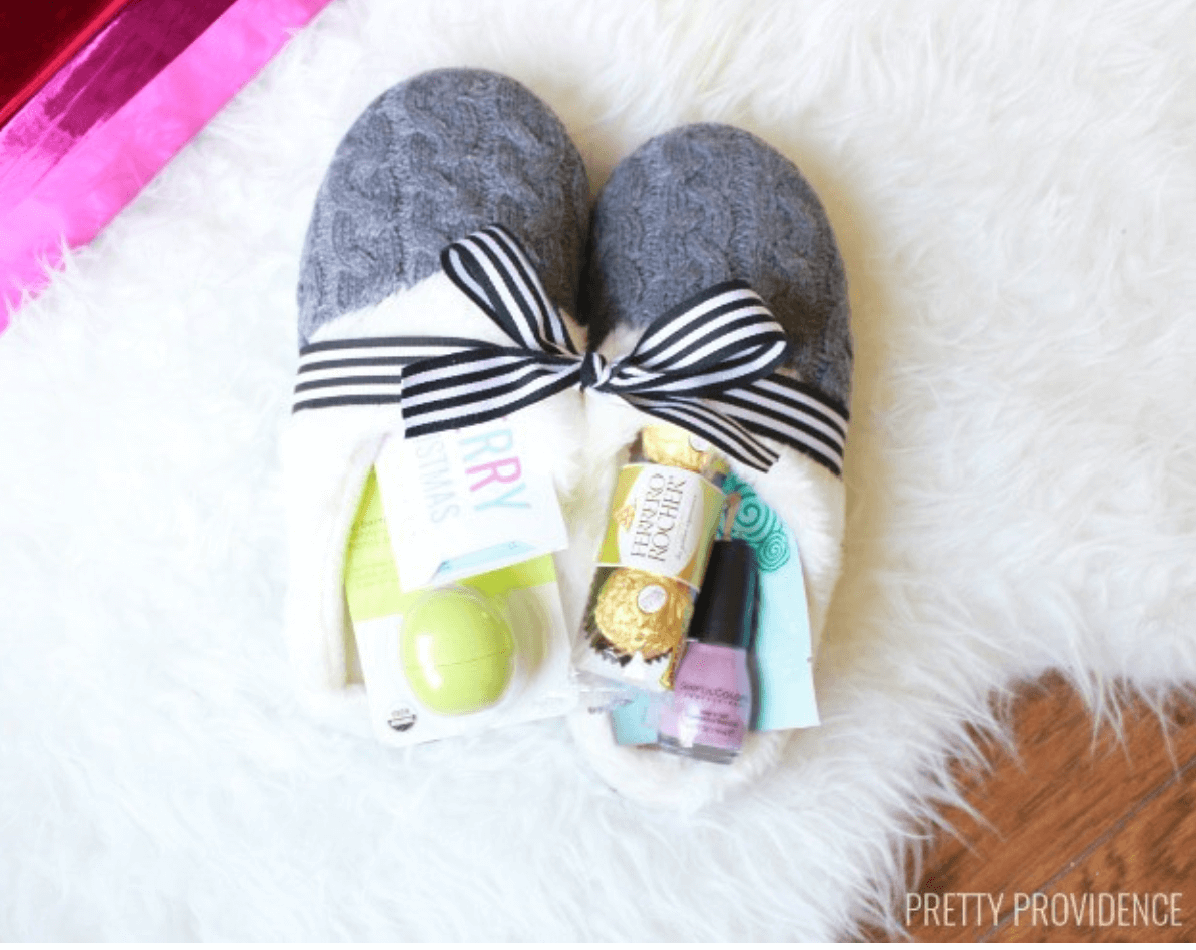 Buy your mom some cute slippers and stuff a few small gifts and treats into them, and for a nice finishing touch wrap it all up with a bow!
For this "gift basket," you can use a bundt pan, but after that, you make it what you want. You can add dishtowels, dishcloths, measuring cups, kitchen utensils, etc. You can even add a box or jar of your mom's go-to cake mix, frosting and spices. Anything that involves baking!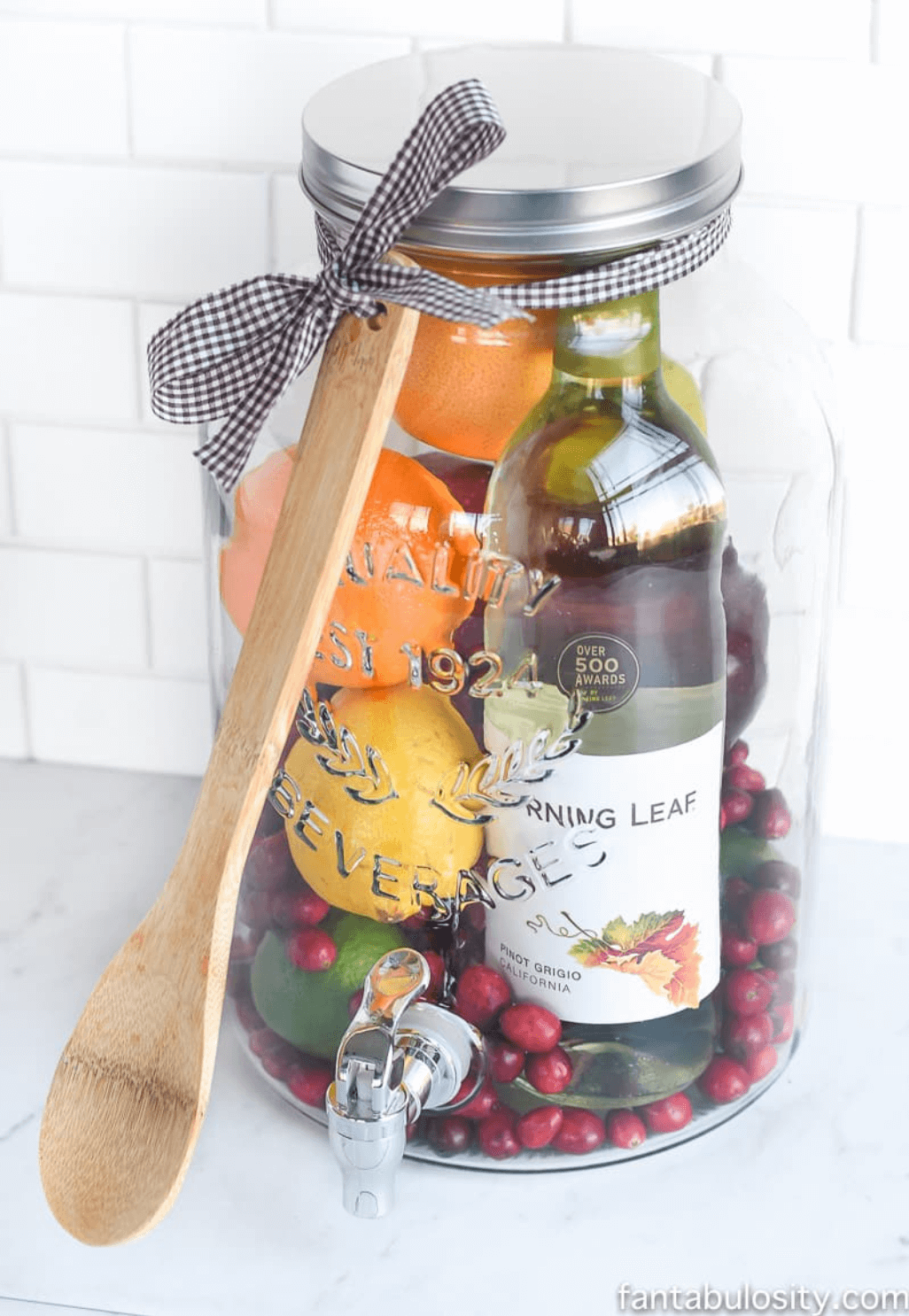 Sangria for mom! This gift basket is super easy to put together, and best of all the drink dispenser can be used again and again! This is a perfect Christmas gift!
The holidays can be overwhelming so make it easy for your mom to relax and unwind. A simple hot chocolate gift basket is a great yet simple way to show your mom how much you appreciate her.
8. Pamper Gift Basket | DIY network
Put together a pamper kit to help your mom relax and to show her you care. Help her cherish every relaxing moment she can get. This is an especially great gift if your mom will be hosting family and friends over the holidays.
9. Christmas Morning Gift Basket | Craftberry bush
This is a super simple little gift basket idea your mom will love! You simply take a few staple breakfast items and place them all in a gift basket! And to make it really special, offer to make breakfast and pamper her a little.
After the holidays, there's still a lot of "winter" left to get through. Help your mom through the upcoming cold days with a "winter survival kit". You can fill the basket with small items you know she'll love like lotion, tissues, lip balm, and a handful of her go-to snacks. Dress it all up with a cute ribbon, and watch her melt.
11. Nothin' But Mom's Favourite Colour Gift Basket | The 36th Avenue
The inspiration for this gift basket is the colour pink but why not use your mom's favourite colour or her favourite scent? For example, if you're mom's colour is blue, fill the basket with things that she would love…but in various shades of blue. You can have a lot of fun putting this gift together!
12. Themed Gift Basket | Magnolia
If your mom has a theme or activity that she likes, that's a great place to start with a themed gift basket. Magnolia Market themed their gift basket around a trendy style but you can use this as inspiration to create an amazing gift to say thank you and to celebrate the holidays.
13. Holiday cupcake baking kit | Tomkat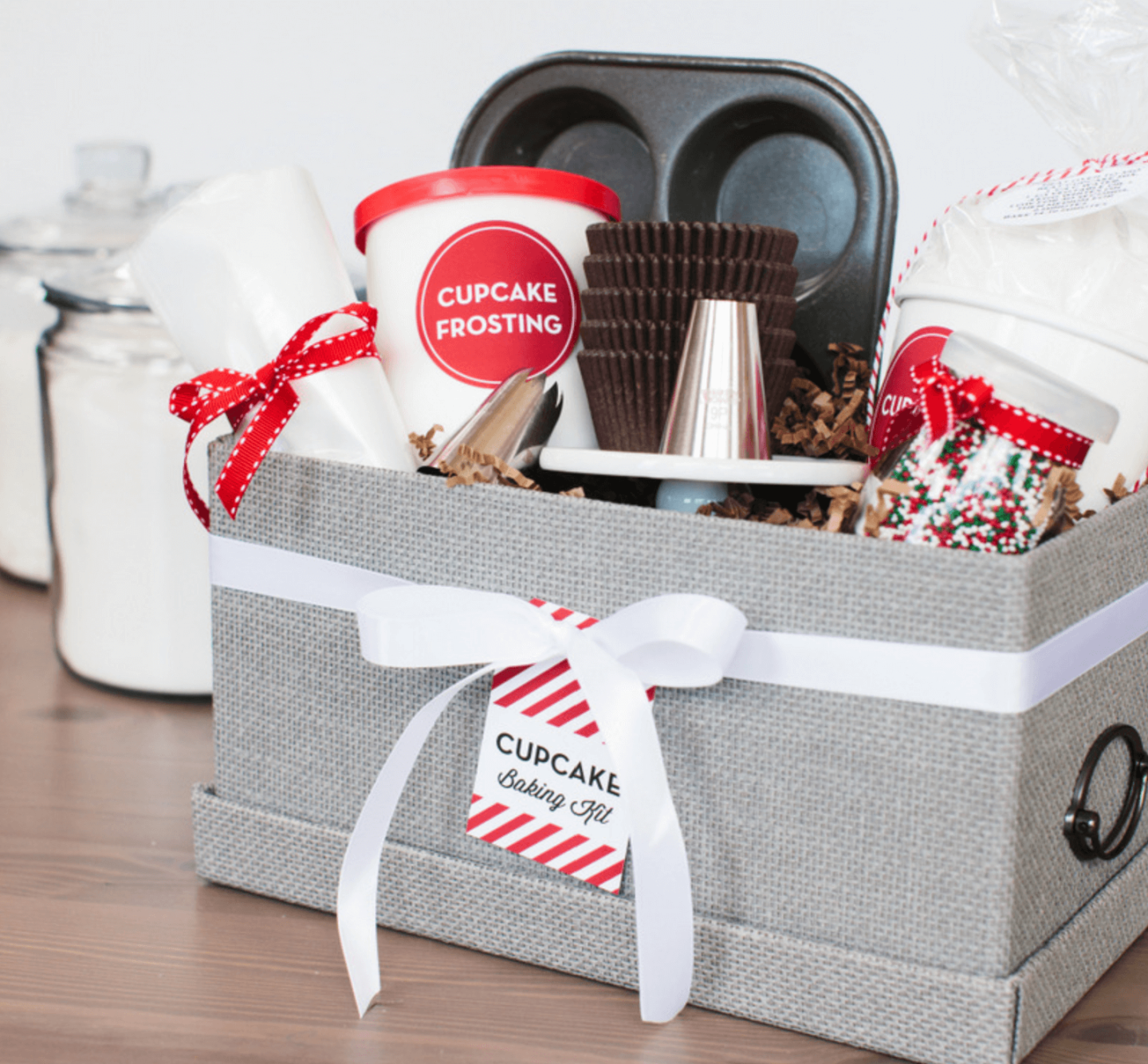 This is a perfect gift for any mom who loves to bake! And young or old everyone will love making and eating some festive cupcakes. Remember to include all the essentials she'll need to create adorable cupcakes or her favourite desserts.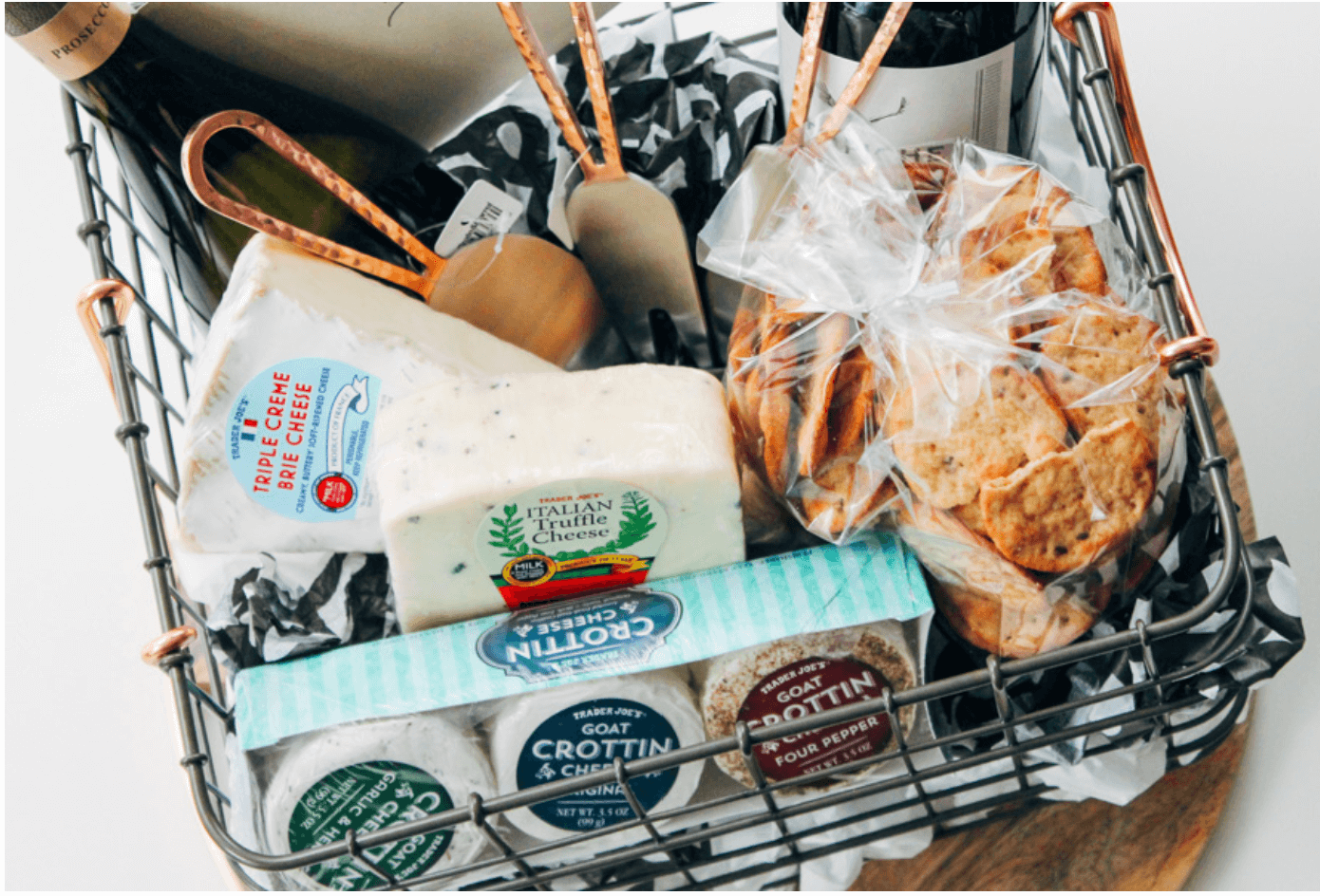 This is a cheesy gift any mom will love! Fill the basket with crackers, wine, and plenty of cheese, and tell her to enjoy!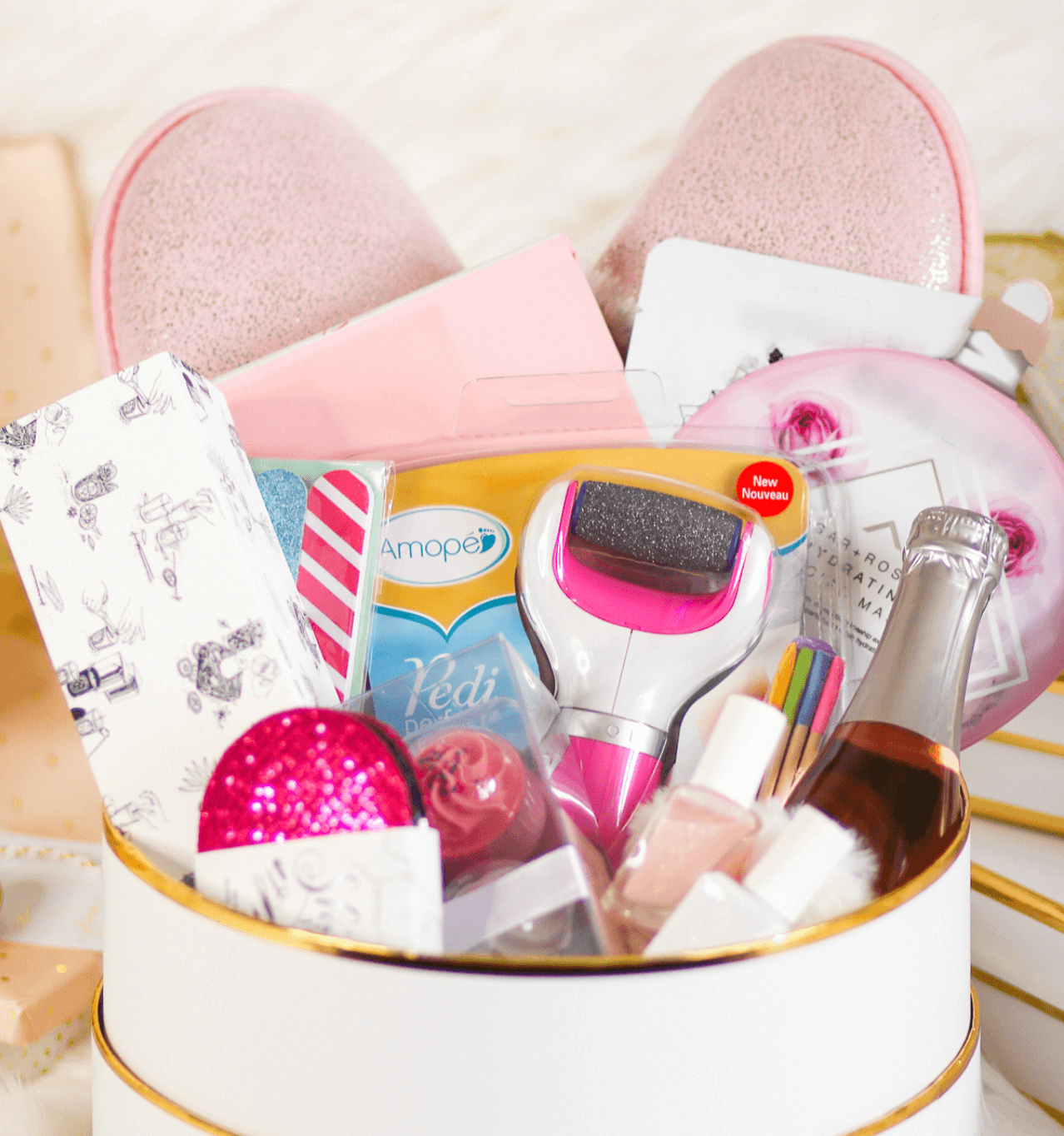 We could all use more "me time." So help your mom have more quality "me" time by putting together a DIY self-care gift basket filled with all her favourite bath and body products! The best part is you can give her exactly what she needs, and you control how much you spend.
16. Gift basket for the entertainer | Popsugar
If your mom loves to entertain then fill a basket with a few goodies that'll help her entertain in style!
If your mom loves to garden then pack a basket with everything her green thumb needs. You can include gardening gloves, seeds, pots, trowels and shovels, and more. Combining them all into a gift basket makes for a perfect gift!
18. Movie Night Gift Basket | Country living
Add some popcorn, her favourite popcorn seasoning to the mix and this makes a great gift for movie nights ahead!
19. Smells like Christmas Gift Basket | yellow bliss road
Gift your mom the smell of Christmas with a DIY potpourri or holiday essential oils. The yellow bliss road blog offers an amazing Christmas potpourri recipe and free printables if you'd like to do it yourself and make a scent just for mom. The recipe is fairly simple and all mom would need to do is combine all of the ingredients in a small pot on the stove.
20. Sweet and savoury compound butter Gift Basket | I heart naptime
Over the holidays, we can get sugar overload! This year help your mom skip the sweets and give her some sweet & savoury compound butter instead. You can give your mom a little gift basket with some homemade compound butter along with some bread. She can then use the butter on bread, French toast, crêpes, pancakes, use them in sauces and even use them to enhance the taste of meats. Head on over to I heart naptime to learn more and get some delicious compound butter recipes your mom will love!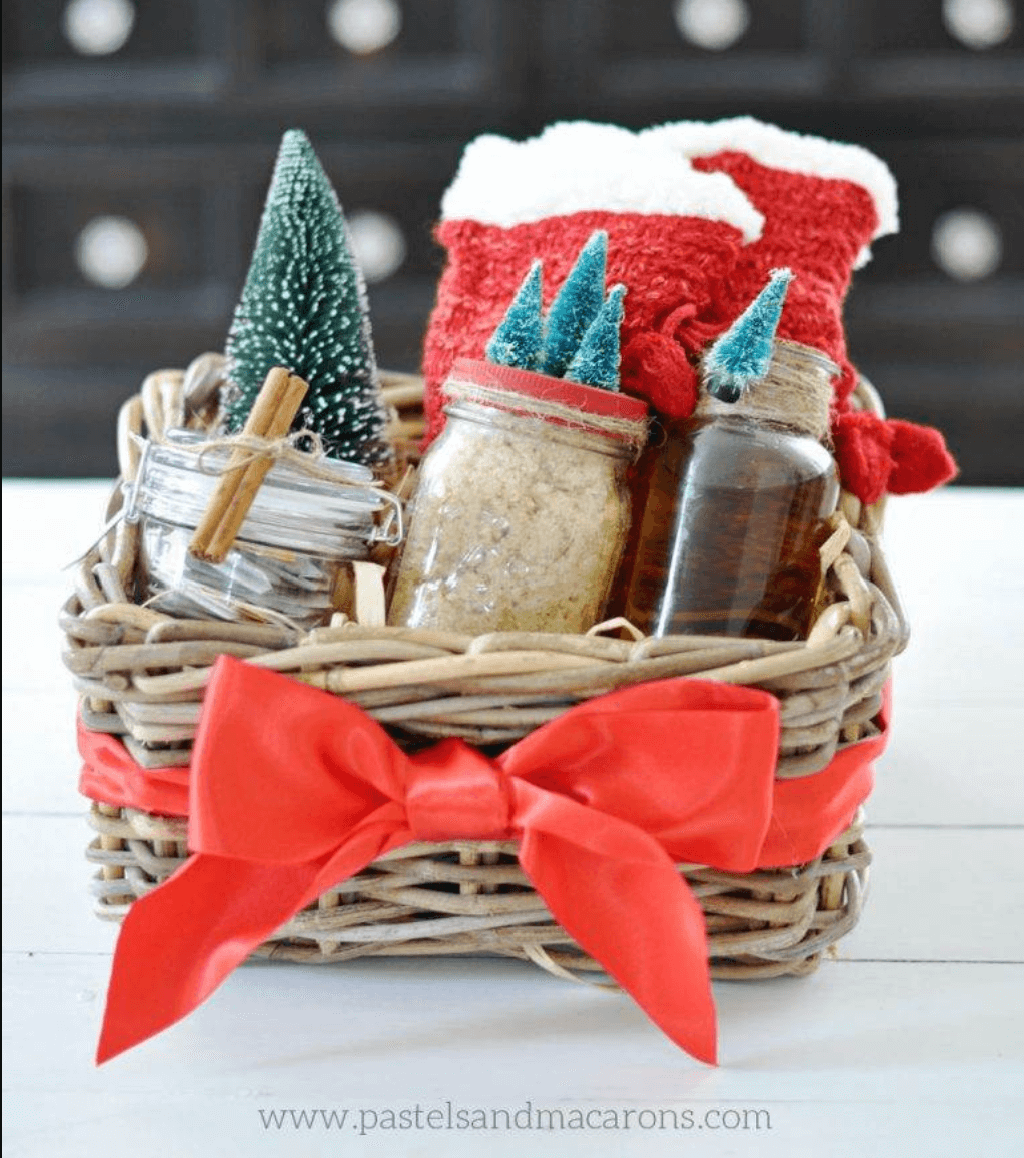 This DIY Spa gift basket is the perfect gift to give to your mom this Christmas. Who doesn't love a spa gift set? Fill it with her favourites or some new goodies you think she'll love!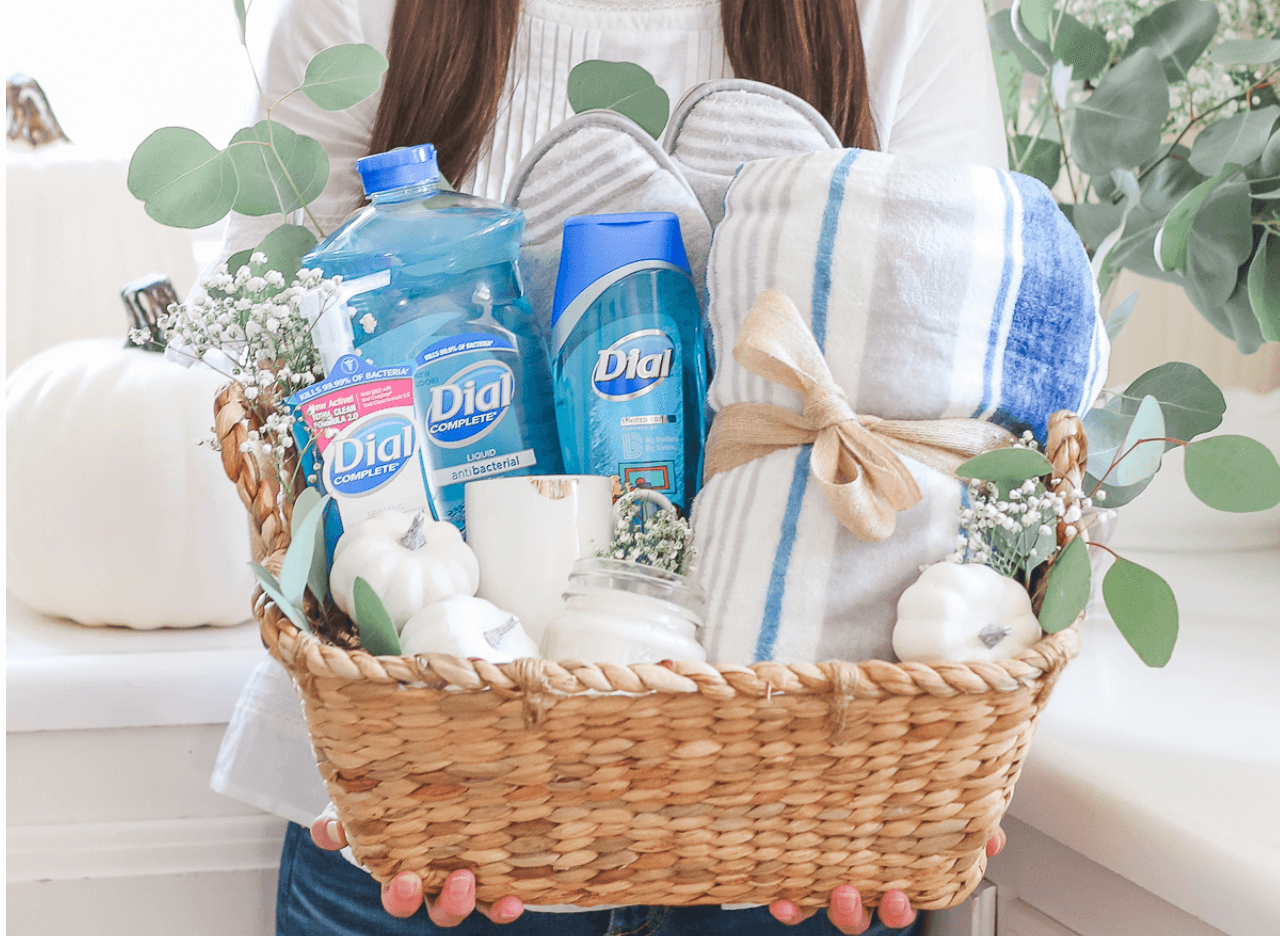 This gift basket idea is so simple and affordable. You control how much you spend and you can probably find a lot of sweet and delicious bath and body gifts at your favourite discount store. You can add, body wash, candles, lotions, body butter, hand wash soap, essential oils etc. Really the sky's the limit.
Does your mom love wine? Then why not give her a wine lovers themed gift bundle. This is another affordable, easy idea that's thoughtful, and personal and will probably be a bit as your mom celebrates the holiday season!
24. The perfect hot cocoa gift basket | Tomkat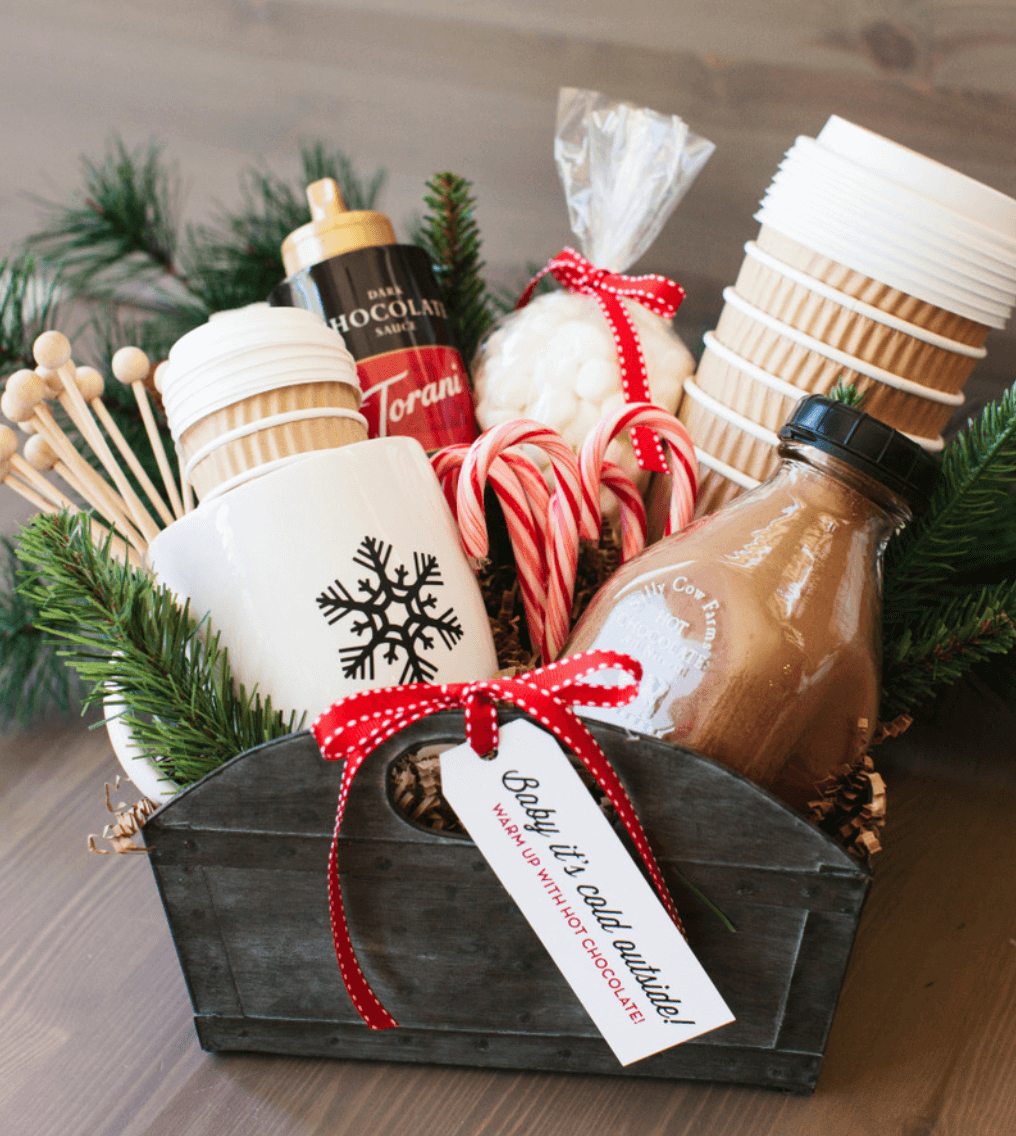 Help your mom stay warm this winter with delicious hot chocolate. This sweet gift is complete with all of the must-haves for making hot chocolate for the whole family!
Here are some ideas of things you can include, hot chocolate mix, marshmallows, candy canes, chocolate syrup, mugs, to-go mugs and stir sticks.
25. Pasta Night Gift Basket | Lydia out loud
This is a lovely gift idea! Your mom may or may not be busy this holiday season but either way, show her how much you appreciate her by gifting her all the fixings of dinner in a gift basket.
The idea behind this is to include most of what she'll need to make dinner for a night or two.
26. Holiday Cookie Gift Basket | Tomkat
This gift basket idea is one that's fun and enjoyable for the whole family! You can fill a large mixing bowl with cookie baking essentials like cookie mix either DIY or premade, cookie sheets, spatula, cookie scoop and holiday cookie cutters and sprinkles!
This basket is sure to please all the cookie lovers and will be a delicious family activity!
27. Quick & Easy Dinner Kit Gift Basket | Better home gardens
Wrap up a worry-free weeknight dinner for your busy mom. Fill the gift basket with your choice of pasta and homemade pesto, marinara, or other favourite sauce.
Add white yarn to colander holes to create a snowflake look. Finish with a festive bow and printable tag bearing holiday wishes.
28. Cocktail Enthusiast Gift Basket | Popsugar
29. Spa Gift Basket | Brit + co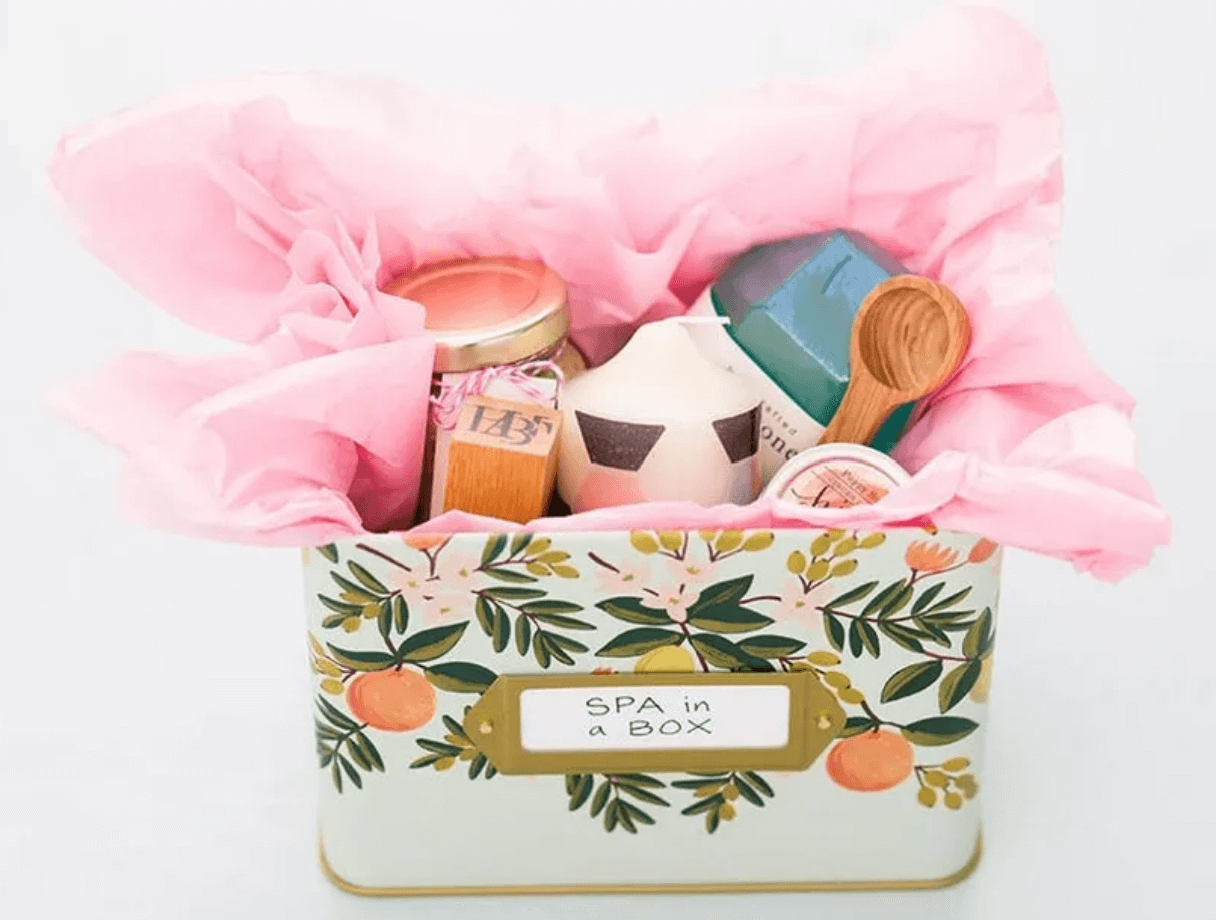 Your mom deserves the best. And the holidays are an important time for her to relax. This gift idea is all about relaxing!
Who doesn't love getting surprise gift baskets and who doesn't love ice cream?!
If this was helpful then don't forget to share!