Ah, the holiday season is upon us!🎄🤶🏾 It's that magical time of year when we decorate our homes, bake delicious treats, and, of course, adorn ourselves in festive attire.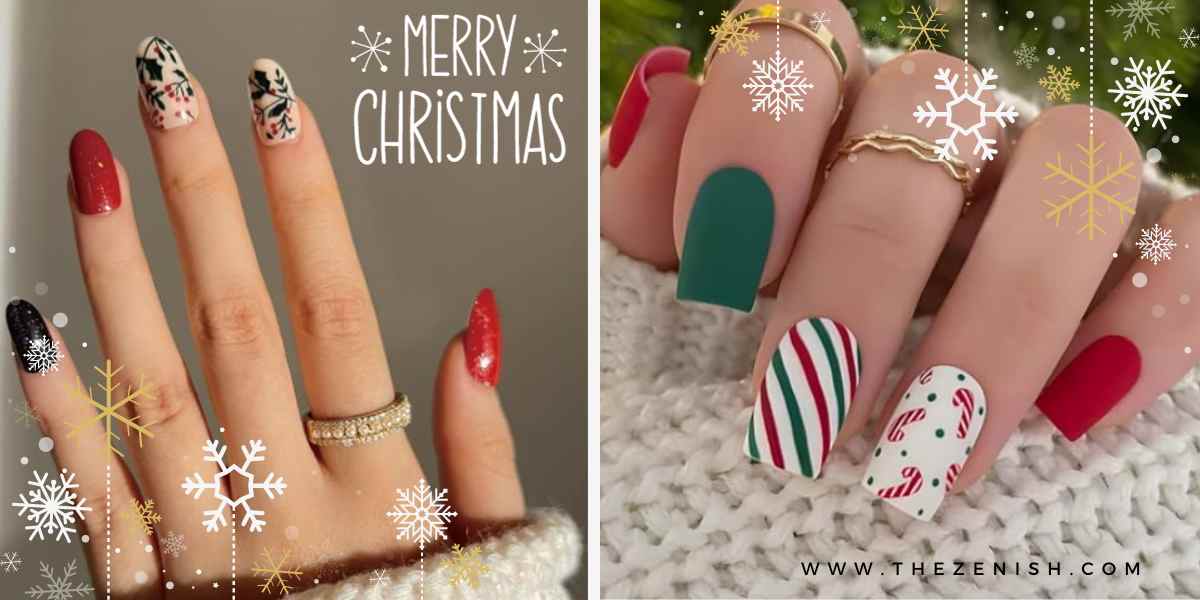 As the hustle and bustle of the holidays begins, one of the easiest and most delightful ways to embrace the spirit of Christmas is by adding a touch of holiday magic to your nails.
this post may contain affiliate links, which means if you purchase from one of these links, I may receive a small commission at no additional cost to you.
Let's look at a few simple Christmas nail designs perfect for when you have a hectic schedule.
Whether you're a busy parent, your work life is a little hectic at the moment, or simply prefer to spend the time doing anything else other than doing intricate nail art, these simple nail designs will help you out. Let's get to it!
1. Classic Red and Gold Glitter
Nothing says "Christmas" like a classic red and gold glitter nail design. This timeless combination instantly adds a touch of festive glamour to your fingertips.
The best part? You don't need to be a nail art pro. Just grab your favorite red and gold glitter nail polish, apply it, and let it dry quickly. Voila! You're ready to dazzle. And if even that sounds like too much, press on nails work!
2. Candy Cane Stripes
Bring the whimsy of candy canes to your nails with this playful design. Achieving candy cane stripes is easier than you might think. All you need are some red and white nail polish and a thin nail brush.
Create alternating stripes, let them dry, and you're set to rock that candy cane charm. Again if you're short on time or want to skip all of that then try nail stickers, decals, or press-on nails!
3. Festive French Tips
If you prefer an elegant touch, then these festive French tips with a holiday twist are perfect. Get that classic French manicure look and add a touch of holiday cheer to the tips. These ones don't look too complicated to DIY and are super cute!
4. Holly Berry Accents
Tiny details can make a big difference. Adding holly berry accents to your nails is a delightful way to embrace the holiday spirit. You can use nail stickers or decals to make this look come alive, and your nails will become the center of attention at any gathering.
5. Snowflakes on Blue
Embrace the serene beauty of snowflakes on a cool blue background. This design brings the calm and wonder of winter right to your fingertips. This design looks relatively easy to replicate, I would use stickers, and decals or get the look with press-on nails.
6. Glittery Evergreen Nails
Green and gold glitter nail polish is the secret to achieving glittery evergreen nails. This sparkly design exudes festivity and charm. Go for this look if you're aiming for that extra dash of holiday cheer.
7. Reindeer Nail Art
Let your nails play host to some adorable reindeer nail art. Your nails will feel whimsical and festive, just like Rudolph leading Santa's sleigh.
8. Snowflakes and Stripes
Brighten up the holiday season with these snowflakes and striped nail designs. You could go bold and intricate but sometimes simple is even better. These nails may be subtle but there's nothing boring about them!
9. Christmas Ornaments
Elegance meets Christmas with ornaments and snowflakes on your nails. Achieving this look is easier than you might think, thanks to white nail polish and nail art stickers. You'll feel like you're ringing in the holiday season with every gesture.
10. Shades of Green
Red might be the official color of Christmas but don't sleep on green! Think evergreens, Christmas trees, sitting by the fire. That's what these nails bring to life. A cozy Christmas!
📌Pin me for later!
As the holiday season approaches, don't forget to treat yourself to a little self-expression through nail art. Choose a design that resonates with you and fits your busy schedule.
These nail designs can be a great way to add a touch of festivity throughout the holidays.
Enjoy the season, and remember to take some time for yourself amidst the busy holiday hustle. Happy holidays!