Hyaluronic acid is great and can be a really great addition to your skincare routine.
There's endless talk about hyaluronic acid and how amazing it is for the skin. And for good reason!
If you've ever used it in any of your skincare products (it's in tons) then you know that there is some truth to how awesome it is.
There can be downsides to using it as well but that's for another post.
But if you're unfamiliar with it, hyaluronic acid is a humectant.
Which in the simplest terms means that it holds onto water. It's known to draw in and retain moisture which results in hydrated and plump skin.
Because of this, it's used in a lot of moisturizers and serums.
But if you've never used it before and you now want to add it to your skincare routine, don't worry, this is a reasonably straightforward ingredient and easy to incorporate into any routine.
How to use hyaluronic acid in your existing skin care routine
Step #1
As always it's good to start off with clean skin.
Cleanse your skin with a gentle cleanser to remove, your makeup, sunscreen, sebum dirt etc.
You'll want to use a gentle cleanser to minimize irritation and disruption to your skin barrier.
Step #2
While your skin is still damp, immediately apply a thin layer of hyaluronic acid serum to your skin.
You don't need a lot, use just enough to create a light film on your skin, a little bit goes a long way!
Don't forget to do this while your face is damp. Hyaluronic acid works best when your face is damp, not dry!
Step #3
Massage the serum into your skin. You can use it on your entire face or focus on areas that are dry or prone to wrinkles.
This will help deliver focused hydration that can improve the look of fine lines and wrinkles and improve your overall skin texture.
Step #4
Follow up immediately with a moisturizer. The moisturizer will form a protective layer on your skin to seal in moisture and help prevent moisture loss.
If you have dry skin moisturizers with mineral oil, shea butter, and petrolatum will work well and if you have oily or acne-prone skin moisturizers with silicones (synthetic oils) work really well.
You can even use a moisturizer with added hyaluronic acid to give your skin an added boost of moisture and hydration.
Step #5
If you're doing this as part of your morning skincare routine then this is when you apply sunscreen to protect your skin from sun damage.
This can be tricky though because in my experience sunscreen doesn't really like hyaluronic acid and tends to clump up or pill if you apply it immediately after using anything with hyaluronic acid in it.
This makes sense because sunscreen is water resistant and hyaluronic acid holds onto water, so they don't always mix well.
My workaround (which doesn't always work, depending on the sunscreen) is to apply a very thin layer of sunscreen, give it time to dry then go back and apply another layer on top.
As I said, this is hit or miss and more often than not it just ends up clumping up anyway.
So I now just use hyaluronic acid before bed as part of my nighttime skincare routine and that works much better.
Step #6
If this is your nighttime routine, then after moisturizing, you can call it a night, or follow up with an eye cream, face mask, eye mask, or whatever else you use. Just continue on with your normal nighttime skincare routine.
Best hyaluronic acid serum recommendations for all skin types
this post may contain affiliate links, which means if you purchase from one of these links, I may receive a small commission at no additional cost to you.
Neutrogena hydro boost gel cream extra dry skin
This is affordable, fragrance-free, thick and a little bit goes a long way.
And while it's not technically a serum, if your skin is really dry and you find that you need additional hydration this cream layers well underneath other moisturizers and can be used as a serum.
It's also really useful for targeting specific areas where you might need more focused hydration.
Hada Lobo hyaluronic acid lotion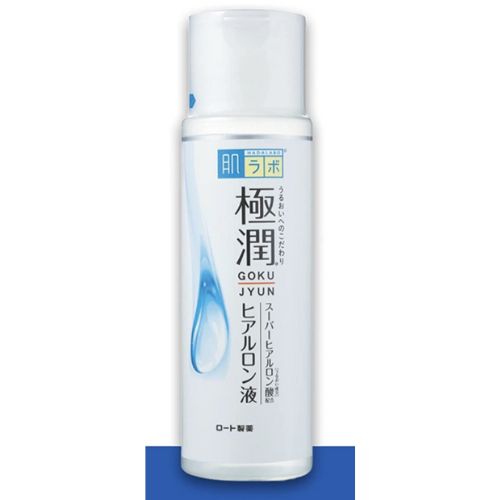 Again this isn't really a serum but a really thin lotion that has the consistency of a serum.
This is a really good Japanese brand and I've mentioned their products before. I'm definitely a fan of Japanese skincare products in general and find that my skin really responds well to their formulations.
That being said, it works really well to boost and amplify your skin's overall hydration when used underneath another moisturizer.
This product is especially effective if your skin is irritated, dry, or your skin barrier is a little battered.
This hyaluronic lotion will moisturize, hydrate and soothe your skin barrier and rescue your skin alongside a moisturizer.
Indeed labs hydraluron serum
This is a great hyaluronic acid gel cream. It's nice and thick, and, like the other products I've mentioned, it layers really well under other moisturizers, giving your skin a nice boost of extra hydration.
It's also really affordable, which is helpful, and it's cruelty-free.
Moreover, it comes in a tube, so if you don't like dipping your fingers into your products, then this could be a better choice for you than the Neutrogena Hydro Boost, which comes in a jar.
Juju aqua moist hyaluronic acid moisture cream or lotion
Last, but not least, is this hyaluronic acid gel cream/lotion from Juju, another Japanese skincare brand.
The cream is really nice and thick and the lotion is comparable to the Hada Lobo one mentioned above and feels light on the skin.
I mention both the cream and the lotion because the cream is usually sold out, but the lotion works just as well and is a great alternative if the cream isn't available. They both work really well.
If you can get your hands on either of them you'll love it.