Heads up, some of the product links below are affiliate links which means that if you make a purchase from one of these links, I may receive a small commission at no additional cost to you. It helps to keep the lights on and the content flowing :).
Making the switch to eco-friendly and vegan makeup? Fantastic! But have you given any thought to switching over your makeup brushes?
Vegan and cruelty-free beauty have never been more popular or important, yet we tend to forget about our beauty tools and makeup brushes when transitioning to a vegan or cruelty-free beauty routine.
It's important to consider the impact our makeup tools have on the environment around us and asking ourselves if there are better alternatives available.
So, are you ready to brush up on how to make the switch to eco-friendly vegan brushes?
Related Posts:
12 Types of Makeup Brushes and How To Use Them
The Best Eyeshadow Palette For Your Eye Colour
The Ultimate Checklist/Makeup Guide For Beginners
10 Awesome Tips To Make Your Lash Extensions Last
What are vegan makeup brushes?
Traditional makeup brushes are made with animal hair or fur. Vegan makeup brushes are made of synthetic and manmade fibres usually nylon or polyester. So non-animal parts.
Vegan makeup brush handles are sometimes made from wood or bamboo because the companies that offer vegan brushes are often concerned about using as many eco-friendly materials as possible.
Are vegan makeup brushes good?
Absolutely! Vegan or synthetic makeup brushes are good because they're easier to clean, sanitize and last longer than animal hair brushes. Synthetic makeup brushes are better for applying cream or liquid makeup products because the bristles won't absorb as much of the product. And they're also better options if you have sensitive skin or are allergic to animal hair.
7 reasons to use Vegan makeup brushes.
A safe choice if you're vegan or concerned about animal welfare
Quality vegan brushes are as soft as natural hair bristles and generally more affordable
Hypoallergenic and safe for sensitive skin
Easier to clean and also dries faster than natural fibres
They repel bacteria and dirt better than animal hair makeup brushes
Fantastic for both cream and powder makeup products, like highlighters, foundation and cream blush
Less likely to get damaged by makeup or cleaning products
Are synthetic makeup brushes vegan?
Synthetic makeup brushes are affordable, use zero animal byproducts, and are vegan. When you choose synthetic makeup brushes, more animals keep their skin and hair.
Vegan makeup brushes we're loving
---
1. EcoTools start the day beautifully kit
EcoTools vegan makeup brushes are made with sustainable materials, renewable bamboo and super soft synthetic bristles which they're well known for. Each brush has a sleek bamboo handle, is made from recycled aluminum ferrule and is 100% cruelty-free. The sets are excellent quality for the price, incredibly versatile (great for powder or creams) and easy to clean. Their packaging is also made from 100% Tree-Free paper!
Shop Eco Tools makeup brushes on Amazon.
2. Lamora kabuki makeup brush set
Lamora makeup brushes are also 100% vegan and cruelty-free. The bristles are soft, silky, durable and easy to clean! This brush set comes with 10 perfectly shaped brush heads for you to look, feel, and be your best. This set has all your essential foundation brushes with soft, durable bristles, and is exactly what you need to create flawless makeup looks.
Shop Lamora makeup brushes on Amazon
3. Luxie complete face makeup brush set
The brushes in the Luxie complete face brush set are the brushes you need to create any type of look. These brushes are vegan and made of synthetic bristles that are perfect for applying your powders and creams. The brush heads are super soft and will feel amazing against your face when you blend your makeup products. These Luxie brushes will help you create all your makeup looks, whether you're applying foundation or concealer, blush or contour, this set will be a winner for makeup artists and beginners!
Shop Luxie makeup brushes on Amazon
4. INIKA professional vegan brush roll set with a protective case,
INIKA vegan makeup brushes are made from the softest synthetic fibres and the wood handles are sourced through sustainable forestry, making these brushes 100% vegan and ethical. This set offers 8 essential brushes in a recyclable black canvas roll and is a must-have if you're just starting out!
Shop Inika makeup brushes on Amazon
5. 100% Pure blush brush

100% Pure's sustainable, vegan makeup brushes are made from recycled PBT plastic bottles. Their makeup brush collection has an assortment of face and eye brushes, all made from synthetic materials. 100% Pure's blush brush will blend your makeup seamlessly, create a soft natural finish to and has fine fluffy bristles which makes it incredibly soft against your skin. And as a bonus, this brush can also be used for contouring or highlighting, win-win!
Shop 100% Pure blush brush on Amazon
6. Missamé vegan makeup brushes
With soft premium bristles, Missame brushes are regular size, durable, and perfect for everyday use. The brushes in this 10 piece brush set, have bristles that are soft to the touch yet still have the right firmness to blend your foundation. These brushes are eco-friendly and made to last and is a great value for beginner or pros alike. All the brushes in this set serve a purpose and have multiple uses, so you don't need a ton of brushes to keep up your makeup routine. And as a bonus, they come with a pouch organizer which makes a great case when you're travelling, or a neat little organizer perfect for gift giving!
Shop Missame makeup brushes on Amazon
7. Antonym cosmetics vegan kabuki brush
Antonym makeup brushes are 100% vegan and made with sustainable bamboo handles that are eco-friendly and luxurious. The bristles are synthetic and laser-cut to ensure exceptional softness and precision. The Antonym kabuki brush has soft yet dense bristles and a dome shape, which makes it perfect for blending your makeup flawlessly. This brush is small, lightweight and perfect for travelling!
Shop Antonym kabuki brush on Amazon
8. Everyday minerals long-handled kabuki brush
Everyday Minerals vegan makeup face brushes are incredibly soft and dense and perfect for base and mineral application. Each brush handle is made from 100% renewable bamboo and soft synthetic fibres. Everyday Minerals long handled kabuki brush is great for applying your face powders or blushes and like all Everyday Minerals brushes is 100% vegan and cruelty-free!
Shop Everyday Minerals kabuki brush on Amazon
9. M.O.T.D pretty perfect essential face makeup brush set
All MOTD brushes are certified PETA cruelty free and vegan. M.O.T.D makeup brushes are made from high-grade synthetic polyester fibres that mimic and distribute products just like animal hair. M.O.T.D brushes are also hypoallergenic and antibacterial which makes them a great alternative if you are sensitive to animal hair. The Pretty Perfect Essential Face Makeup Brush Set is all you'll need to create your best makeup looks. This 6-piece makeup brush set is a must-have if you're looking to perfect your contour, glow, and finish. And as an added bonus it also includes a rose gold vegan leather canvas bag that's great for taking all your new pretty brushes with you!
Shop MOTD makeup brushes on Amazon
10. Nanshy masterful collection makeup brush set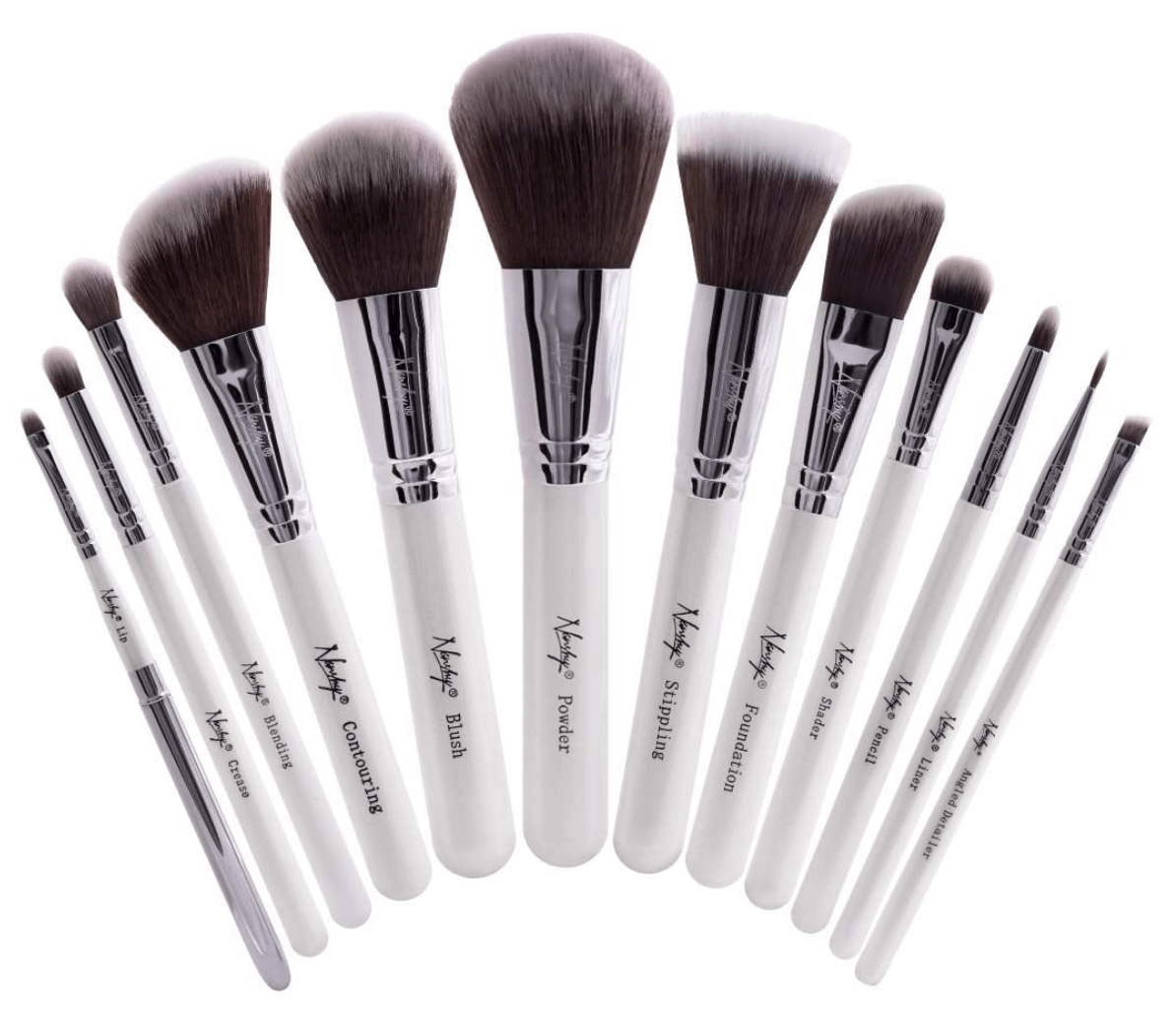 Nanshy brushes use high-quality synthetic fibres that are densely packed onto thick wooden handles. They're also PETA approved, antibacterial and 100% cruelty-free. Nanshy offers multiple brushes and sets for you to choose from depending on your makeup needs. The brushes in this set are versatile and angle perfectly for applying all your makeup whether liquid, cream or powder. These brushes are strong enough to contour, and blend for a smooth finish all while leaving your face feeling smooth and soft!
Shop Nanshy makeup brushes on Amazon
11. Real Techniques everyday essentials brush set
The Real Techniques everyday essentials brush set includes 4 brushes and 1 sponge that will do it all and has you covered from foundation to blush. These brushes are 100% vegan made from incredibly soft synthetic fibres that will make your face feel super smooth and is a great starter set for beginners. It includes a tapered blusher brush, a complexion sponge, a deluxe crease brush, a setting brush and an expert face brush for foundation application.
Shop Real Techniques essential makeup brushes on Amazon
12. It Cosmetics your heavenly luxe brush set
It Cosmetics' brushes are cruelty-free and 100% vegan! These brushes are some of the best out there, particularly when it comes to foundation application. The bristles glide softly against your skin and don't shed. This brush set comes with a powder brush, foundation brush, concealer brush, crease brush, eyeshadow brush, eyeliner & brow brush, and includes a sleek travel case that opens up into a brush stand so you can access your brushes quickly and easily!
Shop It Cosmetics makeup brushes on Amazon
If this was helpful Pin on Pinterest! Thanks!