Heads up, some of the product links below are affiliate links which means that if you make a purchase from one of these links, I may receive a small commission at no additional cost to you. It helps to keep the lights on and the content flowing :).
When your home is filled with "stuff" trying to declutter and organize it all can feel overwhelming which then makes it so easy to give up or put it off. What are the easiest things to declutter? Where do you start?
Start small.
Start with just 5 minutes, that's it. Yes in the grand scheme of things 5 minutes won't seem like much but what's important is that it's a start.
If you take 5 minutes today, another 5 tomorrow and 5 more the day after that then before you know it, you've cleared out a drawer, a closet, and eventually a room.
So if you're feeling a little lost, overwhelmed, and unsure of how or what things to start decluttering then this list is a good starting point for you.
This list starts with the obvious things to declutter and will help to ease you into the decluttering process. Especially when you don't know what to get rid of.
So grab a few boxes, garbage bags etc and use this list to go and start decluttering your space. Just remember that you're taking a huge step in the right direction and your efforts will pay off. And sometimes that means jumping in with both feet and getting to work.
Related
10 Decluttering Tips From Tidying Up With Marie Kondo
Chic Ways To Organize Your Makeup and Skincare And Remove Clutter
11 No-Nonsense Tips To Make Your Home Look Expensive
75 Easy Things to Declutter Right Now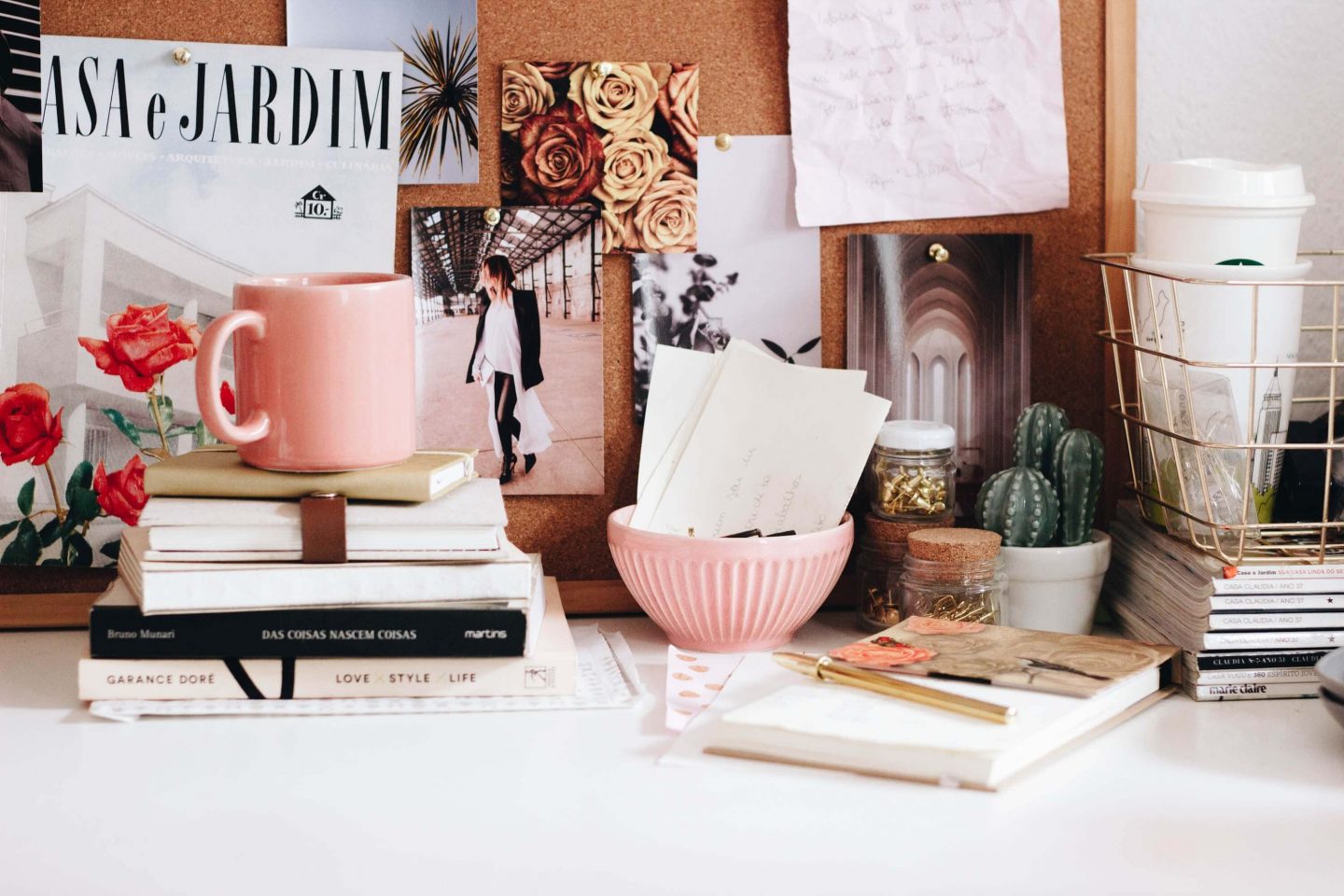 1. Expired, broken, and dirty makeup
2. Extra makeup and travel bags
3. Old nail polish and used nail files
4. Old & empty perfume bottles or perfumes you never liked
5. Travel-sized product samples
6. Old sunscreens and lotions (they do expire!)
7. Old or expired skincare products
8. Hair Products you never use
9. Old, broken or unused hair tools
10. Expired medicine and vitamins
11. Expired or extra toothbrushes and toiletries
12. Underwear or socks with holes in them
13. Clothes you bought but never wear
14. Stained, unflattering or old clothes
15. Clothes that don't fit
16. Free, promotional or novelty t-shirts
17. Pyjamas you never wear
18. Nylons, tights, or stockings you never wear
19. Gloves without a partner
20. Purses you haven't used in the last year
21. Broken or unused hair ties & hair accessories
22. Unworn or unused accessories
23. Earrings missing the other pair
24. Shoes that no longer fit
25. Heels that hurt too much to wear
26. Old towels fraying or with holes in them
27. Old bedsheets
28. Old or stained pillows
29. Extra hangers
30. Gifts you never liked
31. Old electronics and their chargers
32. VHS and DVD's you don't or can't watch anymore
33. Old USB drives
34. Random cords you don't use
35. Used batteries
36. Exercise equipment you'll never use
37. Books you've read and won't read again
38. Recipe books you don't use
39. Magazines and newspapers
40. Outdated calendars and planners
41. Notes, textbooks, etc you kept from school
42. Outdated coupons and flyers
43. Paper bills, receipts, manuals and statements (go paperless
44. Pens and markers that don't work
45. Kids artwork (keep your favourites, and take pictures of the rest)
46. Outgrown baby items
47. Baby items you didn't like using
48. Toys that aren't played with
49. Old or broken toys
50. Games with missing or broken pieces
51. Craft or hobby supplies you haven't used in years
52. Holiday decorations you never use & don't like
53. Chipped dishes
54. Stained or mismatched Tupperware
55. Shopping bags
56. Promotional cups
57. Unused kitchen appliances
58. Broken or rusted utensils
59. Old pots & pans
60. Cleaning supplies you never use
61. Old kitchen cloths and sponges
62. Takeout condiments
63. Unused or expired spices
64. Teas or coffee that you never drink
65. Fridge magnets
66. Old and expired food in the fridge
67. Anything in the fridge you know you won't use
68. Expired food in the pantry
69. Old & dated home decor
70. Art work you don't like
71. Unused storage boxes or bins
72. Dead or dying plants
73. Old or unused pet toys and supplies
74. Broken or duplicate tools
75. Return borrowed items
What To Do With the things You've Decluttered
Donate – donate the items that are in good condition. The end result is that you have a decluttered home and help someone else get something they really need.
Recycle – recycling is always a great option.
Trash – there are other items that will definitely need to be trashed. Things that are broken, have missing parts, no longer work and can't be recycled. Try not to feel bad if most things end up in the trash because a lot of people keep things longer than the product's useful lifespan.
Decluttering your home can take some time, so make sure you give yourself plenty of time and a little bit of grace. If you're feeling really overwhelmed start small.
Set a timer for just 5 minutes and use this list to declutter as much as you can until the timer runs out. You might be surprised at just how much you accomplish within that time!
It can all seem overwhelming when you're in the thick of it, but remember that the results are worth it!
If this was helpful then don't forget to share!