Heads up, some of the product links below are affiliate links which means that if you make a purchase from one of these links, I may receive a small commission at no additional cost to you. It helps to keep the lights on and the content flowing :).
Want to know the best eyeshadow palette for your eye colour? No matter what colour your eyes are, you can make them sparkle with the right eyeshadow.
From bold purples to shimmery golds, these picks tailored to your eye colour will have you drawing people in with your stare.
Whether your eyes are blue, green, grey, hazel, or brown, these palettes are the secret to making them pop!
Prepare for your eyes to become your favourite feature when paired with these palettes, that's guaranteed to make the most of their distinctive colouring.
Related:
The best eyeshadow colours for brown eyes
If your eyes are brown then consider yourself lucky because most shades and palettes will work for you. Most colours will work well with your brown eyes, but neutral shades really highlight them. Plum and purple shades will highlight the clarity of your eye colour and greens will make it stand out.
The best eyeshadow palettes for brown eyes
---
---
This affordable palette from Milani is perfect for brown eyes. Shimmery plums and creamy nudes make the perfect pairings in this multi-finish palette. Use this to create a plum smoky eye or a toned-down look with a dash of light coral along your lashline.
---
---
The AFU High Pigmented Eyeshadow Palette has 28 shades that will work to enhance your brown eyes. With this eyeshadow palette, you'll have everything you need from deep blues to warm browns. In fact, you probably won't even need another palette after adding this to your collection.
---
---
The shadows in the Novelera Palette are packed with moisturizing Jojoba Seed Oil for intense colours, is Paraben-Free, Sulfate-Free, Phthalate-Free, Cruelty-Free, Vegan and is described as having a velvety finish. You can use this palette to create beautiful everyday looks or vamp it up with the darker shades for a smokey eye at night.
---
The best eyeshadow colours for blue eyes
If Your Eyes Are Blue then light, neutral tones will compliment them but stay away from overly dark smokey looks. Instead, opt for softer shades like coral or champagne because they catch the light in your eyes. Rember that opposites attract so orange shades like terracotta which are opposite of blue on the colour wheel and bronze will warm up your blue eyes and make them shine. A set of neutral shadows will also complement your blues eyes. You can always use these neutral shades to create more subtle everyday eye makeup looks.
The best eyeshadow palettes for blue eyes
---
---
You can go subtle or dramatic with this Tarte Tarrelette In Bloom Clay Eyeshadow Palette. It's got rosy-hued nudes, peach, and bronzes that highlight the intensity of blue eyes. Not to mention it's another drugstore find that will make your wallet happy.
---
---
The shades in this Tarte Make Believe In Yourself Eye & Cheek Palette are stunning when paired with blue eyes. And you'll still have the choice to create wearable everyday looks with the neutrals, pinks and purples in a range of finishes.
---
---
The shadows in this Japonesque Velvet Touch Eyeshadow Palette, are buttery rich and will wear beautifully throughout the day. The warm copper shades combined with gold will work for all eye colours, but look especially vibrant against blue eyes.
---
The best eyeshadow colours for green eyes
If Your Eyes Are Green then consider yourself lucky because your eye colour is already bright, vibrant and lots of shadows will only highlight what you already have. Purples will make your blue eyes pop and shimmery browns are perfect for everyday wear.
A palette with a great selection of purples and warm neutral shades are the secret to making green eyes even more vivid. Rust and cranberry shadows will also work for green eyes. While shades of orange and purple which are opposite of green on the colour wheel will create a nice contrast and enhance your green eyes.
The best eyeshadow palettes for green eyes
---
---
This palette from Afflano will make people stop and stare. It's filled with shades of purple that'll really make your green eyes sparkle. And even better The colours apply and blend beautifully.
---
---
This Jaclyn Hill Eyeshadow Palette has a great mixture of plum, violet, and red-toned shadows which will bring drama and intensity to your green eyes. This Palette gives you a range of warm, amber-hued neutrals to create both daytime and nighttime looks.
---
---
If you're looking for something more subtle, then consider this Lime Crime Palette with its shades of red and warm undertones, like coppers, bronze, and chocolate browns. Red is the opposite colour to green so browns with red and warmer undertones will make green eyes stand out and still be wearable during the day.
---
The best eyeshadow colours for hazel eyes
If your eyes are hazel, make them stand out with bright violet shades. You'll give the gold flecks in your gorgeous hazel eyes' even more sparkle with a set of warm neutral shadows. Choose metallics and pastels like dusty pinks to intensify the flecks of your eyes and make them sparkle. Smokey shadows tend to overshadow the subtle hints of green and gold so use them sparingly.
The best eyeshadow palettes for hazel eyes
---
---
Use gold, bronze and soft metallic browns to highlight the golden flecks in your hazel eyes. The Vanelc Professional Eyeshadow Palette offers 16 options that can be worn alone or paired together. If you want to intensify your look, try applying the shadows with a wet brush to pick up more pigment.
---
---
The Ceitura Eyeshadow Palette is a great choice for hazel eyes. You can use any of the green shadows to make your hazel eyes appear even greener, or you can experiment with the bolder rust or softer neutral shades to highlight your eyes in a new way. It also has lighter shades to help with shading and contouring the crease of your eyes and below your brows, while you can also use the darker colour to create a dark brown smokey eye.
---
---
This palette has a mix of red and maroon shadows with a few neutral shades that are very flattering for hazel eyes. Red is on the opposite end of the colour spectrum from green and will make your hazel eyes pop. The lighter shades can be used for daytime looks or to contour your crease. Try using 'Aura' below your brows and on the inner corner of your eyes for a brightening, effect.
---
The best eyeshadow colours for grey eyes
If your eyes are grey stick to shades of blue to bring out your unique eye colour. Gray eyes can appear flat, but with a selection of shimmery charcoal and pewter greys, you can add depth and enhance your eye colour. When determining the best shades to highlight grey eyes, remember basic colour theory principles. Orange, red or violet will make your grey eyes appear more blue, green or various shades of grey.
The best eyeshadow palettes for grey eyes
---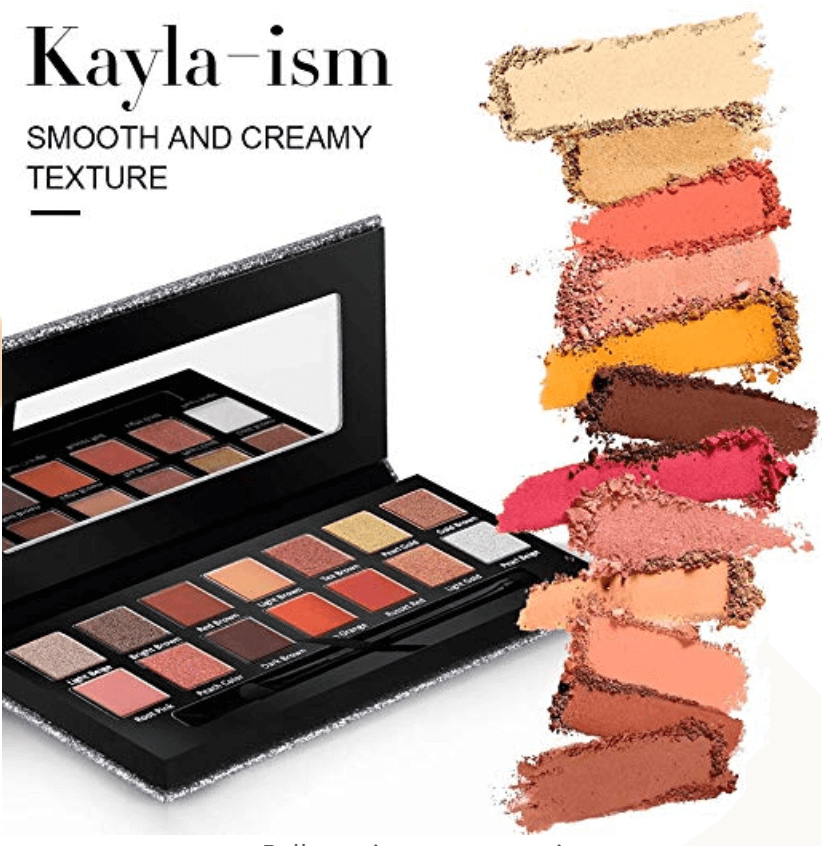 ---
Grey eyes are often a combination of other colours, like hazel, green and amber. To enhance those colours reach for oranges and reds in the warm family which will prevent your eyes from looking flat. The Kayla-Ism Eyeshadow Palette can be your one-stop-shop for everything warm-toned, it offers reds, pinks and oranges all in buttery, smooth easy to blend matte and shimmer finishes.
---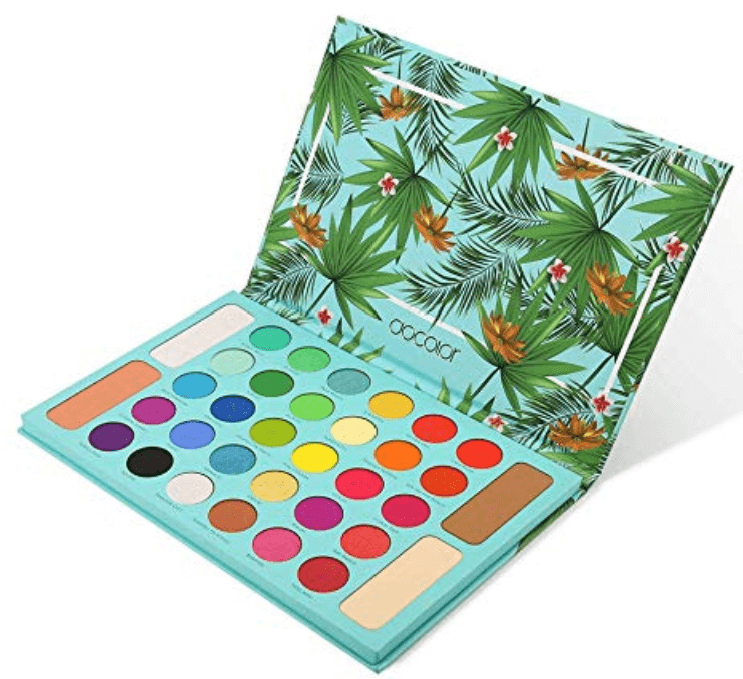 ---
Not sure what you're looking for but want to experiment with everything that suits you? The Docolor Tropical Eyeshadow Palette has 34 shades for you to play around with. It includes almost every colour that looks great on grey eyes, from blues, greens and purples all the way up to warm oranges and soft reds, this palette has it all. So, you can try it all.
---
---
If your grey eyes are more baby blue; mauves, pinks and berries are great options. The Tarte Make Believe In Yourself Eye & Cheek Palette has neutrals, pinks and purples in a range of finishes, which makes it a great palette to create your wearable, every day looks.
---
Final Thoughts
Knowing what shades flatter and highlight your natural eye colour is the first step to making your eyes shine. Using unflattering shades will make your eyes look dull or washed out.
At times it may be tempting to match your eyeshadow with your eyes, but take note of the undertones in your eyes and use flattering shades to enhance and make then shine.
What eyeshadow palettes do you use to make your eye colour pop? Share in the comments!
And if this was helpful then don't forget to share! Thanks!