Summer fashion trends are always changing.
Even if you're hesitant to try some of the more extreme fashion trends, there are definitely a few awesome trends on this list that are worth trying in 2019.
Yes, there's absolutely nothing wrong with wearing what makes you feel comfortable, but sometimes its good to experiment and have a little fun with your clothes.
So changing it up by including a few new pieces into your look might be a welcomed change.
So here's a list of what'll be some of the hottest summer trends in 2019 to help you update your closet, refresh your style and add to your shopping list!
Related: 13 Spring Summer Fashion Trends That Are Easy To Wear
14 Summer Fashion Trends Worth Trying
This post may contain affiliate links, which means that we receive a small commission if you click on these links and make a purchase, at no additional cost to you. This allows us to keep this site running and to keep the content updated regularly. Read our full disclosure policy here.
1. Off the Shoulder
Spring summer trends always seem to include baring the shoulders in some way and this summer will be no different.
The off the shoulder look will continue to be a big summer fashion trend worth trying in 2019.
A comfortable off the shoulder top or dress is a great summer wardrobe staple to have.
They're great neutral pieces to have in your closet because they're so easy to wear and adds feminine flair and a bit of flirt to any outfit!
How to wear it: pair with shorts, jeans, leggings, dresses, skirts etc the possibilities are endless! Try off the shoulder dresses, rompers or all in ones for truly effortless style.
Related: 18 Basic Wardrobe Essentials Every Woman Should Have In Her Closet
2. Wicker Jewelry
Wicker or basketweave jewelry is unquestionably one of the summer fashion trends worth trying in 2019!
This popular summer fashion trend started with handbags and have since crossed over into jewelry.
The wicker jewelry trend is neutral yet makes a statement and can be a fantastic yet simple way to change up your style.
How to wear it: try wicker earrings with some colour for a bold statement. This trend will style well with any and everything, bold hues, dresses, swimwear, dress it up or down you name it you can't go wrong.
3. Platform Sandals
Platform sandals will continue to be one of the biggest summer fashion trends leading into summer 2019.
These sandals come in a lot of great colours, they give you height without the uncomfortable heels, are extremely versatile and great for wearing all summer long!
How to wear it: wear with everything, dresses, shorts, skirts, jeans etc. Try incorporating some of the other summer fashion trends in your platform sandals, like bold colours, animal print, polka dots, wicker etc.
4. Mini Bag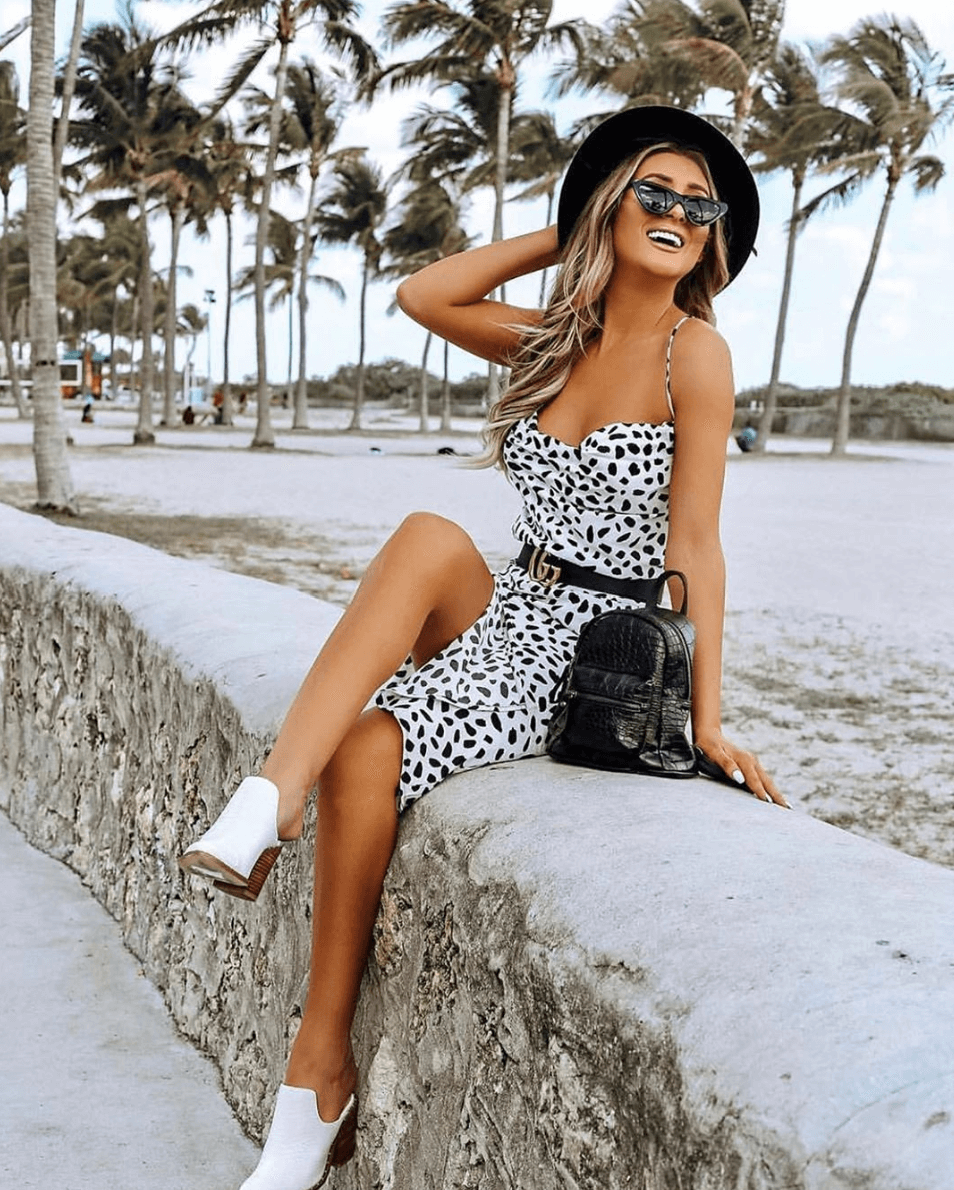 The mini bag obsession isn't ending anytime soon because they're still one of the biggest summer fashion trends for summer 2019!
Mini bags are usually small enough to fit no more than your lipstick. So, super cute and trendy but not very practical.
However, if you value style over function or just really love the way they look, then invest in a miniature version of your favourite handbag.
How to wear it: mini bags make fantastic accessories but don't necessarily function well as traditional bags. Try bolder colours, cute feminine styles or neutral colours for versatility.
5. Bermuda Shorts
Bermuda shorts aren't new. They've come and gone yet they're trendy again in summer 2019!
You might love Bermuda shorts or hate them but one thing for sure they're so comfortable, versatile and super easy to wear.
Who doesn't love a trendy piece that wears easily, pairs well with everything and instantly makes you look put together?
How to wear it: great with basic and casual outfits think sneakers, t-shirts. Try a tailored pair that you can dress up or down.
6. Tie-Dye
Now, this particular summer fashion trend has been talked about none stop since the beginning of the year and can be difficult to execute.
The Tie-dye! It's one of the coolest summer fashion trends worth trying this summer.
If you're looking for an easy and simple way to incorporate this summer fashion trend into your look try a single statement piece and look good.
How to wear it: try a tie-dye dress or skirt (perfect for tropical vacations), tie-dye leggings, sweaters, cover-ups, whatever you're into there's probably a tie-dye option for summer 2019.
7. Overalls
Again with this summer trend, you will either love it or hate it.
However, we think it's just one of those summer fashion trends worth trying if you can find a pair that you really like.
The classic denim overalls aren't always flattering for everyone, so if you do decide to give this popular summer trend a try to think about trying it in different colours, prints, materials etc.
Overalls are great because they make excellent instant outfits; just find a nice top and throw them on. Definitely give them a try!
How to wear it: style with a chic pair of heels to dress them up or sneakers to dress them down. Make great casual outfits when paired with t-shirts, crop tops, sandals, or blouses.
8. Jumpsuits
Jumpsuits have also been trending for a while and yes, they're still one of the major summer fashion trends worth trying in 2019!
Jumpsuits are fantastic! (if you can find one that flatters your body shape)
Jumpsuits can be really comfortable and super flattering. You simply throw it on, walk out the door and instantly look great.
How to wear it: style with heels to dress them up or sneakers to dress them down. Try a print in one of the other summer fashion trends, like an all-over polka dot jumpsuit, animal print or mixed prints.
9. Polka Dots
Polka dots are back in a big way this summer because this is a classic print that never seems to go out of style.
Polka dots are playful, have a retro vibe and there are so many ways to incorporate this super cute trend into your wardrobe.
How to wear it: try a light summer polka dot dress, jeans, cute and feminine polka dot accessories like hair clips, bows, earrings or opt for more neutral or tonal polka dots for a more subtle look.
10. Mixed Prints
With this trend, you don't need to worry about keeping prints separate.
In fact, feel free to get creative with different patterns in a similar or different look. It doesn't matter if you think it makes sense or if it even matches.
It may take a few slips here and there for you to perfect this look but when you nail it, it'll all be worth it.
How to wear it: choose one print to dominate and one to accent, try prints that share a single colour, pair mixed prints with neutrals for an easy look or play with the size of the prints.
11. Animal Print
Unleash your inner wild side with a trendy animal print. Animal prints are everywhere.
The more popular prints like snake and leopard were seen were already trending during the fall and will continue to be trendy moving into spring summer 2019.
With tons of great new fashionable options, you can totally rock this returning trend.
How to wear it: Try designs with bold and bright colours. Dresses, mini skirts, pants, coats, dresses, suits, etc. Consider all-over animal print with matching separates or a dress/jumpsuit. You can even try animal print accessories if you're feeling playful.
12. Bold Colours
What better way to stand out this summer than in a gorgeous bold colour? If you like to turn heads, then bold bright colours are the way to go this summer.
How to wear it: swimwear, tops, dresses, coats, accessories, shoes etc. Trending colours to try lavender, yellow, orange, pink, green, and coral.
13. Biker Shorts
This trend grew hand-in-hand with Bermuda shorts. The popularity of mid-thigh length of biker shorts brought back the interest in Bermuda shorts.
It's a great length to wear with most tops, from oversize sweatshirts to crop tops and stylish blouses. You can even pair them with other workout gear.
How to wear it: in basic black for versatility, leather, high-waisted, consider wearing with a tailored blazer to be really on-trend.
14. Slip Dress
Slip dresses are another one of the big summer fashion trends that aren't new but have come back in a big way and we're seeing them everywhere.
Slip dresses are great for their simplicity, versatility, sophistication and coolness.
How to wear it: layer a lightweight button down on top, dress it up with a great pair of heels or go casual with sneakers. Try bold colours or a neutral tone for versatility.
What summer fashion trend will you try? Share in the comments!
If this was helpful then don't forget to share!