Heads up, some of the product links below are affiliate links which means that if you make a purchase from one of these links, I may receive a small commission at no additional cost to you. It helps to keep the lights on and the content flowing :).
This makeup guide for beginners has some awesome yet basic makeup tips and tricks to get you started.
So if you're a newbie when it comes to makeup then you've come to the right place! 🙂
Because for a newbie, the makeup struggle can be real and intense!
All those options where do you start? What do you use? And as your collection grows how do you keep track of your makeup?
If you've only ever experimented with makeup or you're learning how to build your routine then, consider this your personal guide to keeping things simple and painless.
Use this makeup guide as your starting point for more advanced, creative ways to use makeup.
Related Posts
6 Makeup Tips for Success
Make your skincare routine a priority: makeup looks the best when you're skin is healthy, which is why skincare needs to be a priority. Learning about your skin and how to take care of it is important.
Find your foundation shade: not a shade you think will fit you but the shade that actually fits you. Go to your local Sephora, Ulta beauty store etc and ask someone there to help you find your match. The correct foundation shade instantly makes your makeup look amazing.
Buy drugstore makeup: sometimes we mistakenly think that drugstore makeup is cheap and low-quality. But a lot of high-end products and drugstore products are often manufactured by the same parent company. So what does that tell you?
Invest in quality makeup brushes & sponges: how your makeup looks have everything to do with how you apply it. So invest in quality makeup brushes and sponges because quality brushes help your makeup look natural and flawless.
Don't buy makeup products you don't need: when learning, experiment with products and learn what suits you and your needs and over time you'll learn that you don't need everything, so start with the basics and expand from there.
Practice & have fun! Experiment, experiment, experiment! Try different products, colours etc, and know that with a bit of practice, patience and time your technique will improve!
You might also like
Basic Makeup Products For Beginners
---
Foundation
Foundation makes your skin look flawless; evens out your skin tone and conceals any blemishes or discolorations on your face.
When looking for a foundation think about the level of coverage you need.
If you're looking for lighter coverage then try a tinted moisturizer, and if you want more coverage then choose a liquid foundation.
You can apply your liquid foundation with either your fingers, a flat synthetic foundation brush or sponge blender.
When you're ready to take it to the next level, add concealer.
You use concealer to cover blemishes, skin discolorations, and brighten or conceal marks underneath your eye area.
Concealers typically come in creams, sticks and liquids and you choose one based on the type of coverage you need.
Bronzer
After using foundation to even your skin tone, you also remove the natural shadows and highlights on your face.
Using a bronzer recreates the depth and adds warmth and dimension back into your face.
A perfect bronzer should make you look like a natural but tan version of yourself; not too orange, red nor too dark etc.
When you're ready to take it to the next level, use a highlighter to illuminate your face.
You'll typically use a highlighter to brighten and lighten certain areas of your face while giving the appearance of youthful glowing-looking skin.
Blush
We all have a natural blush to our cheeks, but, after applying our foundation, we cover it up.
So applying blush restores the natural colour to your cheeks and adds some life to your features.
Start with a powder blush because its easier to apply and will give you a more natural finish.
Blushes come in diverse shades and colours, so you can keep it natural and match your natural flush or experiment and go bold and vibrant.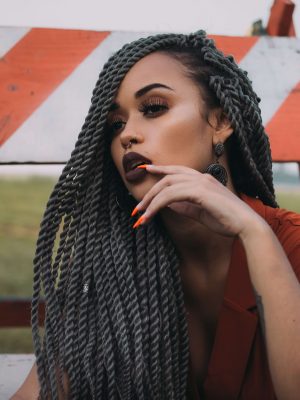 And as you become familiar and more comfortable with makeup you can experiment further with cream blushes which are more pigmented, and gives your blush an even bolder finish.
Eyeshadow
As a beginner, one dab of eyeshadow across your eyelid is usually enough for a subtle pop of colour.
But if you're feeling confident and want to take your eyeshadow to the next level, try a smokey eye.
The basic idea of a smokey eye is to use a mixture of colours to create dimension by using a base shade, a highlight shade and contour shade just like you would on your face.
You might also like
Mascara
Just a bit of mascara without any makeup instantly breathes life into your face and changes your look!
If you're learning to use mascara, choose one that's not waterproof because it will be much easier to take off if and when you make mistakes.
Most mascaras do the same thing so in the beginning focus on finding one with a smaller application brush so you have more control when putting it on.
Brow pencil & Eyeliner
Eyebrows can be intimidating! 😢
But if you want to accentuate your eyes even more, then practice filling in your brows because enhancing your brows will change the look of your face.
There are various powders, creams etc but if you're learning about makeup then using an eyebrow pencil will be the easiest way to learn to fill in and shape your brows.
Tip: get a shade that complements the natural colour of your eyebrows and your brows will look more natural.
To take it to the next level use eyeliner to further enhance the shape and colour of your eyes.
Keep the application simple and use a brow pencil on your lower lash line to create definition or on your upper lash line to make your lashes look fuller.
Lip Colour
Lip Colors range from glosses, tints, creams, lipsticks, really your choices are endless.
The important thing to understand is that they all have different levels of pigment which determines how much colour shows up on your lips.
A good rule of thumb is to start with less pigment or colour and work your way up to bolder and more vibrant shades.
Take it a step further with a lip liner. Lip liners make your lip colour last longer and create a barrier that keeps the colour on your lips and prevents the colour from bleeding onto the edge of your mouth.
Brushes & Sponges
To properly apply your makeup, you'll need the right tools.
If you're just starting out, you can use your fingers to put your makeup on, but it's not always ideal.
You run the risk of introducing bacteria to your skin if your hands aren't clean and using your fingers won't always get you the best finish.
So invest in quality brushes and sponges.
There are makeup brushes available for every single makeup product; yup that's a lot of brushes.
You can buy brushes separately as you need them, or you can invest in a quality makeup brush set.
However, brush sets are not created equal; some give you the basics and others give you brushes you'll never use.
Either way, start your collection with a big kabuki brush (used for blush, bronzer, or light foundation), a smaller flat foundation brush for fuller coverage, and a small stiff brush that you can use with gel eyeliner to fill in your brows or apply concealer.
And when you're ready, invest in a few eyeshadow brushes because they make a world of difference.
Related Posts
A Step-By-Step Makeup Guide For Beginners Tutorial
Okay now that you have the products what do you do with them?
How do you use them?
Don't worry we've listed all the basic steps below.
Step 1. Apply your foundation
On your clean and moisturized face put a few dabs of foundation on your forehead, cheeks, nose and chin, then blend with your fingers, a makeup sponge or a foundation brush if you have one.
Work outwards from the center of your face while focusing on the areas you want to cover.
Tip: a foundation shade that matches your skin tone will give you a more natural look.
Step 2. Cover spots with concealer (optional)
If you're using a concealer; use your fingers or a small brush to put a tiny amount underneath your eyes where its darkest and anywhere on your face where you have spots, blemishes or marks you want to cover and blend it into your skin.
Tip: concealer can be the same shade as your skin for a natural-looking skin or 1-2 shades lighter.
Step 3. Fill in your brows
Fill in your brows with gentle, upward strokes while focusing on the areas that have little or no hair.
Your strokes should be heaviest on your arch and the tail end of your brow, leaving the starting point of your brows lighter and less dense.
Occasionally brows will be different heights density etc, remember that they're sisters not twins so it's okay if they don't look exactly the same.
Remember you're still learning and you'll get better!
If your brows are different heights, use the eyebrow pencil to add hair to the top of the lower brow, which will eliminate the need for tweezing.
Step 4. Add your eye shadow (optional)
If you're using eyeshadow as a beginner, start with one neutral shade that fits your skin and using an eyeshadow brush or your finger use short strokes to apply the eyeshadow across your lid, working upward to your brow bone.
Eyeshadow typically starts at your lash line and ends just beyond your inner crease.
Tip: tap your brush to remove excess product before applying it to your brow.
Step 5. Put on your mascara
Related Posts
Apply mascara to your upper and lower lashes with gentle upward strokes.
Doing this once or twice should be enough but you can repeat as necessary to get your desired look.
Tip: try blinking down onto the mascara wand while moving it upwards to transfer more of the product on to your lashes.
Step 6. Add blush (optional)
You typically add blush to the apples of your cheeks.
To find the apples of your cheeks smile and apply your blush to the part that moves up and out, then blend upwards towards your temples.
Use a powder blush for a natural glow that's easy to blend in and use a fluffy brush or fingers for beginners to blend.
Step 7. Add highlighter (optional)
Now add your highlighter to the top of your cheekbones just above your blush on the apples of your cheeks.
You can use a blush brush or a kabuki brush if you have one or use your fingers if you don't, to brush a tiny amount of highlighter from your temples to the top of your cheekbone in a C-shaped curve.
Do this once for a subtle effect or experiment with multiple layers for a more intense effect.
Step 8. Add your lip colour
To apply your lipstick, lip gloss, lip balm etc. smile with your lips parted apply the colour, starting at the center of your upper lip moving out toward one corner. Bring the lip colour back to the center then out toward the other corner.
Repeat with your lower lip.
After the first application, you can use your fingers to blend the colour for a natural-looking finish.
If you're uncomfortable with a bright lip then stick with a subtle lip tint or a nude or picky shade that complements your skin tone.
The final step (optional)
As an optional final step, you can use either a setting powder if you have oiler skin to mattify your look or setting spray to help your makeup last longer, but of course, this isn't always necessary.
A Step-By-Step Makeup Tutorial For Beginners
Here is a step-by-step makeup for beginners tutorial by Breonna Queen. She uses minimal products, her technique is simple and her results look natural and flawless. Take a look!
So there you have it, a painless makeup guide for beginners. What's your biggest makeup challenge as a beginner? Share in the comments! 🙂
If this was helpful Pin on Pinterest!